Announcer Quote The Robot Vacuum ....Zexonose
NAME : Zexonose NickName The Killer Title: The Robot Vacuum.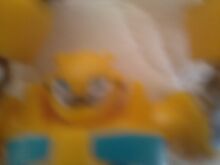 Generation 7
Bot Type Game Breaker 5
Handler Charlie Townsend
Stats
Strength 91/100
Speed 83/100
Armour 96/100
Intelligence 99/100
Special Moves 97/100
Total Battle Rating 4833
Made in: England
Signature Moves "Rip Spin" ,. "Burning Uppercut" ,. "SlamChoke"
Specialities Leg Turbocharger Sharp Head Horn Wide Flat Fists
Handler: Paul Townsend
The Start
Once There Was A Man And A Boy Called Paul And Charlie Townsend In A Junkyard And They Found Parts To Build A Robot They Ended Up Building A Star
First Fight
A Day After Making Zexonose They Took it To It's First Fight Against AquaBot it Knocked Him Out In The First Round 1.....2.....3......4........5.......6.......7......8......9......10 The Announcer Said and Zexonose Won 12,000£ From That Fight
Money, Losses ,Wins And Levels Of Damage
D.E =Destroyed
H.D = Heavy Damage
N. = No Damage At All
Zexonose Vs AquaBot =WIN N.
Zexonose Vs BlueBot= WIN N.
Zexonose Midas = WIN N.
Zexonose VS HollowJack = WIN.N
Zexonose VS Metro = WIN N.
The WRB
Later, The WRB Heard About Paul Townsend And Charlie Townsend And There Bot Zexonose One Of Them Asked "Do You Two Wanna Join The WRB?" " Yes " Said Paul Townsend The Man Said "Great Your Fighting Noisy Boy " The Two Arrived
WRB War
These Two People Did Manage To Win All Of Their Fights
WRB Fights
Zexonose VS Noisy Boy = WIN H.D
Zexonose VS Camelot = WIN N.
Zexonose VS Gridlock = WIN H.D
Zexonose VS Twin Cities = WIN H.D
Zexonose VS Blac Jac = WIN N.
Zexonose VS Zeus = WIN D.E
Zexonose VS Atom = WIN D.E
43 WINS 0 Losses 0 Ties
Trivia
Zexonose Has Never Being Knocked Down ,Except By Atom And Zeus
Zexonose Remained The Champion Until All Of His Owners Were Dead
Community content is available under
CC-BY-SA
unless otherwise noted.