Chaotic
Chaotic is reffered as the Shiny Cardinal Chaos.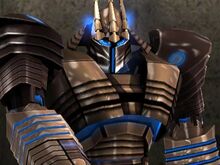 Chaotic's Fights
vs. Dangerzone: WIN
Story
A person named Wayne Keys had a sight in a shop of Chaotic. Wayne then rushed to the cashier and then bought him for $1,231,564.
His first fight was vs. Dangerzone. Chaotic slammed him and, he crushes his head and pushed DZ into the ropes. It was an easy fight.
Special Additions
Chaotic is a Shiny Cardinal Chaos. He has a better mainframe and a less rusty look. He has harder fists that can bring the opponents into the ropes.
Notes
Chaotic is the iOS Real Steel Cardinal Chaos.
Busterjack
Busterjack is reffered as the Shiny Hollowjack.
Busterjack's Fights
Story
When it was halloween time, a person named Wayne Keys buries the ground near the Metal Valley graveyard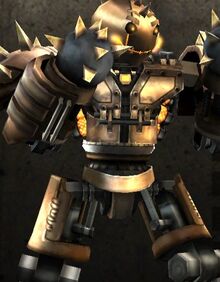 (a little far from it), and he found a robot named Busterjack. Wayne then brings him to his workshop.
Special Additions
Busterjack is a Shiny Hollowjack. He has better spinning fists and a better mainframe. There is also an attached Adaptive Fight Code into him.
Notes
Busterjack is the iOS Real Steel Hollowjack. He also looks like a Stage 7 Robot in Real Steel WRB.
Steam Boy
Profile Coming Soon
Community content is available under
CC-BY-SA
unless otherwise noted.