Name: Violette
Title: The Princess Of Pain
Generation: 3
Bot Type: Lightning Bruiser
Status: Online
Information
Violette is one of the two first female robots ever to be introduced in the Real Steel game franchise, the other one being Scarlette. She is part of the Femme Fatales duo taking the "Princess Of Pain" alias, having a lower rank than Scarlette who, judging by her alias, is a queen. She comes from Cuba and has a rather free-style/street fighting style while keeping her elegance. She and Scarlette were added to the game on April 22nd, 2015. She has pretty decent strength and speed, but her armor is quite low, so as long as the player doesn't get hit while using her there should be no problem on winning. Despite being well received, neither Scarlette or Violette have been added to the Real Steel WRB game unlike DJ Electrix, who was the third female robot.
Announcer's Quote: "Here's Violette!"
Stats
Armor: 60/100
Power: 80/100
Speed: 90/100
Description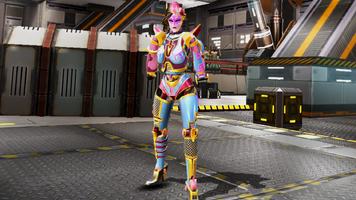 Origin: Cuba
Ability: None
Weight: 1010 LBS
Height: 8'2"
Feature: Female Battle Chassis
Special Move: Eclipse of Destiny
Appearance
Violette is purple and light blue with yellow trimmings. She's the first robot ever to have "hair" and she also has a spikes collar. She has some sort of exotic makeup on her face and has a rather serious face expression. Her right shoulder pad has golden spikes while the left one is more plated. She has a thinner waist than Scarlette and DJ Electrix.She roughly resembles a steampunk theme. She's quite asymmetrical, since none of her arms or legs have the same pattern, not even her head is symmetrical, her torso is the only part of her entire body that is symmetrical. Her fists resemble female boxing gloves and her legs look like a pair of boots. She has a very relaxed attitude when walking and her win move is quite euphoric.
Trivia
Scarlette and Violette are the first official female Real Steel robots.
In Challenges 6 & 7 of the Violette Zone, there is a typo where it says "Scarlette" instead of "Violette".
In the iOS game, "Here's" is put in front of her name, just like in Tackle's intro.
She's one point lower on strength than Scarlette.
She's one point higher on armor than Scarlette.
Scarlette's considered the leader of the duo since she's a queen, while Violette is a princess.
She comes back in WRB 2 in several German variants called Nomad, Blutsauger and Heidi.
Community content is available under
CC-BY-SA
unless otherwise noted.