Information
The Typ X-B was planned as the Ultimate robot boxer that can defeat any Opponent in a few seconds. Its development took serval years and costs about CHF 1,3 Billion. After his development time he fought in the WRB and later after a haevy defeat in the underworld
Stats
Strength: 100/100
Speed:  30/100
Armor: 100/100
Intelligence: 100/100
Durability: 30/100
Height: 250 cm (8,2 ft)
Weight: 850 Kg (1873 lbs)
Balance: 57:2:0
WRB
During his time in the WRB X had 23 fights of wich he won 22 by K.O. During his last fight in the WRB X fought against the then Champion Noisy Boy. In the beginning it looked like Noisy Boy didn't stand a chance but after 17 seconds the system of X crashed due to a programming error and could not be restarted. After Noisy Boy Hit X for 40 seconds, which was stuck in a corner he, broke through his chestplate and destroyed a large Part of his electronics irreperably.
underworld
After X was destroyed by Noisy Boy he was transportet to a scrap yard Where he was repaired by an unknown person and sold by them to southamerika for 120000 USD. In the underworld X fought in 36 fights of wich he won 35 by K.O.
Last fight
During his last fight (Midas rematch) X had a System Crash like in the fight against Noisy Boy because the programming error was never fixed. So Midas could X tear off the left leg and the right arm. This caused a short circuit that melted his electronics.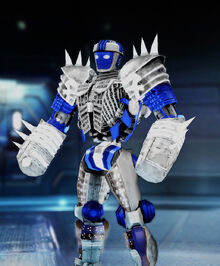 Trivia
X was Not disposed after the fight against Midas so it is not known exactly where he is.
During his first underworld fight X fought without a chestplate because first a new one have to be made in Switzerland and send to South America.
Community content is available under
CC-BY-SA
unless otherwise noted.