Name: Turbo
Nickname: The Fastest Bot
Special Move: Drax-Punch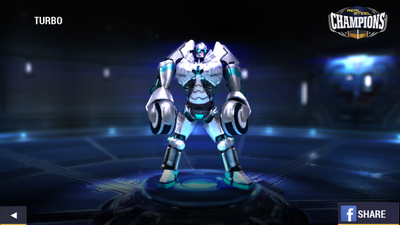 Handler: Jacob Williams
Armour: 100/100(798/800 when in HyperDrive)
Made in: Texas, USA
Generation: 3
Robot type: Brawler
Special Feature: Scorpion Plating,HyperDrive Command)
Speed:100/100(800/800 When in HyperDrive)
Power:80/100(670/800 when in HyperDrive)
Special:75/100(578/800 when in HyperDrive)
Origin
Built by a Drag Racer Jacob Williams,who decided to need cash to buy a new car named Alpha Streak Sport Car which cost 20.000.000.132$ so he used Turbo to battle the robots in the Underworld and earn some money,he bought with his money a HyperDrive Command that beefs the stats up to 800.So Turbo was Ready to go and battle Bluebot,Gambit,Crimson Carnage and Steamer-Style in a Tournament .
Entering the Tournament
So Jacob and Turbo went to the GRBL and meet Hiroto and found a Arena for them called,SteamPiston Stadium,Designed by the Yale Family.the fight has been mapped out and the board of challenger is like this:
Steamer-Style vs Tackle(SS Won)
Turbo vs Bluebot(Turbo Won)
Crimson Carnage vs Ambush(CC won)
Nitro vs Danger Zone(Nitro)
Once the fight was over the board changed and the semi-finals are like this:
Turbo vs Nitro(Turbo won)
Steamer-Style vs Crimson Carnage(SS Won)
and so here are the finals:
Turbo vs Steamer-Style(Draw)
Both Robots Knocked themselves out and won 30.000.00$
Dealing With A Rival
When a match was over (Against Blockbuster) the CEO decide to have jacob fight his rival:Lewis Smith.
When Lewis met his old rival Jacob the both have a match to see who is the great WRB champion. So Jacob agreed to fight Lewis.
Final Boss (Against FastMach V)
Coming Soon!

Notes
Turbo and Steamer-Style are Friends including their Owner
Turbo is Unranked in MRB and CBL
Community content is available under
CC-BY-SA
unless otherwise noted.