(Please do not edit this page without permission from A HUGE DUMMY)
"Here comes a massive machine from the void with a taste for destruction, it's TREKER!" -Announcer.
Name: Treker
Title: The Dusk Destroyer
Generation: 3
Bot Type: Brawler
Handler: James Chatnick
Treker is a bot that is as subtle as a flung battleaxe... with hands like battleaxes as well! He's a strong guy, but he's not so good at taking hits as he is at giving them.
Stats
Strength: 85/100
Speed: 70/100
Armor: 65/100
Intelligence: 95/100
Spec. Moves: 75/100
Made in: UK
Signature Moves: Into the Darkness, Slice n' Dice, "Did That Just Happen?".
Special Features: Treker has axe-like blades instead of hands, causing him to shy away from non-underworld fights.
Special Moves:
Into the Darkness: Basically a headbutt.
Slice n' Dice: Many light punches in rapid succession.
"Did That Just Happen?": A roundhouses kick, followed by a hop backwards.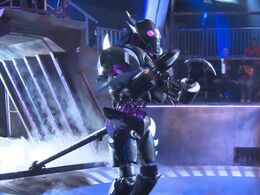 Backstory
(WIP)When James Chatnick was a college student, he was trying his hardest to get a degree in robotics. One day, while looking through a junkyard for materials to help him build a machine, James found a black and purple robot buried under the scrap.
Trivia
Community content is available under
CC-BY-SA
unless otherwise noted.