Name: Enforcer
Title: None
Generation: 3
Bot Type: Brawler
Status: Online
Information
Enforcer is the mini-boss from Region 1 in the Real Steel Champions game. He's the penultimate Region 1 opponent before Noisy Boy. His head and body are from Hot Rod's parts, while his arms and legs are Noisy Boy's. Since he's a Region 1 robot, all his parts are on their base form, also called Bronze Grade since the Part Categories update was introduced.
Announcer's Quote: "Introducing Enforcer!"
Stats
Health: 1350
Attack: 125
Critical: 15
RNG-1: 177
Boost: Double Damage
Appearance
Enforcer is probably one of the most human looking robots in all the Real Steel games franchise along with Zeus, Cosmobot, Ambush and Gridlock. He´s mostly painted in a dark gray color with yellow lemon as the body and accent color. He has Hot Rod's head and torso, and Noisy Boy's arms and legs. All of his parts are on their Bronze Grade since he's a Region 1 robot. Also, according to Max's words, he fights in the Crash Palace, so he's probably the underchampion there, right below Noisy Boy. He has some NO2 containers-looking designs around his waist and flames that go from his upper abdomen to his middle chest.
Parts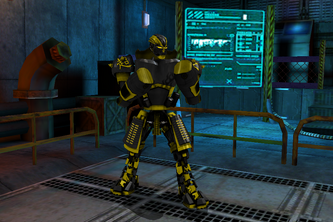 Head: Hot Rod (Bronze Grade)
Torso: Hot Rod (Bronze Grade)
Right Arm: Noisy Boy (Bronze Grade)
Left Arm: Noisy Boy (Bronze Grade)
Right Leg: Noisy Boy (Bronze Grade)
Left Leg: Noisy Boy (Bronze Grade)
Moves
Intro: Six Shooter
Heavy Attacks: Stock H1, Knuckle Slash, Gut Cruncher, Stock H4
Special Move: Rev Hook
Finisher: Six Shooter
Win: Gridlock
Trivia
If the player is new, Enforcer may seem hard to defeat.
If the player has experience, Enforcer isn't hard to beat.
His paint loos different depending on the device you're playing in. Sometimes he looks green and some others he looks yellow.
He's one of the easiest robots to recreate from the Story Mode.
The player must be careful to not let Enforcer corner him. If he does, the player will most likely lose the fight.
Community content is available under
CC-BY-SA
unless otherwise noted.