Tackle


Vital statistics
Title
The Triple Threat
Generation
Unknown (Probably 3)
Bot Type
Unknown
Status
Online/Brand New
Name: Tackle
Title/Nickname: "The Triple Threat"
Generation: Unknown (Probably 3)
Bot Type: Unknown
Status: Online/Brand New
Description
Speed: 60/100
Strength: 70/100
Intelligence: Unknown (Probably 90/100)
Special: 60/100
Armor: 80/100
Origin: United States of America
Ability: None
Signature move: Touchdown
                       Super Touchdown (Atom)
                       Ultra Touchdown (Cosmosbot)
Announcer's Quote: ''Introducing Tackle!
Specialty: Reinforced Armor Plating
"Note: Please edit the Description part if you know Tackle's Stats"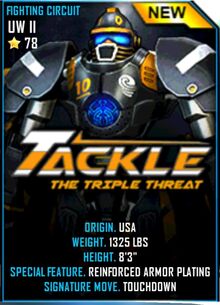 Information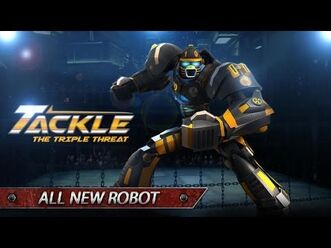 Tackle is a unique bot in 
Real Steel (iOS game)
and World Robot Boxing. He is a powerful robot and is supposed to be more powerful than Zeus, being faster than him! Both him and Touchdown strongly resemble each other, both being based off American Football players. Their special moves are also quite similar, causing heavy damage to their opponents' heads and tackling them to the ground.        
Appearance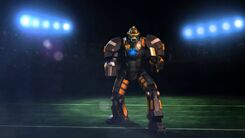 Tackle is heavily armored and his skin looks like 
Touchdown
's skin in 
Real Steel World Robot Boxing
 except his skin is black. He has a number 10 like a football player on his armor. His center resembles Touchdown's uranium core. He also has thick shoulder pads, even larger than Touchdown's! (Though generally Tackle is actually much larger than Touchdown, but overall it actually has more width than Touchdown's shoulder pads.)
Trivia
Tackle's Rip Off in WRB is the only one that does not remove any parts on any robot. It is unknown why. But after an update, the head will be kicked off before slamming his opponent to the ground.
He has a very short Special Move Miss Regen in WRB.
Tackle's intro differs very slightly in Real Steel iOS; instead of simply saying "Tackle" (like all the other robots), the announcer now says "HERE'S Tackle!"
Tackle's Video
Tackle


Vital statistics
Title
The Triple Threat
Generation
Unknown (Probably 3)
Bot Type
Unknown
Status
Online/Brand New
Community content is available under
CC-BY-SA
unless otherwise noted.