This page is owned by Simon Mizinkov,don't edit without permission.
T-WRECKS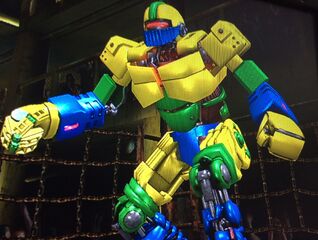 Title:The Prehistorical Fighter
Generation:3.5
Status:Online
Bot Type:Brawler
Announcers Quote: The Prehistorical Fighter,be aware of T-WRECKS!!
Origin:New Zealand
Height:7,9
Weight:1263lbs
Special Feature:Golden Chest
Special moves: Dinosaur Stomp,Raptor touch.
Rip-off: Rampaging T-Rex.
STATS
Power:80/100
Speed:90/100
Intelligence:78/100
SPECIAL MOVES
Dinosaur Stomp. T-Wrecks pushes the opponent on the ground and jumps on him.
Raptor Touch. T-Wrecks runs around the opponent,punching him sometimes. At the end,T-Wrecks kicks the opponent.
Rampaging T-Rex(rip-off). T-Wrecks punches the opponent to random places,until he does a kick to the opponents head which rips it off.
Description
T-Wrecks is a robot from New Zealand,a powerful one,this robot is a challenging opponent. He also has the champion belt of OCB (Oceanian Robot Boxing)
FIGHTS
Unknown until OCB robots are confirmed.
Community content is available under
CC-BY-SA
unless otherwise noted.