Name: Strike-Out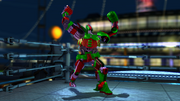 Nickname: The Construction bot
Generation: 3
Robot Type: Wrecker
Handler: John Bart
Status: Offline/Destroyed
Origin
A Worker named John "Johnny Jonathan" Bart Started Creating bots when he is 11 years old. His Bot Where made of Coloured Toy Blocks.
3 Months Later John (Now 27 Years Old) Is now a construction worker, Who discovered Robot parts when he Was working.
After Creating His Bot, He Decided To name is bot Strike-Out After One of his friend Said: "You Know One Of my Friends Said That He Made A Strike-Out" And thats how he named his bot
Entering And Fighting
After Talking To The WRB Manager That He Would be in the ring, John's Bot Started to fight In His First Match Against Swizzle, And Ended With Strike-Out Winning The Match. Later he started to fight in his outer matches:
-Vs Countron: WIN
-Vs Pineneedle: WIN
-Vs Hornbuster: LOST ( Only In Round 1) WIN (In Round 2 & 3)
-Vs Asura: LOST / WIN (Only to have damaged parts after the match) -Vs Blac Jac: WIN (Later having repairs and upgrades)
Final Match (Against Tempest)
After Winning every match The WRB Manager Decided That His Bot Could Survive In a Fight Against The Mighty Tempest.
Although Many bots Never Survive the match against Tempest, Strike-Out Not managed To Punch him 10X, But Survived Every Attack That Tempest Was Going To Unleshed. 
But Unfortunaly In The Final Round He Didn't Survived Due To The fact The Got Damaged Because Of Tempest's Special Moves That Caused Him To Loose Some Parts, And To Make This Even More Painful, He Lost Both Of His Arms And Also Lost A Head.
Notes
He Is The Bot That Was Made Of Only Spare Robot Parts And Was Only Created by A Construction Worker
This Bot Was Created In Texas, But Later Got Scrapped In A (Wait For It...) The Work Site That John Works!
Community content is available under
CC-BY-SA
unless otherwise noted.