Steampunk

No Morph Ball, and no girl inside, punk
Vital statistics
Title
None
Generation
3
Bot Type
Blitz Cannon
Status
Working
NAME: Steampunk
GENERATION: 3
BOT TYPE: Blitz Cannon Lv. 4
RANKING: W:1:3
Information
Second match in the WRB divisions, this robot is another bruiser. Steampunk has better fighting strategies than some of the other robots.
Real Steel Game
Built for staying power, Steampunk will get down and dirty with you. Built for a Cosplayer, he at least has function over form. Somewhat annoyed by his build, he has been known to crush those who insinuate that he's nothing more than a glorified jumpsuit.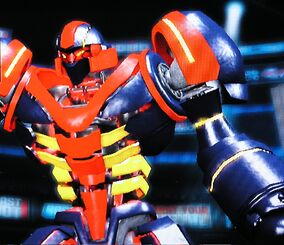 Appearance
A Mechanized version of Samus Aran, of the Metroid series. The main color is purple, with red and yellow details. His fists have the same appearance as Noisy Boy's.
Stats
Overall Stats
Strength: 76/100
Speed: 43/100
Intelligence: 71/100
Special Moves: 64/100
Divided Stats
| | |
| --- | --- |
| Stat Name | Stat Value |
| TBR | 3841 |
| Core HP | 4038 |
| Power Charge | 1661 |
| Total Attack | 3830 |
| Total Defense | 3353 |
| Resilience | 9 |
| Damage Recovery | 4 |
| Power Recovery | 3 |
| Average Punch Speed | 7 |
| Movement Speed | 7 |
| Mobility | 6 |
Trivia