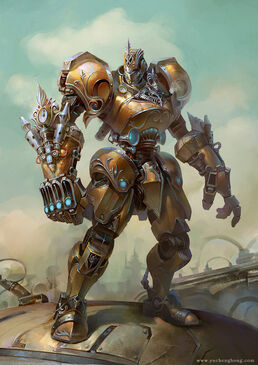 Name:Steamer-Style
Nickname:The Steampunk Menace
Onwer:Dan Yale
Special Move:Gear Shifter
Special Feature:Steampunk Tech
Special:92/100
Power:82/100
Armor:134/200
Intelligence:200/200
Speed:89/100
Origin
Dan Yale son of the famous steampunk builder Louis Yale,The creator of trains,flying machines and robotic steampunk arm for amputated soldier,his fathers arm got amputated because of a bullet wound and replaced with a steampunk robotic arm,at the age of 16 he got shot in the left eye and got amputated with a robotic steampunk eye,he always wear googles when building,he built a robotic steampunk bird and a steampunk alarm clock.since he saw Atom vs Zeus he decided to build Steamer-Style a bot with gizmos and gadgets and tested out with a sparring bot which he made called Steam Prototype 2XB3 and it worked so he went to the underworld and slowly moving to the WRB.
Getting Blued
Dan went to The Crash Palace and Battled Bluebot,Steamer-Style was ready and set,and the bell rang,Bluebot hit Steamer-Style but Dan used a move called Steam Pressure which acumulate steam once Released it destroyed Bluebot and won 50.000$
The Robotic Building Center or Centre(if you are British)
The Robotic Building Center was founded by Samuel Yale,his Great Great Great Grandfather which has 2 Members,they are Dan Yale and Johnathan Gil.
They need Members to join the RBC and to do so they opened a Website to Promote RBC
Steamin Heat
(For the Full Story see it on Sparky's Page)
Steam's A Double
Dan and Flynn tried to create the Steamer-Style,Sparky Combo bot but all failed until Flynn stumbles upon An old boiler tank so Dan thought up of a bot SteamBuster the Giant that would work so they got to work building it and they did.
Family Reunion
Dan and Felicia were working on prototype until Flynn and Esther came in and say that 3DG3 came to play in Canada,Dan soon Rejected but her sister decided to participate,after the concert ended Flynn and Esther told 3DG3 that they liked her music but when they introduced Felicia,the both hugged and then 3DG3 sayed"Cousin Fely how are you" and she replied"yes,Sammy i am fine" she asked where is Dan and Later Felicia responded with back home.
Sammy went to Dan's house and she saw Dan with Steamer-Style,She responded with"Cousin Dan is that your bot" and he sayed"Yeah it is cous,but i gotta ask you why do you still work with Adrian and his team" Sammy said that this incident was in the past and soon Dan asked her to work with the prototype and then she responded"unless you have OREOS! the yeah" and later they got to work.
Fight Records
Coming soon!

Notes
This bot is Created by Mg1Pro exo
This is the bot with a Steampunk look.
Dan Yale Created Steam Prototype 2XB3,Steam-O-Naut and SteamBuster.
Community content is available under
CC-BY-SA
unless otherwise noted.