*THIS IS FAN-MADE!!! DO NOT EDIT WITHOUT PERMISSION!!!!!*

This page is owned by Simon Mizinkov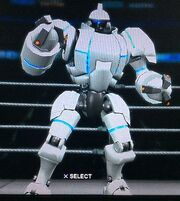 SNOW
Info
Title: The Tundra,The Iceberg
Generation:4.3
Bot Type:Game Breaker
Status: Online
Announcers quote:Coming from the frozen waters of Alaska,He's the Tundra,Introducing SNOW!
Origin:Alaska
Height:8,4
Weight: 1580lbs
Special Feature:Anti-OverHeat system
Special moves: FREZZE!,Cold War.
Rip-off: Ice-Quake
Common Moves: Spin-fist,Roundhouse kick.
Stats
Strength:95/100
Speed:83/150
Intelligence:84/100
Special moves
Cold War. Snow kicks the opponent,uppercuts him and headbutts.
FREZZE!.Snow hooks the opponent and pushes him to the corner. He starts doing jabs to the stomach,then does a kick.
Ice-Quake (ripoff). Snow flips over the opponent,jumps on him and starts punching. When the opponent gets up,Snow kicks him,leaving the opponent headless.
Description
Snow Is a robot from Alaska. If he will ambush you in the corner,there is no escape.
Fights
Vs BlueBot WIN+BlueBots head 500$(Simon's garage training arena)
Vs AquaBot WIN 500$(CRASHPALACE)
Vs CrushBot LOSS-Lost head 0$ (Crashpalace)
Vs CrushBot REMATCH-WIN+CrushBots head 20000$ (CrashPalace)
Vs SixShooter WIN 1500$(Lone Star Bar)
Vs Scrapbot WIN 2500$ (The zoo)
Vs Metro WIN 20000$ (The zoo)
Vs BlackTop WIN 3000$ (parking lot)
Vs Kong Tron WIN 3000$ (The zoo)
Vs Skar WIN 3050$ (CRASHPALACE)
Vs Gambit WIN 5000$ (Las-Vegas)
Vs Crimson Carnage WIN 7000$ (CRASHPALACE)
Vs FAT boy WIN 3000$ (CRASHPALACE)
Vs Abandon WIN 15000$ (CRASHPALACE)
Vs Midas WIN 60000$+UW title (CRASHPALACE)
WRB
Vs Fiend WIN-lost left arm 23780$ (WRB)
Vs Gridlock WIN+Grids head 20000$ (WRB)
Vs Axelrod WIN+Axels leg 25000$ (WRB)
Vs TouchDown WIN 30009$ (StarBlaze)
Vs SeaHawk WIN 35550$ (StarBlaze)
Vs Jasper WIN+Jaspers head 40050$ (StarBlaze)
Vs Atom DRAW 500000$ (WRB)
Vs Zeus LOSS-anti-overheat system,right arm and head (WRB)
story
EPISODE 1:NEW ROBOT,NEW FIGHTS,NEW CHAMPION.
Simon saw all these fights,Atom vs Zeus,and a ton of these Afterworld fights. He went to the store,but he didn't like THE any of the robots there. On the street some random guy was selling robot parts. There was a Fantom head,a mainframe,and a core. The core could give a anti-overheat feature. It costed kind of cheap. Looks like his family was poor, so fifty dollars was enough for him. Simon bought the core. He had no place to go,especially it was raining,he went to the junkyard. He found all the parts that the robot needs except the head. He found a head but he didn't like it. He was going out the junkyard and looked up. The name was "Alaskas Junkyard". Simon looked down and saw a robot head. Simon REALLY liked it. The guard was sleeping so Simon stole the head. Simon went home with his favorite type of head-Gargant. He spent all night at home to make Snow. He fell asleep at day,but he heard a knock at his door. He saw the junkyards guard,standing with BlueBot. "Hey sukkah,if BlueBot wins,you bring me back the head." "I have a ring in my garage, let's go there." They went to the ring and started the fight. BlueBot kicked Snow,but he didn't fall. Snow activated "FREZZE!". He hooked and pushed him to the corner. He started doing jabs to BlueBots stomach. Kick,BlueBot was on the ground and got up wanting to do a finisher,but Snow caught him with his finisher. He grabbed BlueBots leg and flipped him,then jumped at him and started to do devastating crosses to BlueBots face. One Right cross was stronger than the others,knocking out BlueBot. When he tried to get up Snow did a right kick to the head. Blue bot was headless. Snow won so new robots should be beware of him. Week after,Simon went to CRASHPALACE to fight AquaBot. "Woah,woah,woah! Simon! You really think that robot can fight here?" "Finn,just let me." The fight started and AquaBot started doing hooks to Snows face,Snow activated "Cold War". Snow does a kick,uppercut headbutted Aqua. Aqua got up and started kicking Snow,Depth Charging at the end. Snow gets up and does a right cross,which went through Aquas body.
EPISODE 2: ultimate loss
Leo phoned Simon. "I saw how you beat AquaBot,now try fighting CrushBot." Simon went to Crashpalace. The fight started. (See story about the fight here:http://realsteel.wikia.com/wiki/CrushBot)
Simon couldn't believe he lost so fast. Snows head landed on his foot. Simon thought this was the end. But he repaired Snow at home. Simon went to Crashpalace again to see if CrushBot is still there. Simon fought CrushBot again. Snow did Cold War and FREZZE! at once,CrushBots head was pretty damaged,Snow ripped off CrushBots head and kicked it to Leo. Snow was tied with CrushBot,but he would fight him again. In the AfterWorld.
EPISODE 3: finishing UnderWorld
After CrushBot Simon fought these robots:
SIXSHOOTER
BLACKTOP
METRO
SCRAPBOT
KONG TRON
SKAR
GAMBIT
CRIMSON CARNAGE
FAT BOY
ABANDON
One opponent left. Midas. Snow entered the ring and the battle started. Midas tomahawk blowed,headbutted and pummeled Snow. This all went to the 3rd round,where the robots started punching each other and and Snows uppercut made Midas malfunction. Snow got close to Midas and charged at him. Midas is beaten.
EPISODE 4:WRB
Few weeks later,Tak Mashido himself sent an invitation to Simon. Simon accepted.
The first WRB round for Snow was Fiend. The battle started and Snow caught Fiends left arm and Snow was punching Fiend until Fiend broke out. Fiend charged at Snow,with red flames coming out of his eyes. Fiend beast moded Snow,punching his chest. A hook to the left arm broke Snows arm. "No,Snow we can't lose the first fight!!" Fiend continued with his special move,which sent Snow to the other corner where Fiend pummeled Snow to death,Simon lost connection to Snow. Simon shook the controller and punched it,Snow suddenly turned on. But that meant nothing for Fiend. He started pummeling Snow again,Snow dodged the uppercut,Fiend went forward. Snow didn't loose time and he beated Fiend. After some days,Simon finished up the WRB. This is the list of robots that lost to Snow in the WRB:
GRIDLOCK
AXELROD
TOUCHDOWN
SEAHAWK
JASPER
Simon didn't really want to fight Atom,but he did. When the fight started Atom did The Charlie Special,following with and Uppercut and with some hooks. Snow countered Atom with Cold War. All 4 rounds went like that, in round 5 the robots started countering each other's attacks,Snow did FREEZE! and Atom Did a Charlie Special. The judges decided that the fight was a draw.
EPISODE 5:ZEUS
Simon was nervous. The last fight,with The King Of The Robots. The fight started. Zeus got close to Snow and ripped of the right arm,following with the head and Just right before Snow fell,Zeus's punch went through Snows body,and Zeus ripped out the Anti-overheat system. Snow lost like SCRAPBOT.
EPISODE 6:THE FALL OF THE TUNDRA
Simon went home. He was sad. He was about to scrap Snows body,including ripped off the right arm and the head,and sell it,but and idea flashed in his head. Revive Snow in a new form. That,is the end of the tundra.

Story will continue in the page "Warrior"
Also check these pages:
Ravagor
Prometheus
CrushBot
Shredder
Golem
Ambush 2.0
OverKill
GigaKill
The Sarge
OneWay
Bunker Buster
Denster (Drazi)
I would like to thank all of these robots owners,because if they wouldn't have created them,this page won't have been created too!