This is FanMade. Don't edit without permission.
SMASHER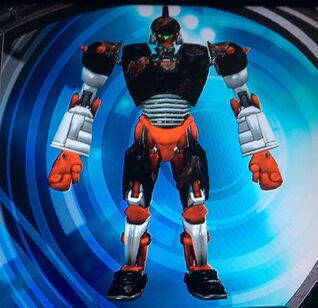 Title:The UnControlable Menace
Generation:3
Status:Online
Announcers quote: The UnControlAble Menace,Smasher!!!!!!!!
Bot Type:Annihilator
Origin:Phillipines
Height:8,1
Weight:1398lbs
Owner:Kevin Peterson
Special Moves: Slammer,GroundShake
Rip-off: Rampage Time
Special Feature:Speedster motherboard
DESCRIPTION
Smasher is a beast. He will get the job done,if he got you stuck in the corner. He was made in Phillipines ( cuz they make good bots there)
SPECIAL MOVES
Slammer.Smasher hits the opponent like his fists are hammers and headbutts. (Used only in UW)
GroundShake. TouchDowns special (RSWRB)
Rampage Time (rip-off). Smasher kicks the opponent and uppercuts,and kicks the opponents head.
STATS
Strength:84/100 (125/100 when in Combat Mode)
Speed:75/100 (99/100 when in Combat Mode)
Intelligence:67/100
FIGHTS
Fight Conditions
G.C:Good Condition
H.B.U:Hardly Beaten Up
E.B.U:Extremely Beaten Up
C.D:Completely Demolished
Vs BlackTop WIN 1500$ G.C (Parking Lot)
Vs SixShooter WIN 2500$ G.C (Lone Star)
Vs HollowJack WIN 3000$ H.B.U (The Zoo)
Vs CosmoBot WIN 4000$ H.B.U (CrashPalace)
Vs Metro WIN 4500$ H.B.U (The Zoo)
Vs Abandon WIN 10000$ E.B.U (CrashPalace)
Vs Midas WIN 60000$+UW title H.B.U (CrashPalace)
WRB
Vs Gridlock WIN 20000$ H.B.U (WRB)
Vs AxelRod WIN 21000$ H.B.U (WRB)
Vs TouchDown WIN 45000$ E.B.U (StarBlaze)
Vs Zeus WIN 900500$ E.B.U (WRB)
Vs Asura LOSS3x C.D (WRB)
Vs Asura (rematch) WIN 1mil.$ E.B.U (WRB)
Story
Kevin Moved to his new house. He checked everything everywhere,and when he went to his garage,he looked out a little window that he had there,and on his backyard he saw something laying there. He went out there and saw a trashed robot. He rolled him in his garage and turned him on there. The Controller of that bot,activated and it said:Smasher. "WOW,what a threatfull name" thought Kevin. Then he stared reading all the info he found about Smasher. Then he went on a fight with him. Fight started,BlackTop hooked Smasher and did his special move,Rev-Hook. Smasher got up and did his special,Slammer. BlackTop is finished.
Community content is available under
CC-BY-SA
unless otherwise noted.