Information
Name: Sling-Shot
Generation:3
Type: Brawler
Handler: (Former) Kurk Kizami, (Now) Raf Kent
Stats
ARMOR: 80/100
STRENGTH: 85/100
INTELLIGENCE: 90/100
SPECIAL: 65/100
SPEED: 85/100
TOTAL: 405/500
Special Moves/RipOffs
The Iron-Sling: Sling-Shot lands a stunning blow to the head, disorienting the opponent long enough for SS to launch at the opponent as if he was a rock from a sling
Crosshairs Locked/Headshot: SS's RipOff. A hook-jab-uppercut-slam combo followed with some hooks to keep the weakened and startled opponent busy, while holding his other fist close to his face, as if it was a bullet in a sniper rifle. Then, Sling-Shot lands a quick, hydraulic enhanced punch that knocks off the opponent's head.
Story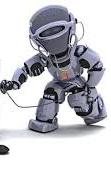 Kirk was happy he got another bot. He went to Crash Palace to fight Throttle. He put Sling-Shot in. Gooooooo!!!! The bell ringed. Throttle jabbed Slings. SS than counters with 2 kicks to the midsection. "Yeah!", shouted Kirk. Slings then uppercut Throttle and punched him in the face. Throttle then did an unexpected roundhouse, cuz he is disorientated. Slings is startled and got a system malfunction. Throttle then ripped Slings' arm, but Slings is still not responding..... " THROTTLE UP EVERYBODY!!!!!" Shouted Throttle's handler. Throttle then kicked Slings like a football! Slings landed in the seats, dead. 'New bot, lost...' Kirk thought. Raf Kent watched the fight and bought whats left of Sling-Shot. Raf got home and was greeted by his robo butler, R.R.D. He asked R.R.D to repair Sling-Shot. The next day he was done. SS is back on track!! He brought SS to a W.R.B knockout tournament. It goes like:
ULTRA ZEUS VS SKAR
EXCAVATOR VS TWIN CITIES
ABANDON VS ALBINO
FIEND VS TOUCHDOWN
NITRO VS NOISY BOY
SHOGUN VS GAMBIT
SCORPIO VS SLING-SHOT
PLATINUM VS CRIMSON CARNAGE
So yeah, the newest Tak Mashido machine is in the tourney, but no hesitation. Result:
ULTRA ZEUS > SKAR
EXCAVATOR < TWIN CITIES
ABANDON < ALBINO
FIEND > TOUCHDOWN
NITRO < NOISY BOY
SHOGUN < GAMBIT
SCORPIO < SLING-SHOT
PLATINUM < CRIMSON CARNAGE
Scorpio was only uppercut but got RINGED-OUT!!!!!
Round 2:
ULTRAZEUS > TWIN CITIES
ALBINO < FIEND
NOISY BOY > GAMBIT
SLING-SHOT > CRIMSON CARNAGE
Crimson was only to be a worthy opponent in round 1. He's got Slings' arms pierce his body!!!
ULTRAZEUS > FIEND
SLING-SHOT > NOISY BOY
Got Shogun Trinitied, oh, nope! Noisy did! Finally he can shut up!
The final straw, VS ZEUS!!!
Zeus NukeFisted Slings but missed! Confused how he missed, he got uppercut and punched again. Bob! Weave! Miss! 3 straight jabs took care. Ultrazeus turned on HYPERMODE AND RIPPED OFF AN ARM! SS is struggling from a headlock bot Zeus kept pressure and crushed SS' head! Bummer..... Runner Up, is UNACCEPTABLE! " I vow to beat Zeus!!!!!!!!!!!"
e oSo yeahwen e,h
Community content is available under
CC-BY-SA
unless otherwise noted.