Six Shooter

'
Vital statistics
Title
"The Sheriff of Robo-Town"
Generation
2
Bot Type
Jack of All Stats
Status
Working
Name: Six Shooter
Title/Nickname: "The Sheriff of RoboTown", "The Red-Eyed Sheriff (as Six Shooter Wild)
Generation: 2
Bot Type: Jack of All Stats
Handler: Unknown
Status: Online
Stats
Overall Stats
Weight:972
Height:8"0"
Strength:39/100
Speed: 68/100
Armour: 49/100
Intelligence: 60/100
Special Moves: 69/100
Total Battle Rating: 3224
Made in: United States
WRB Stats:
Health: 2600
Power: 208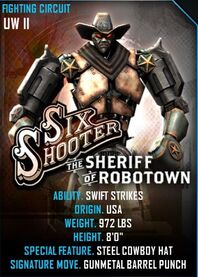 Special: 27
79 Stars
Signature Moves: Gunmetal Barrel Punch, The Gun Show
                          Super Gun Barrel Punch (Albino)
                          Ultra Gun Barrel Punch (Ambush)
Specialties: Piston Fists (Small pistons embedded within his arms allow him to mimic the sound of a gun firing with his fists), Steel Cowboy Hat
Handler: Unknown
Announcer's Quote: "Say 'howdy' to...Six Shooter!"
Information
Six Shooter is a Underworld Robot Boxer. He appears in the film during Atom's Underworld winning streak. Six-Shooter punches Atom a few times and proceeds to taunt him. While he taunts, Atom recovers and gives out blows to the Sheriff of RoboTown and finishes him with an uppercut that knocks him over the railing.
Appearance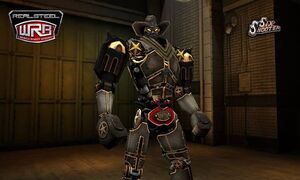 Six Shooter is modeled after an Old-Western style cowboy. His arms, legs, chest, and stomach have a copper-like armor.  His head features a prominent sheriff's hat, and his face appears to be modeled after famous western actor, Clint Eastwood. His feet are designed to represent cowboy boots, including working spurs. His shoulders feature the famous "Tin-star" symbol of sheriffs in the Old West. Just below his shoulders are pistol-like ammunition sockets that move when Six Shooter taunts his opponents. He does this by making the piston just over the fists move abruptly forward (once) which makes a noise like a pistol shooting. His fists are shaped like old boxing gloves, also featuring a Tin-star. With glaring, ruby-red eyes, this bot looks very menacing.
Fighting Style
Six Shooter fights off basic jabs and punches, but he has a special move to weaken the opponent before the grand finale. He clamps onto the robot's foot, (a move similar to Metro's Foot Clamp), and then deals muiltiple one-two punches, finishing with an uppercut. This should, at the least, knock his opponent down, or worse, dislocate their head.
Trivia
He had two variations in the iOS game: Six Shooter Gold, and Six Shooter Wild, who uses the nickname "The Red-Eyed Sheriff".
When he was taunting Atom, he makes Shotgun noises.
Community content is available under
CC-BY-SA
unless otherwise noted.