Jurassic World: Dominion Dominates Fandom Wikis - The Loop
Play Sound
Real Steel WRB is a mobile game released by Reliance Games in 2013.
Features
A total of 67 mean machines, including fan favorite superstars such as Zeus, Atom and Twin Cities. Now eight new contenders have entered the ring: Brawl as Touch Down, Hollow Jack, Blockbuster, Bio War and more!
Championship, Time Attack, and Free Sparring three new diverse modes that will test your mettle and your metal.
Championship is back. Make all your robots champions!
Bigger, better and now social! Take on friends in live local WiFi multiplayer and fight your way up the Leaderboard!
Play Daily while connecting to the internet to receive a reward by winning in the Daily Exhibition.
Paint Shop is now improved and available.
Stack your bot collection with the new mystery card game and test your luck.
New Appearance for premium robots after upgrading in every Tier.
Updates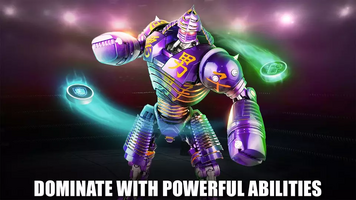 UNLEASH ABILITIES POWER
Unleash Oil Leak, Stun, Perfect Block, Corrosion and many more robot Abilities in battle
Overpower opponents with twin combat Abilities added for each Robot
Unlock a robot's 2nd Ability by reaching star level 2
Strategize to Victory - Certain robot abilities have an advantage over another.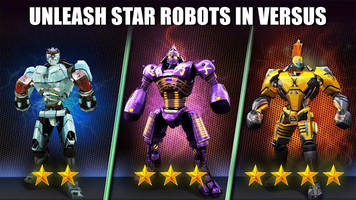 MASSIVE GAMEPLAY ENHANCEMENTS
Dodge or evade opponents Attacks: DOUBLE TAP on UP and DOWN arrow buttons and watch robots side-step to avoid being hit.
Featured Robots
Underworld I (UW-I)
Underworld II (UW-II)
Aquabot (Playable after Facebook Robot Pass or using 110 real gold along with Tackle)
Hollow Jack (Premium)
Psytron (Robot Store exclusive)
Crusher (Robot Store exclusive)

ZeroG

Metro (Premium and Champion)
World Robot Boxing I (WRB-l)
World Robot Boxing II (WRB-II)
World Robot Boxing Gold (WRB-G)
Superbots
Forces Of Nature(a.k.a WRB-III)
• High Voltage
• Death Metal
• Vesuvius (Premium)
• Chiller (Premium)
• Gemstone (Premium And Champion)
Trivia
Although some nicknames of the bots aren't written in their profile cards, you can hear their nickname being called in their intro.
Zeus, Asura, and Midas are all names from mythology.
4 bots from the movie have a Gold version in this game.
Zeus, Zeus Gold, Atom, Atom Gold and Scorpion are the only fighting bots in this game that cannot have their limbs and head torn off after successfully performing a rip-off.
Shogun and Fiend have a glitch in championship poses (posing for the Trophy and the WRB belt). Shogun can be seen without a neck.
Blac Jac and Nitro don't rip their opponent's head off after a successful finisher, however, they do rip their arm off.
If you hold the down button on the moving buttons, and pressing the heavy hit button while your opponent is doing a dash move, you can actually knock them down and perform a taunt.
Metro and Metro Gold are the only bots that cannot do a side-step.
When you have a mirror match and you finish off the opponent, you can see the finishing blow being slowed down.
Some of the robots (Phantom, Tri-Gore, etc.), are originally from other game called Ultimate Robot Fighting (URF), also developed by Reliance Games.
The game has the chance to get glitched after a Daily Exhibition fight in which it'll give you instant rewards by pressing the Settings button without needing to wait for the next day or fight at all.
Some robots that appear in this game that are originally from other games of the franchise may get slight or drastic changes (Red Beret and Thjorn are some examples of this).
Video for new updates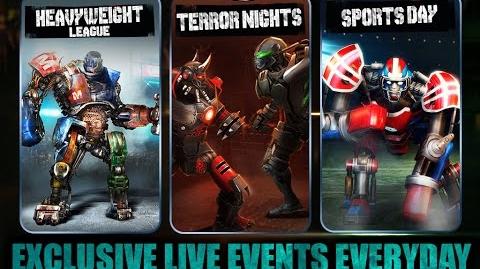 Official Trailer