...
Activating System 0%. Please wait.
Activating System 17%. Please wait.
Activating System 36%. Please wait.
Activating System 57%. Please wait.
Activating System 78%. Please wait.
Activating System 93%. Please wait.
Activating System 99%-
...
Every hero has their villains. A rather gruff but young male voice says.
It suddenly opens with a sunrise jungle setting. It was obviously artificial with metal trees and plastic plantation. Suddenly, a large wave of red smog-like gas fills the scene as the silhouette of a robot came into view.
The smog cleared, revealing an insectoid-based robot. It had insect exterminator attire with exterminator equipment fused to its left fist. It appeared partially insect complete with fly-like eyeballs, feelers, beetle-like mandibles with human teeth on the inner sides of it, and a smaller set of arms hanging from its armpits.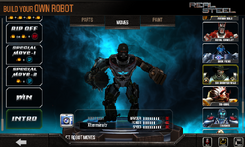 XTERMINATOR. THE BUG-SPLATTERING, BLOOD-GUSHING BRAINIAC.
Another silhouette becomes visible in the trees behind Xterminator. The slender and feminine figure ran down the trees with its legs wrapped around the tree's body. A slender tail was visible as two glowing velvet-red eyes appeared on the silhouette.
This robot was some sort of anthropomorphic snake hybrid. It appeared as a mashup of various snakes, vipers, king cobras, and etc. It wore tribal-like clothing with ragged leather clothing. It had glorious and extremely long legs ending in clawed feet and a snake-like face with a visible hood and a short muzzle.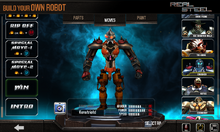 KONSTRICTED. THE SUFFOCATING SUPPLEXING SURVIVOR.
It shows another tree in the distance, a strange robot's silhouette crawled down a tree. It was lanky with multiple limbs.
The robot was an anthropomorphic arachnid complete with dark-brown fur, multiple black eyes, and four arms ending in 3 clawed fingers. It was obviously feminine like Konstricted. It wore a similar outfit to Konstricted, only black and appearing less homemade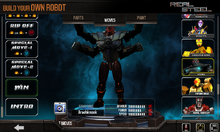 ARACHKNOCK. THE EIGHT-EYED ERUPTOR  OF THE EONS.
The camera moves down, revealing a bubbling tar pit. A figure rises from the tarpit. Another robot.
It resembled a mashup of various dinosaurs but anthropomorphic. One of its most noticeable features was the heavy armor covering its body resembling dinosaur bones made from bone marrow. It wore strange gauntlets made from skulls with its claws protruding from inside the skulls' jaws. It had a stronger feminine appearance despite the heavy armor covering its body.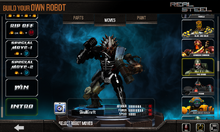 SKULL-GRAFT. THE BONE-CRUSHING BLASTER OF BRAINS.
Another creature rose from the tarpit. It was very dark and slimy and feminine like the others excluding Xterminator. Its body was
ridiculously curved with its waist only appearing to be two feet in width. It resembled some sort of slug or leech with slimy tar dripping from its body.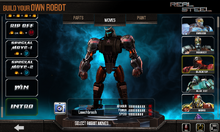 LEECHBREACH. THE SWAMPLAND'S SWIMMER.
ENTER THE AMAZON. The male voice said. MANMADE WORLDWIDE TOURNAMENT COMING SOON. YOU DARE CHALLENGE THEM?
It showed the five anthropomorphic robots side by side, striking menacing poses as a logo appeared above them. It was golden rather the silver WRB logo and had MWT on it.
REAL STEEL: FEROCIOUS FERROUS. COMING VERY SOON.
It briefly glitched, partially showing an online article's headline. LEADING SUSPECT IN DISAPPEARANCE OF PAUL EVANWORTH REVEAL-
GET READY TO RUMBLE. MORE ARE ON THE WAY.
Community content is available under
CC-BY-SA
unless otherwise noted.