Real Steel Champions is a brand new game to be on iOS and Android. It focuses on mainly building your own robot which people assume is free as it is a main feature in this game. It's the latest in a series of Real Steel Games which claims to have achieved about 50 million players worldwide. The game is developed and published by Reliance Games, which also develops Real Steel WRB .
Robots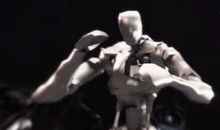 Only some robots are confirmed, in the trailer you can see many robot parts. This is a list of every robot that has a robot part in the trailer or is a robot seen in the trailer. A teaser has been released for the game showing the robot creation section. The game has been released and this is the list of bots. Some bots did not appear but instead provided moveset.
Returning Robots
New Robots (Legends)
New Robots (without mixed parts of same names, still customized robots)
New Robots (originally appeared as opponents)
Many were missed out but some were hard to spot and recognize, or couldn't be seen.
There is a Mainframe which is a blank robot used to create your robot. You must buy mainframes to create more robots. The default name of your BYOR robot is PLAYERBOT. However, after the current update, mainframes aren't required to buy. Also, you can mix robot parts from different regions. However, the limit of customized robot amount is retained.
Gameplay
Real Steel Champions begins by creating your own unique robot from a variety of robot parts, including Heads, Torsos, Hands, and Legs. What's special is you can choose from 140+ epic moves including Special Attacks, Heavy Attacks, Intros, Win Celebrations and Finishers. An improved Paint Shop which is similar to it's Real Steel World Robot Boxing makes you color your robot's base, primer & highlight from 16 colors in 3 shades each and 3 textural finishes: Glossy, Matte & Metallic. This completes the first phase of the making of your unique robot.
The Game unfolds with 140+ epic fights with endless Free Sparring to hone your skills. As fights becomes more challenging you have power-enhancing Upgrades to make your robot stronger, badder and unleash Critical Hits. The game immerses in you the feeling power as your get to knockout opponents with epic rip-offs. Watching your own colossal robot wining is the greatest experience ever. Create a collection of 1000s of unique Champions and become the Ultimate Collector of Real Steel Champions. The game also gives you the chance to relive the Championship experience by choosing 5 legendary Real Steel Robots.
There are 4 regions in the game, this is a list of the robots categorized with bosses and their specific region.
Region 1
Axelrod, Pinhead, Grumpelsteelskin, Atom, Ambush, Abandon and Noisy Boy (boss)
Local:Axelrod, Pinhead, Atom, Noisy Boy, Ambush, Grumpelsteelskin, Bluebot and Hotrod.
Region 2
Gunny, Clown, Touchdown, Sixshooter, Nitro, Armadillo and Metro(boss)
Local:Biowar, Hardhat, Metro, Blockbuster, Sixshooter, Armadillo and Twincities.
Region 3
Biowar, Hardhat, Twincities(canceled), Hotrod, Juggernaut, Bluebot and Midas(boss)
Local:Camelot, Deepsix, Midas, Touchdown, Impact and Excavator.
Region 4
Camelot, Deepsix, Impact, Blockbuster, Albino, Atomprime and Asura (boss)
Local:Abandon, Nitro, Gunny, Clown, Zeus, Atomprime, Juggernaut and Albino.
In the creation of your bot, a mainframe is used to apply the parts on. You can rename your bot and give him a customized entry announcement.
There are 3 gamemodes in the game, Free Sparring, Tournament and Time Attack. There is also 4 difficulties including: Practice, Rookie, Amateur and Pro. There are 5 regions just like the tiers in Real Steel: World Robot Boxing.
A level system is included in the game along with the inbox and achievements section.
Overview
In Real Steel Champions you Build Your Own Robot with 100+ parts from 27 robots, which includes 12 Exclusively New and the 9 legendary robots: Atom, Zeus, Noisy Boy, Midas, Metro, Ambush, Atomprime, Sixshooter and Twincities. The Maker of Legends, Raiden, will be there to guide you.
In your journey to become the Champion of the New Real Steel Era you will face Legendary Bosses from Real Steel and Mysterious Robots whose powers are unknown. Your Main Objective is to win the Championship and reign supreme as the Real Steel Champion. What's more is you can roster 1000s of unique robot champions.
Release
The release of this game was on 3rd March 2015 on iOS. Android version live as of 19th March 2015.
Ios:https://itunes.apple.com/gb/app/real-steel-champions/id944877545?mt=8&ign-mpt=uo%3D2 (Removed)
Android:https://play.google.com/store/apps/details?id=com.reliancegames.rschampions&hl=en
Trailer
Reliance Games has released a trailer for Real Steel: Champions. By the robot parts, we can assume that many robots will be featured in the game also new Legend robots.
A teaser has been released for the game, it is a BYOR robot that seems to be from Real Steel: Champions.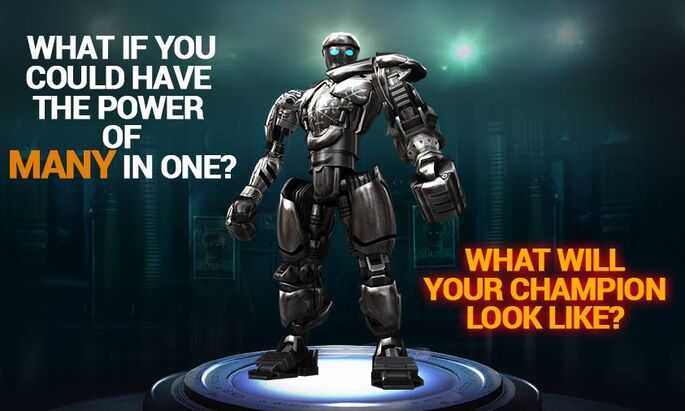 Community content is available under
CC-BY-SA
unless otherwise noted.