Name:Plariscrates
Nickname:Philosophy Master
Special:(1)is it right or is it wrong?
Move set:Knowledge,Belief,Logic,Ethics,Understanding
Special(2):Meaning of life
Made in:Greece
Chassis:Descartes 304 Armor
Core:Nietzsche 467 Plutonium core 
Owner:David Rowes
Origins
Built in Greece,A plus student and boxing fan,David Rowes built his robot and named him Plariscrates a mix of his favorite philosophers,Plato,Aristotle and Socrates,He believes that his bots knowledge could be useful in battle and so he challenged Ross Wells to a fight and he accepts it he modified him to talk and communicate to machine,David asked him about his existencial question and he responded"i am a robot" in which he was astonished and asked him to use his knowledge in battle and soon he accepts.
Battle against Brawlin 
As Plariscrates enters the battle,Ross sent Brawlin to take him down,he was bulky and strong,as the bell rings,Plariscrates sits and thinks about philosophy,as Brawlin punches he dodge it lightning fast but he asked Brawlin this question what is the meaning of life and soon while thinking about his question Brawlin's  Chip malfunctioned which destroyed him and making him the victor of this battle,David won 30.000$ and tells his robot about using knowledge as a weapon for good not evil and soon they both left.
Trivia
Plariscrates know what the meaning of life is, it is right below:  
ERROR 404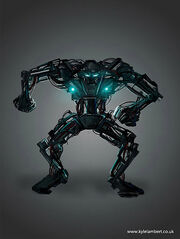 His questions are most complicated that bots malfunction during battle
AND ALSO I HAVE RETURNED!!!(Mg1Pro exo)
Community content is available under
CC-BY-SA
unless otherwise noted.