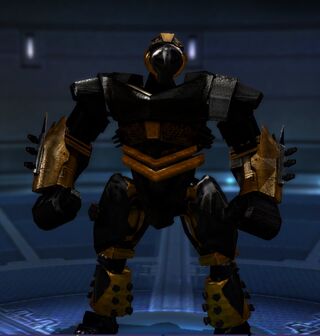 (This page is owned by Simon Mizinkov, don't edit without permission.)
PEACEMAKER
Owner: Peter Peters
Origin: Panama
Generation: 4
Title: The Destroyer From Panama
Bot type: Game Breaker
Height: 10
Weight: 2000 lbs
Special feature: Titanium carcass
Intro: Peacemaker walks in the ring, points at the opponent and does a cut-throat.
Win: Peacemaker does a cut-throat and then stomps the ground.
Special moves:
1. Punch once and you're down. Peacemaker charges at the opponent and punches him.
2. Jacked up. Peacemaker punches the opponent with the right arm, spins around and punches him with the right again, and then kicks him.
Rip-off:
Peace maker punches the opponent with the left arm, then with the right, charges at him, knocks him over and hammers the opponents head with the right arm.
Stats
Armor:100/100
Power:100/100
Speed:50/100
Intelligence:67/100
STORY
Soon.
Community content is available under
CC-BY-SA
unless otherwise noted.