Over Flamed is a bot designed and built in India. His parts list include:
Head : Visor
Body : Retro
Arms : Retro
Fists : Bruiser Gloves
Legs : Spire
Motherboard : Stock Circuitboard
Generator : Worker X19
Hydraulic Fluid : Bargain Fluid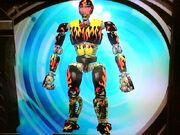 His fave taunt is the Muscleman and ShadowBoxer. Battle rating is 689 but this is not a bot to be underestimated; he took out Kong Tron in less than 1 round. He turned Scrapbot in to scrap metal with a swift tough middle kick. His fighting style is unorthodox but infused with middle eastern martial arts. As his newbie owner learns the ropes expect to see further upgrades and and title challenges from this bot.
Anyone wanna take him on - send a request to PurplePatch2010 on the PSNetwork.
Community content is available under
CC-BY-SA
unless otherwise noted.