About Oneway: Fan-made storyline by: FreddyKrueger87

Stats)
A:10
P: 9 1/2
S: 9
Nickname: The One-headed Wonder. The Tyrant Speedster.
Opening: The Tyrant Speedster, The One-headed Wonder, make a way to ONEWAY!
Moves:
Powercut: All Power drains into the right arm, swings and swings until the uppercut reaches the bot.
Oneway To Pain. Oneway jabs at the chest twice. Then pounds down the head.
---
Behind the Bot
Ugh, what was it? 1 year ago?
Hi guys! Welcome to behind the bot! I tell you about MY history, about the famous bot that they so call Oneway.
I thought of Oneway after I saw the pages Ravagor, Bunker Buster, Sarge, tons of other ones, and that inspired me. So I thought... What should I name my very own robot? I though of my 2nd favorite bot, Twin Cities, and renamed it after a SIGN. Yeah, a SIGN. Oneway, the One-Headed Wonder!
Now, I didn't have an account then, so I was the Wikia Contributor. When I made the first season, I finally got a comment from Skysteam, the creator of Bunker Buster, saying in these exact words: Very interesting, love you fan-fiction. That was the first comment I got on this page, Go look at it... it's still here!
Little bit around the middle of 2014, Oneway was known a lot now. I then decided that it was time for account. I made one, and now I make my edits as FreddyKrueger87.
I was obsessed with Oneway, I even made him as a custom bot in the Real Steel iOS game. (Not WRB...) I always told my mother what would happen each episode, though, she might not have been as interested in it as I was.
As of now though, I just sit and be quiet while making my edits, and I am greatful of how far I have come with Oneway.
Whoever is reading this, Enjoy the rest of the story.
-FreddyKrueger87
That's not the end though, I have met my current Wiki friends on this wiki, and I am grateful for working with them, and heck, even playing Minecraft with them! Oh, I forgot, if you haven't read the pages listed below, I highly recommend:
Ravagor
Bunker Buster
The Sarge .
I am just here to tell you all that I am very happy with all the great robot-makers on the wiki. Even people who just leave nice comments on my page. I would like to thank everybody who has been with me through the 1-2 years of Oneway. I am very pumped that we have made it past Season 10, and maybe we will see about a season 20? I don't know. But anyways, one more time, thanks SO much for helping me along the way. I am going to make 1 episode of Season 12 for you guys RIGHT Now! Keep reading!
If you are new to this page, Hi. I am FreddyKrueger87, the creator of Oneway. If you read my whole Oneway story above, be ready for the ones below. The episodes are LITERALLY filled with action adventure. Happy Reading! Err... or.... Nevermind.
Nevermind because I NEED TO TELL YOU about the Three Part Mini-Series about Oneway fighting Dark Oneway, IT WILL BE EPIC! Not the last episode though. The last episode will not happen for like, 50 years. (JK) Anyways, Part 3 is coming out soon so make sure to check it out!
By the way, everything I have added in BTB will not be deleted because it's just like a timeline, well, without the dates and numbers and stuff.
Hey. It's 2017.
And I've been unactive.
OH BOY OH BOY
-More BTB Soon!-
---
Seasons
1: It's Just Getting Started.
Sam Johnson has a new robot named Oneway, and he loves this bot, but now it is time to try him out.
2: It's Oneway, Or The Other.
Oneway is starting to be known around the world, Sam has been joing teams and leagues and meeting other famous people and bots.
3: It Takes Time, To Beat Time.
Sam's enemy from 1st grade named Rick Simmons returns after mudering innocent people and never being caught. He made a copy of Oneway and named it Time. Rick wants to destroy Oneway and kill Sam.
4: Oneway To Beat The Thug.
Rick Simmon's thugs made a bot of trash, named Thugbot. But Thugbot is stronger than Sam thinks...
5: Destructobot Rises.
Destructobot has beaten every bot in the world. Exept Oneway. Oneway wants to fight him, but is really nervous.
6: Zeus V.2
Oneway has not fought Zeus since the W.R.B.T.T.T, but now Zeus is back, and better than ever.
7: B.O.T Army.
Shane Brasse and his bot The Sarge team up with Commandobot and SoldierCrusher to create a powerful force named: B.O.T. Army. Oneway challenges the Three bots.
8: Burnbot Returns.
Sam had completely forgot the fight with Thugbot 2 years ago. The Thugs all made Thugbot have half of him burn during a match. They also renamed him Burnbot. But then....
9: Galaxy Terminator.
The world is new, and there is now a road to the Galaxy. Tedi Gehario wants to create a robot with powers of the galaxy.
10: Blast From The Past.
Sam's enemies return. But this is not the present day. This is a Blast From The Past.
11: Is This The Real Life, Or Is This Fantasy?
Sam somehow has the powers to go to his dreams WHENEVER he wants. But his dreams create... a horrible monster. Oneway has this last chance to crush Sam's nightmares.
12: The Day
Sam is happy with his life as it has been about 10-12 years when he had the first Oneway fight. But Sam is thinking about something... Will it be The Day?
13: Building a Better Bot
Oneway had been blown to bits, but Sam has a plan.
-More Seasons coming soon!!!-
== How to: BYOR

==

Head: One of Twin Cities heads.
Body: Twin Cities
Left arm: Gridlock
Right arm: Gridlock
Left leg:Twin Cities GOLD
Right leg: Twin Cities GOLD
Oneway's fights
Vs. Aquabot    Winner: Oneway    Prize: 20,000
Vs. Blacktop    Winner: Oneway    Prize: 45,000
Vs.  Metro        Winner: Oneway    Prize:  100,000
Vs.  Touchdown   Winner: Oneway   Prize: 125,000
Vs.  Fatboy     Winner: Oneway    Prize: 145,000
Vs. Bio war        Winner: Oneway    Prize: 150,000
Vs. Midas        Winner: Oneway   Prize: 200,000
Vs. Cosmobot   Winner: Cosmobot   Prize: 0
Vs. Hollowjack    Winner: Oneway     Prize: 165,000
Vs. Abandon    Winner: Draw        Prize:  50,000 each
Vs. Shogun       Winner: Oneway       Prize:   200,500
Vs. Gambit         Winner: Oneway     Prize: 200,900
Vs. Nitro         Winner: Nitro         Prize:  0
Vs.  Atom      Winner: Oneway     Prize:  250,000
Vs. Albino         Winner: Albino      Prize: 0
Vs. Noisy Boy    Winner: Oneway   Prize: 200,000
Vs. Rubicon      Winner: Oneway    Prize: 250,000
Vs. Zeus            Winner: Zeus        Prize: 2,000
W.R.B.T.T.T Fights
Oneway and Tackle vs Noisy Boy and Midas 
Oneway and Tackle vs Abandon and Albino 
Oneway and Tackle vs  The Sarge and Biowar
Oneway and Tackle vs Blacktop and Six Shooter
Oneway and Tackle vs Gridlock and Axel Rod
Oneway and Tackle vs  Blac Jac and Touchdown
Oneway and Tackle vs Hollowjack and Cosmobot
Oneway and Tackle vs Excavator and Camelot
Oneway and Tackle vs Atom and Zeus
WRBF 
Vs. Danger Zone  Winner: Oneway  
Vs. Gambit    Winner: Oneway
Vs. Nitro   Winner: Oneway
Vs. Zeus Winner: Oneway
Afterworld:
Vs. Stryder   Winner: Draw 
Vs. The Sarge  Winner: Oneway
Vs. Bunker Buster  Winner: Bunker buster
Vs. Ravagor  Winner: Draw
ULTIMATE FIGHTS:
Oneway and Logsplitter vs Ravagor and Bunker Buster- LOSS
Oneway vs Rick O shay - WIN

Oneway's story: 
SEASON: 1 (It's Just Getting Started)
Episode: 1
After Twin Cities got destoryed by ATOM, the people created another Twin Cities.With one head naming him Oneway. The people who owned him decided to give Oneway away to Farra Lemkova, then Samuel Johnson stepped in and bought Oneway for 100,000 dollars. Sam found Oneway his first fight in the underworld. Aquabot. The fight took 1 hour. (Because this was Sam's first fight) Then on the last 10 minutes, Oneway punched Aquabot very hard in the head, and a huge dent was put in his head, the dent, reached the motherboard, meaning Sam and Oneway won the fight. Sam felt pumped up after that, so he fought tons of other robots, like blacktop etc. Kingpin was laughing at the "Failure of Oneway" and rebuilt Metro. The fight was over with real quickly, 3 fights later, Artie Bakker challenged Oneway with a fight against Midas. Oneway destroy Midas with 1 arm. ( other was ripped off by Midas ) and Sam got Oneway a fight in the WRB. then he challenged ZEUS. Sadly, Oneway was knocked out by the "Nukefist" and lost 280,000.
Episode: 2
Oneway and Sam have heard of Ravagor, and Bunker Buster. Oneway challenges both. A few weeks later, Sam heard about the W.R.B.T.T.T, and decided to join, a week later, Sam asked Farra Lemkova and Tak Mashido to join with Zeus, they would have accepted it, but they already made a deal with Charlie Kenton and Atom to team up, Sam felt awful. Sam found a new bot named Tackle. Sam teamed up and Oneway and Tackle went in to the w.r.b.t.t.t. Oneway and Tackle beat Noisy boy and Midas, in 50 minutes. Oneway went face to face with Noisy Boy. Noisy Boy gave a powerful uppercut to Oneway which got Sam pumped. Oneway ripped off the head and tossed it at Midas, who was being destoryed by Tackle, and Tackle gave Midas a rapid punch to him and uppercuted his head off, They did almost this same exact thing untill they got to the last Tag Team fight. Oneway and Tackle vs Atom and Zeus. In the first hour, Oneway and Tackle took in so much damage, they were steaming. All of a sudden, Atom and Zeus slowed down. Oneway and Tackle defeated Atom and Zeus, the crowd roared, and Sam had a wide smile on his face. 2 months later, Sam got an invitation to the WRB FINALS which the tough guys went, He read the list on who went.
-Danger Zone
-Gambit
-Nitro
-Shogun
- Oneway
Sam was prepared..... He accepted the challenge. Sam traveled to San Diego to join the WRBF. He saw that Farra Lemkova and Tak Mashido where there, but WHY? All of a sudden the anouncements came on. LADIES AND GENTLEMEN, WE HAVE MADE A MISTAKE ON THE LIST OF ROBOTS, 1 WILL HAVE TO LEAVE THE WRBF AND THAT BOT WILL BE....
Episode: 3
Sam crossed his fingers, hoping for a different bot to leave. THE BOT WILL BE SHOGUN. ZEUS WILL COVER FOR SHOGUN. Sam had mixed feelings, He was happy because he was still in, but worried because he might not be the WRB offical Champion. Anyways, Fight 1 started Oneway vs Danger Zone, Danger Zone went up to Oneway and gave Oneway a huge uppercut to the head, causing Oneway to flip over, and he was on the ground for 7 seconds, then got back up. And Oneway blocked Danger Zone's next attack and ripped his head and left arm off, Oneway kicked him into the chains, Fight 2 was with Gambit, Farra Lemkova was suprised Oneway made it this far already. Oneway kicked Gambit in the Chasis (stomache) and sent him flying. Gambit got back up and jabbed Oneway in the arm. Oneway gave Gambit a very powerful punch to the Chasis and Gambit was down. On Fight 3, Vs. Nitro, the same thing happened and Nitro was down. Here was the last fight, and powerful rematch, Oneway vs Zeus, Sam got a flashback on when Zeus knocked out Oneway with a Nukefist. Once he was out of his daydream, He realized he could do this, The first 3 hours, nothing happened untill a shock went through Oneway, causing him to get powerful and rapidly punched Zeus in the Chasis, Zues was steaming, and Oneway gave Zeus an uppercut to the head, Zeus is down. Farra Lemkova was angry, and Oneway was claimed the 2nd place WRBF champion!
SEASON: 2 (It's Oneway, Or The Other)
Episode 1:The AFTERWORLD fighting league.
THE AFTERWORLD has started, and Sam found out early 6:00 in the morning, the annoucer said that ANY BOT ATTENDED, they must have a challenger, Sam waited untill a challenger came, the bot's name was Stryder, the fight began and Stryder ran right up to Oneway and gave him an uppercut to the head, causing Oneway to almost fly over the chains, but after he got up Stryder used his TThermal Charge, and gave Oneway lots of dents, they kept holding on! 30 mins later, both bots had lots of damage, then, at that exact moment, they punched eachother very hard in the head, causing Stryder and Oneway to collapse. After Sam spent lots of money on upgrades, he fought THE SARGE, He was pretty strong as well, Oneway dodged The Sarge's first punch and Oneway used his "Powerful Uppercut" to send The Sarge's head off. The next fight was with the mighty Bunker Buster. Right away, Bunker Buster knocked Oneway out, not even a 5 second fight!!! Next was Oneway vs Ravagor, Sam gave Fawk and nasty look, Fawk gave one back. The fight began, Ravagor and Oneway punched eachother in the Chassis and did that for a while untill, out of the blue, Oneway jumped and kicked Ravagor, just like the ultimate Oneway vs Ravagor fight. He was down for 4 seconds, then got back up, and used his signature move, Oneway did the same, and they both knocked eachother down, causing a draw.
Episode 2:   The gates of hell

About two weeks after the Ravagor fight. Sam got an invitation,
Hello! We would like your bot (Oneway) to join the gates of hell! The hardest fighting league ever known to man kind,
And of course, Sam accepted the invite. Sam found out that his friends were all down there once again, This time Sam realised that most of the bots were highly upgraded, He didn't care at all, he was ready...
Episode 3: Team Mech:
Sam was sleeping, untill his Iphone woke him up, he looked at it and it said CALLING: FAWK HEDHON,
"Hello?" Sam asked, "Wat's up Sam, great, I want you to join Team Mech, basiclly a back up unit, I would highly recommend you joining," said Fawk. "Anything for a pal," Sam said back.

Episode 4: The Beating
Sam was feeling very bored. I mean VERY BORED, He already finished all the leagues, all the fights, Completely NOTHING to do. He searched up new robots, he was caught by a bot called
BANDIT- CHALLENGE HIM TODAY!
You know what Sam did.

The fight started and Oneway automatically uses Powercut, He then punched Bandit in the head 7 times, Then Bandit's eyes turned red, and he POUNDED AND POUNDED Oneway in the chest. Oneway fell, losing to the new bot. Sam then went home, cursing and cursing, while dragging Oneway back home. Sam plopped down on his couch and turned on the TV. Sam was watching WMUR and found out that his friend Fawk died in a accident, Sam took this seriously, Sam had heard Fawk mention his son, Mark, and called but before, he saw this on the news
RAVAGOR IS STILL BEING USED BY MARK HEDHON....
Ok... Sam said
Season 3: Ultimate fights!
---
Episode 1: Vs Rick O Shay
Another ultimate fight was with Rick O Shay, Sam actually loss his belief in winning, but after realising that he was easy, Oneway used the Powercut.
Vs Ravagor and Bunker Buster
(see ravagor chapter 4)
_____________________________________________________________________________________   Episode 2:    ONEWAY VS LOGSPLINTER
One day Sam was really, REALLY, bored. So he called his brother and challenged Logsplinter for a fight.
(The Fight)
"Ladies and Gentlemen. Boys and girls, tonight we have......"
LOGSPLINTER!!!
vs, 
ONEWAY!
The fight began, Sam had never gone up in a fight against Logsplinter, He thought it would be really easy, untill Logsplinter gave Oneway a strong jab to the head, and knocked Oneway down for about 6 seconds. Sam then realized, this was a challenge. Sam used the Powercut against him, causing Logsplinter to be down for 9 seconds. 1 hour later both bots had serious damage. "Are you for real?" Sam said to himself. "I could have had this bot down by now, what did Jack but in his bot? After Sam realized he was day-dreaming, Logsplinter won the match. "Dang It!!!!" Sam shouted
----------------------------------------------------------------------------------------------------------------------------------------
SEASON: 3 (It Takes Time, To Beat Time)
Episode 1: Oneway's Match against Time)
Sam woke up early Sunday morning, with a pounding in his head. He put his hand up to his fore-head, it wasn't hot nor cold... after he quickly took his hand off his head, he saw a flash of red, it was blood red, no, it WAS blood. Sam sat up on his bed with a pool of blood surronding him. "Ugh, god" He said as he stepped out of bed, but as he stood... he went back into his mind...
( 13 years ago ) Sam's age: 5 yrs
"Hey guys! Wanna make a bet? Said Sam
"Hey dudes, look, it's that dork of a Johnson! (Other Bullies laugh) Alright Johnson, whatcha bettin?" Said Rick Simmons and his group of bullies.
"I bet that I can do 3 flips in the air non-stop without touching the ground!" Said the imature 5 year old.
"And if you can't...." Said Rick with a wide smirk across his face.
"You choose the consequences." Said Sam, Sam realised he just made a bad mistake.
(Back in present time)
"SHOOOOOT!!" Sam realised that they choose to kill him. Thankfully, he wasn't dead. Sam ran down into his basement and saw Oneway was gone, stolen, gone. He had tears in his eyes as he ran out the door and on the street. He was going to the "Store"
The "Store" is wear thugs and criminals hang out. Sam knew that Rick Simmons would be there. In Sam's mind, he thought of what they were going to do with Oneway... He ran into a mailbox and mail flew out. One letter was for him, werid, it was in a mailbox two blocks from his house. He opened it and read it.
To Sam Johnson:
We killed you, or at least we think. Oneway is ours, we are going to make a copy of him and upgrade him to full standards. Have fun trying to g..... 
The rest of the letter had blood stains splattered over it. he couldn't read the rest of it. Sam dropped the letter to the ground and ran......
He ran to the door of the "Store" and listened to the sounds. He heard metal clanging and klonking, and wild cheers. He looked through the crack of the two wide doors, and saw Oneway, attached to the wall, being beat up by this red-ish bot. Sam slammed the door open. Everbody stopped and starred at him. He saw Rick with a wild smirk. He came down to see him. "Hey DORK of a Johnson!" Rick said as he pushed Sam into the wall. Sam nodded towards the robot. Rick turned and admired his bot. Rick then knew what he was talking about. "One Million" Rick said. "Sure" Sam said as he grew a smile.
He named his bot TIME - The Tick-Tocking menace- Oneway and Time entered the Store fighting ring. and here he goes.
Oneway swung at Time, Time dodged and uppercutted Oneway causing him to flip. This was not a 10 second fight. It was a deathmatch. 1 hour later, Oneway used Powercut on Time, and knocked him straight out. Sam won and laughed as he left the store...
---
Episode 2: Oneway vs Time vs Golem
Sam starred at the clock, waiting for Rick Simmons to call and start crying because he lost to Oneway. 5 minutes after that. His phone rang. Strange, it wasn't Ricky's number.... He answered it.
( In a very deep voice )
You think Oneway is tough? Try fighting my bot, meet me and the beach ring at 9:00, or there will be trouble.
Sam hung up. He starred at the clock again. it was 7:57 A.M. He plopped on his couch but before he could get comfortable, the phone rang again. This time it was Ricky.
Hey dork of a Johnson! I delcare a rematch. All dem boys at the store slapped me cause of you!!! Meet me at The Beach Ring at 9:00, or I'll try killing you again!
Sam was confused, He had to fight Time once more and a mystery bot? Sam got Oneway into the big truck, and drove off.
1 hour later Sam arrived. He saw two other trucks like his, but he didn't care. The fight would start in 30 minutes, Time to train.
"Swing, Swing, Up , SLAM!" Sam said as Oneway swung to the left, then swung to the right, then did an uppercut, then did a hard jab in the air.
Soon after, some guy walked up to him... saying "Golem is gonna totally beat this bot." Sam turned. The man was gone. He hated when that happened. Anyways. Sam went to the ring... but who is Golem?
LADIES AND GENTS, TODAY WE HAVE 3 GREAT BOTS FIGHTIN' WE HAVE .... ONEWAY! *Everybody claps* ....TIME! *Nobody claps* and..... GOLEM!!!!! *Everybody claps and cheers* BEGIN!!!
Oneway steps up to so called Golem and tries punching him Golem dodges his attacks and smashes his fist in Oneway's body. Time kicked Oneway to the ground. Time ripped off Golem's right arm and used it to punch Golem. "Why ya hittin' ya self? Why ya hittin' ya self?" Rick Simmons said while doing so. Oneway got up and tripped Time. Time fell on Golem. Golem pushed Time off and attacked Oneway. Sam remembered what he did during the 30 minute training time. Swing, Swing, Up, SLAM!  Sam repeated this untill he found the perfect time. Time was distracting Golem, so Golem attacked Time. Oneway was behind Golem and went....
SWING!
SWING
UP
SLAAAAAAAAAAAAAAAAAAAAAAAAAAAAAAAAM!!!!!
Oneway knocked out Golem, soon after he used Powercut on Time, Oneway had won the match.
---
Episode 3: Time gets an upgrade.
"I'll show you Sam... heh, watch as I pummel your bot... Time is time, Time takes time. But in no time.. Oneway will be the robot scrapyard. heheheheh!" Said Rick Simmons as he started to add more and more power to Time. Rick upgraded Time's fists, harder and faster than Zeus's. He also made Time x2 longer than his last fight with Oneway and Golem. He than called Sam with his cell phone.
"Meet me at the beach ring once again... I challenge you to a fight to the death!"
Sam hung up the phone, sighed, and put Oneway into his truck and drove off.
LADIES, GENTS, THIS AFTERNOON WE HAVE A FTTD! ALSO KNOW AS A FIGHT TO THE DEATH!!!
ONEWAY VS TIME! BEGIN!
Sam could not beleive he was fighting Time again... this was the 3rd fight in a row. Although, Sam had no clue Rick upgraded Time. Time walked up to Oneway and punched him to the warm sand. Oneway struggled as Time kept punching him to the ground. BAM BAM BAM BAM! That was the only sound the Beach Ring heard. Oneway had dozen of large dents in his chest. Until Sam pressed that madness attack. Sam had never used the madness attack ever since the Oneway and Logsplinter vs Ravagor and Bunker Buster fight. Oneway punched, jabbed, uppercutted, kicked, and swung him to the gronud. Oneway stepped on Time's left arm, and pulled it off. Oil splattered everywhere on the sand. Oneway did the same with his right. Oneway then jumped 3 feet in the air and flattened Time's head.
"BOOM! TAKE THAT RICK! TAKE IT TAKE TAKE TAKE IT YA LOSER!! WOOO!" Sam shouted as he and Oneway ran back to the truck.
"Don't worry, Sam... I will win tonight...." Said Rick with an evil smile.
---
Episode 4: Rick vs Sam
PLOT: Rick threatens to kill Sam. But Sam can't back out of this fight, no bots, just Rick... and... Sam.... What happens?
Sam was awakened by a loud boom. A LOUD boom. Sam felt a pain rush through him. Blood was everywhere. Sam was shot. He looked up and saw Rick Simmons standing there, smiling. Sam ran up to him and smacked him as hard as he could. He then ran for the bridge. The gunshot wound was on his leg, stinging like heck. As soon as he got there, Rick Simmons, ran up to him and tried to stab him. Sam fell on the ground. Rick fell on him and pushed the knife slowly towards Sam's forehead. Sam then pushes Rick off and runs. Sam runs to the dead end on the bridge. Behind him was all water. Greatly full of sharks. In front of him was Rick. Smiling and holding the knife up. "You don't have to do this, Ricky." Sam said as Rick slowly walked towards him he then ran for him. Yelling: " AHHHHHHHHHHHHHHHHHHHHHHHHHH " Sam quickly dodged the attack. Sam couldn't see Rick, but looked in the water just to see a body and a pool of blood.
Rick Simmons was dead.
Gone,
Sam thought of Rick as he floated to the top of the ocean. He hated him. He really, hated him. Sam had gotten rid of his worst nightmare.
---
Episode 5: Strange Noises.
Plot: Sam goes to see Rick's burying. But he hears something in the woods... He chases the sound.
"We will miss him, and we will cry for him every day." Said the burial man. "I wont." said Sam as he slightly heard a Noise in the woods. Sam thought about it for a second. It's probably just a rabbit. He said that in his mind until the noise grew louder and louder. Sam ran into the woods, he heard the sound. This time it was LARGER and LOUDER. Sam ran to the left and ran straight. He then tripped. Looking up he saw... Fawk? He stood and starred at Fawk Hedhon for a long time. His body was here. Was this suppose to lead to something? Sam touched Fawk's head. Ice cold. He then kept hearing the sound still going straight. Soon enough he had to cover his ears to noise was so loud. He looked down and stopped. A field of dead bodies. And Rick was there, alive, there. "I killed all these people. Sam." Said Rick's ghost as he walked down the path he created. "I killed all of them. James Johnson, even Fawk Hedhon. And I will kill you too. My "buddies" were told to kill you in the mere future. And they will. Dork. They will kill you." Sam shook his head as fast as he could just to get this vision out of his head. But it wasn't a vision, all the bodies where there, but Rick's ghost was gone... Sam grew a tear in his eye as he slowly walked towards the cemetery.
---
SEASON 4: (Oneway To Beat The Thug.)
Episode 1: Sam goes back.
Plot: After Sam witnessed the weird sight of bodies, He runs back home and find a paper that brings back memories, as Sam finds more and more.
Sam ran the whole way home, ran in his house and ran into the bed. He banged his knee hard on the sharp end of the bed-holder. Sam didn't care about the pain. It was just the fact that Rick killed all of those people. Sam looked under his bed and saw a paper. He picked it up and it said:
---
AQUABOT: FIGHT NUMBER 73
MATCH: ONEWAY: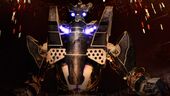 FIGHT STARTS AT 2:00
---
It was a flyer for the first fight Oneway ever had. Oneway vs Aquabot, the 1 hour fight Sam would never forget.
Sam looked for more stuff, untill he found his WRBTTT award. On the left was a picture of Oneway. On the other side was a picture of Tackle, Oneway's Tag Team. Partner, He remembered when he was scared to death of having a rematch with Zeus, but won. 
Sam kept looking and found a picture of the bots from Team Mech. Oneway, Ravagor, Bunker Buster, Stryder, The Sarge, and all the others right there. 
Sam checked the time, He then realised he had been laying on the ground for 3 hours, looking at stuff from his old Oneway days. He then went to bed.
---
Episode 2: Oneway vs Thugbot. Part 1
PLOT: Rick Simmon's thugs all teamed up to make a new bot called Thugbot. Oneway has to destroy this bot. Will he win?
Bop, BOP, Bop. Sam was training Oneway for a Tag Team match with Golem. He made a move called Oneway To Pain. Where he uppercuts the bot twice, then punches the head so hard that the bot KOs, or has a large dent in the forehead. And thats when Sam got a text message.
-Meet us at the store. We need to show you who's boss.
Sam thought that they must of rebuilt Time. "They" as in Rick Simmon's thugs. Sam got Oneway into the truck and drove off..
Sam arrived and let Oneway kick open the door. The thugs all smiled. And unleashed the bot.
---
Episode 3: Oneway vs Thugbot Part 2.
The crowd was cheering: "THUG-BOT, THUG-BOT, THUG-BOT!" They all must have named him Thugbot. He could see why. Oneway entered the ring and punched the bot right in the face. Thugbot ran up to Oneway and smashed his head against the edge, and threw Oneway across the ring. Sam shouted. "YOU ALL SUCK!" Then Oneway got right back into action, he picked up Thugbot and broke him in half with his knee. "TAKE IT, TAKE IT, TAKE IT." Said Sam as he and Oneway ran threw the door.
"Don't worry Thuggy, you'll win one of these days, you will." Said the leader of the Thugs.
---
Episode 4: Golem Returns.
PLOT: After the match with Golem and Time, Golem decides on a rematch. Little does Sam know that Golem had been upgraded.
Sam got a call from Rylan, Golem's Owner, and delcared a rematch. On the day that the two bots met, a small video team appeared to broadcast the show, along with a very large crowd. The fight started, and Bam! Oneway was faster, and got the first hit, to the arm that Golem had lost in their last fight, however, Golem had been repaired, and so this did very little to him. Oneway then started vigorously punching the chest of Golem, but that was the most well protected part. Golem then had him exactly where he wanted him. Golem grabbed Oneway's shoulder, and held him in place, while Golem drove his knee into the stomach of Oneway, leaving a rather nasty dent. Oneway then shoved Golem back, and kicked him into the Electric ring. Golem used his tesla coils to absorb the electricity, and use it against his opponent in his new attack, Final Golem. Final Golem was faster, stronger, sturdier, and smarter. He continuously smashed Oneway over and over. Sam was still confused as to how the electric ring didn't KO Golem, and couldn't keep his mind clear. However, Sam knew Oneway was losing, and so he started trying to trip Golem, which was near impossible as Golem weighed at least a ton. Then Golem wound up for the final blow, Titan Earthquake. However, his circuts overloaded from the Final Golem assault, and he was immobile for a few seconds, but a few seconds in Robot Boxing, is forever. Oneway hit Golem hard in the chest and a dent was left in Golem. "BOOYAAA!" Said Sam. As Oneway prepared to smash Golem into the ground, Golem's circuits went back online, and the electricity discharged into both Golem and Oneway, resulting in a tie. "Shoot!" yelled Sam."Darnit!" Rylan thought, but then he thought about it, he had stood his ground against Oneway, and the fight was much less humiliating than the last one. He walked over to Sam. "Good fight" he said and shook Sam's hand. "We put on a good show." Little did either of them know, the event had spread so much throughout the fighting league, that it had been broadcast to more than 10 TV stations. Which meant, good money. They we're each awarded $150,000 and went their separate ways, for now.
---
Episode 5: Thugbot....
PLOT: Oneway has his last fight with Thugbot. But Thugbot has been upgraded...
Thugbot rises from the floor of the ring at "The Store" and all the thugs cheered and claped. Yes, Sam Johnson got a phone call from Bob Ryan, one of the thugs, for a final rematch with Thugbot. Sam sighed and made Oneway step on the ring. The Match Began.
Thugbot ran Oneway through his upgrade. He picked him up and threw him against the corner. Oneway got back up and starting jabbing at Thugbot, but Thugbot stood there looking at Oneway trying to hurt him. Thugbot did something nobody expected. He picked Oneway up and threw him into the walls of the store. The wall fell down with Oneway. Sam was scared. He never thought Thugbot would be strong enough to do that. Oneway got up but suddenly was attacked by Thugbot. One of the thugs was probably drunk, because he set the store on fire. Oneway and Thugbot were fighting in the middle of the mess. Flames everywhere, dead thugs, everywhere. Chunks of the roof where falling, and Oneway was failing. Thugbot was just about to give Oneway the knockout blow, but a huge chunk of flaming roof fell on him. Oneway backed up. And Sam just stared at the flames.... The chunk of the roof started rumbling.. untill a huge thing came out of the flames. It was Thugbot. Half of the bot was on fire. the other half really damaged. Thugbot striked at Oneway but missed and fell into the lake. The circuts blew up. And steam rose from the lake. That was the end of Thugbot. Or was it?
---
SEASON 5: (Destructobot Rises)
Episode 1: Destructobot Match.
Plot: Sam Johnson has heard about this new bot named Destructobot. He has beaten every bot exept Oneway....
Oneway was awfully damaged with huge dents. Sam Johnson was in the middle of repairing Oneway untill he heard on the News...
"Destructobot is here, He has defeated everybot on the face of this earth. Exept the bot so called: Oneway..."
Sam looked up at Oneway. He was done. Sam was looking at the news website to see where he has to go.
The Fawk Hedhon Memorial Park....
Sam drove in and got Oneway out of his truck. He turned to see a plump man with a moustache watching. "May I help you?" Sam asked. "Oh... No, I fine... It just de fact dat your bot don't stand no chance against Destructobot.." The man walked away laughing...
Before Sam knew it. The match had started.
Destructobot kinda looked like Rick O' Shay. Colored Black with glowing red eyes. Oneway took his first punch at him. Destructobot grabbed his arm, ripped it off, and snapped Oneway in half.
Done, The match was over in a snap.
Sam needed help... BIG HELP....
---
Episode 2: Team Mech Re-Assembled.
Plot: Sam Johnson needs help with defeating Destructobot.. He knows who to call....
The Next Day: Sam Johnson called his 4 friends and asked them to help him fight Destructobot.
"Yep" Said Shane Brasse.
"Okay" Said Mark Hedhon.
"Okie Dokie" Said Skysteam.
"YESSS!" Said Laserman.
The five owners and the five bots walked to the Fawk Hedhon Memorial Park to have a great rematch with Destructobot, there was no way he could stand to all five bots.
The fight started. Ravagor headed straight for him pounding on his head. While The Sarge pounded at his back. Stryder then pushed the two bots away and fought Destructobot toe to toe. Bunker Buster attacked with him as well. While they were fighting, Sam, Mark and Shane were creating a plan. All nodded and headed straight for him. The three bots hit him in the head in and order. Oneway, Ravagor, then Sarge. "Oneway, Ravagor, Sarge. Oneway, Ravagor, Sarge. " Sam kept repeating that in his head. He then made a team move. ORS. Whick meant Oneway and Ravagor and Sarge. They used that attack until Destructobot grabbed Ravagor, chucked him at Bunker Buster, that knocked out both bots because it was so powerful, then he grabbed The Sarge and snapped his arm off, and hit Oneway with it hard. Once again, two more bots down. Stryder thought he could do it and ran for him. But Destructobot snapped him in half. All bots where down. They had lost again....
---
Episode 3: The Final Match.
Plot: Sam has been really mad since the 5v1 match with Destructobot. Sam calls the ENTIRE TEAM MECH.
Sam was not giving up. He called the Mech Headquarters. He wanted BIG help. A 13v1 battle.
The fight was now at the WRB. The 13 robots entered the ring. As Destructobot stood there, preparing to win once more. The fight began with Sting-Rhino Head-butting him to the ground. The five oringinal bots (Oneway, Ravagor, The Sarge, Stryder, and Bunker Buster) were out of the ring letting the other eight bots pound on Destructobot while he was on the ground. The eight bots got out, and the other 5 got in. Destructobot had been dented bad. Oneway, Ravagor, and The Sarge all used ORS. Which put Destructobot into the corner. The five bots looked at eachother, and used there Power move. BAM! HE WAS DOWN FOR THE COUNT! TEAM MECH ACTUALLY DEFEATED DESTRUCTOBOT!
Team Mech was crowned the 1st Team to beat the strongest bot on Earth!
---
Alternate Ending for Season 5:
"Fix Him." She said as she walked down the hall. "Don't worry Farra, I will fix Destructobot with powers like the new Zeus" The man said. "Tak, we have to show them Zeus V.2 first." said Farra. Tak turned to stare at her. "We will win."
---
Season 6: Zeus V.2
Episode 1: Tak and Farra Return
PLOT: Tak and Farra have made a better version of Zeus. "Zeus V.2" Tak and Farra want there revenge.
Breaking News: Farra Lemkova and Tak Mashido have made Zeus into a brand-new killer robot! Challege him today!!!
Sam was exited for this moment. The moment he would destroy Zeus once more. But little did Sam known, Zeus had a greater upgrade, greater than any other bot in history.
Sam drove up to the Million Dollar Mansion that Tak and Farra owned. He knocked on the door. With The two millionares standing there. "What do you want?" Farra asked. "Oh, um.. I want to know, um, what have you done to Zeus that made him better than ever?"Asked Sam "That, we shall never tell." Said Tak as they slammed the door and walked off. Time for a little mission.
---
Episode 2: Sam Sneaks In.
Plot: Sam really wants to know what Zeus has for upgrades, so Sam sneaks into Farra and Tak's home.
It was 7:00 p.m, and Sam was just bouncing a ball against the wall, back and forth. Untill he said it. "I have to look at the bot."
Sam drove up very slowly to Tak and Farra's mansion. By now, it was 8:30. So they must have been asleep. He plopped into an open window and tip-toed up to the door. He opened it and the stairs where infront of him. Slowly step-by-step, he lugged himself down the stairs. He was on the 1st floor. He opened another door. Kitchen. He opened another. Bathroom. He walked down the hall untill he stepped on something. He lifted the carpet that he was standing on and there was a removable door on the ground. He lifted it slowly and placed it on the rolled-up carpet. He fell down in the hole. He grabbed a flashlight that was at the bottom. He looked around, posters of Zeus scattered everywhere. Newspapers hung up on the wall saying. "Zeus Finally Beaten?" or "The WRB Champ Fails?" He he kept walking untill he banged his head hard on something. Something..... Metal.....
---
Episode 3: The Upgrades.
Plot: Sam is in, and now needs to "Research" the new Zeus.
Sam looked up to see nothing but bright red eyes, no body, just eyes. He knew what this was. It was the Invisibox, which turned robots invisible. He looked on Ebay before and they sold for TRILLIONS of dollars.. How did Tak and Farra get there hands on one of them? Anyways, He slowly opened the back of the bot. He took the Invisibox out, placed it on the floor, and kept searching. Shadow box, nothing much after that. Sam looked at the Invisibox. He was gonna take it. He closed the back of Zeus and went to the ladder. The removable door was put back, and locked. Sam was trapped.
---
Episode 4: Million-Dollar Escape.
Plot: Sam is stuck in the basement of Tak Mashido and Farra Lemkova. How will he get out?
Sam was mad. He sat on the cold, cement ground. Cursing. He had to get out. A TV turned on and Tak's face turned up. "Trying to steal my stuff? Ha, silly fool. I have cameras down there, you know. You are not getting out untill the Police come. Anything to say for your self?" Said Tak as he smiled. Sam said. "Zeus is hardly stable now. The upgrades you gave him would have made him weaker. Each time the Invisibox is used, it drains 10% energy from the bot. I am taking this so you won't have to deal with that." Sam said. "Ha, tell that to your parents when you are in the PRISON! Ha." Tak replied. "Fine, if I leave the box here, you will tell the cops that this is a simple mistake." Said Sam as he placed the box on the ground. "Leave now, OR  I will call the cops!" Said Tak. The TV turned off. Sam had to get outta here! He looked around and found a hatch. The key was under the lock. He opened it, and to his suprise, lying there were the pieces of Destructobot. He took the parts out and went through the hole. He crawled until he found an opening, He opened it and was in the back yard. He drove back home fast.
Something... Was not right..
---
Episode 5: The Showdown.
Plot: Sam is now out of the mansion. He now finally gets to fight... ZEUS V.2 (Dun Dun Duun!)
The Fight Began.
WHOA wait, Why am I talking about this?
Here's why, Back in Episode 1, Sam called Farra and Tak. I Just didn't add that... ANYWAYS...
Oneway circled the new robot and jabbed the air. Sam had his eyes glued to the bot. He ran for it. He punched Zeus V.2 as hard as he could. Which dented his chest. Farra and Tak nodded at eachother and turned Zeus V.2 invisible. On there screen the energy level depleted. Tak said. "That idiot was right Farra, ZEUS IS LOSING POWER! Sam saw Zeus come out and started POUNDING on him. Farra did not care and used the Invisibox again. -10 power, - ANOTHER 10 power. Zeus V.2 had 70% power. Oneway kept jabbing at him untill he used PowerCut. BAM! - 50 power. Sam smirked at Tak and Farra and said. "Easy as 1,2,3.." said Sam as he Jabbed him, then kicked him, then twisted his head back.
"Told ya'" said Sam as he walked off with Oneway.
---
Season 7: B.O.T Army.
Episode 1: The Sarge Strikes Back. Mini - Episode
Plot: Shane Brasse want to create a team. A undefeatable force.
Shane was watching TRN. The Robot News. He saw the ultimate fight that he had alongside the Team Mech. Shane wanted his own team. His OWN. He called up his friends, Jackie and Marie. Marie owned SoliderCrusher, and Jackie owned Commandobot.
"I need you guys to do something... for a friend.." Shane said.
---
Episode 2: Army Assembled
Plot: Shane has his team. Now he needs his first target....
Sam Johnson was staring at himself in the mirror. Asking himself why he is the way he is.... He turned from himself and plopped on the couch, turned on the news... but saw the headline:
"B.O.T. Army? What is that?"  Once Sam shaw the word BOT, he went to his laptop. He searched: B.O.T. Army. Sam looked and clicked on a link. He looked at the members... This was gonna be easy.
---
Episode 3: 3v1.
Plot: Sam goes head to head with this "Army"
Sam Johnson waits as the BIG truck pulls up. The back door slowly opens and the three bots and owners stepped out. Sam was shocked. He might lose this battle.
The fight began and the three bots circle around Oneway. Sam looks at the remote and sees a new upgrade. "Circle Wind Smash" Where the bot's torso spins and the fists are sticking out, whacking bots around him. Works for 3 or more surrounding bots.
Sam taps the tab. The screen changes to a loading page. 1% done. He had to fight off the bots while the upgrade was going on.
Oneway swings at Sarge, stuns him, and throws him against the ring. He looked over his shoulder to see Commandobot swing. Oneway fell and tripped SoldierCrusher, SoldierCrusher fell on Sarge. Commandobot picked up the bots, and the three were right back in action. Sam then saw that CWS upgrade was complete. He then used it and knocked the three bots out. Simple.
---
Episode 4: Shane needs an upgrade.
Plot: After losing the battle, Shane plans payback on Sam.
2 Miniguns. That was all Shane needed to complete this new version of The Sarge. Shane was planning to shoot down Oneway's circuts, and erase Oneway's memory, he would forget his owner, all his moves, and even how to walk. Shane placed the weapons on The Sarge's shoulder, It's payback time, for Shane.
Sam was scared with this robot in front of his, but  Sam found out what to do, if he made Oneway use CWS on 1 bot, that bot would take 3x the damage. Oneway did use CWS, and The Sarge already lost.
As Sam and Oneway walked off, Sam simply stated: "I'm done with you."
---
Season 8: Burnbot returns.
Episode 1: Back At The Store....
Plot: The Store has been rebulit, and a new but old enemy returns...
As Sam Johnson walks down a long road.. he thinks about sad things that happened in his life.. He was depressed. Once he tried killing himself. Sam couldn't stop thinking about his brother, who died before he became a pro robot trainer.. He kept walking with tears in his eyes as he stumbled upon the Store. The place where Oneway fought Time along with Thugbot. Sam stared at the place, wondering why was it rebuilt. As he stepped up, the more metal clanging he heard. He look through the crack in between the two BIG doors. The door burst open. A burning robot stood there and grabbed Sam's collar. It said. "WHERE IS YOUR BOT? I HAVE BEEN WAITING TO FIGHT HIM FOR A YEAR NOW. BRING HIM TO ME. OR I, BURNBOT WILL KILL YOU AS WELL.. YOU KNOW WHAT? FORGET ABOUT THE BOT... NOW... WE.... HAVE.... YOU!!!! The doors slammed shut. Sam was kidnapped by a robot.
---
Episode 2: Ravagor Saves a Life. (part 1)
Plot: Sam had been recently kidnapped and Mark Hedhon wonders where he is..

A week after the unknown incident, Mark Hedhon wanted to call Sam to see if they wanted to do a Tag Team fight for funzies... He called him... but nobody answered.
(At The Store)
"LET ME DOWWWWWN! YOU JUST WAIT TILL ONEWAY COMES AND KICK YOUR BEHIND!!" Sam shouted. "AHH, FRISKY LITTLE ONE AREN'T YA? ONEWAY WONT BE COMIN FOR YOU, MY MEN ARE COMIN FOR HIM!! AHAHAHAHAHAHAHAHA"

---
Episode 3: Ravagor Saves a Life (part 2)
PLOT: Continuing the Previous episode..
Sam was thrown to the ground. Oneway AND Ravagor kicked down them doors. Mark walked in and threw the Oneway remote to Sam. They both automatically start kicking the half burnt robot. He fall to the ground and Ravagor steps on his head. The robot gets right back up, but he looks ridiculous with a flat head. Oneway using the Powercut on Burnbot to distract him. Ravagor then kicks his legs off and throws Burnbot out the windows and into the lake. Sam shout for everybody to get out. He burns the place down as Sam, Oneway, Mark, and Ravagor walk away from it all.
---
Episode 4: The Girl
PLOT: Sam finds a new girlfriend, but the relation does not last long...
Sam went to ROBOCON 3000 where they showed off the most amazing futuristic robot tech ever. They even had booths to sign up that said "Fight My Bot" or something. Sam actually sees a couple of bots he might fight later on in life. He gazed off until he ran into a girl. SHe drops her books. "I'm sorry, let me get those." Sam says as he keeps staring at the girl. "My name is Sam." he says. She says "OMG! You are the owner of that famous bot... what... ONEWAY? OMG! I neeeeeed your number! Call me!" She walks off before she hands Sam a pink sticky note. The number of her cell was written on it.
2 weeks later, they started to date eachother. The traveled to many places, and ran into the hall of bots. Where they showed off the bots that had great history. Back in 2014, Sam's dad used to own a bot named Illbeatya. He was a great fighter... They finally sit and relax at the train station. They relax and then she dozes asleep. Sam watches as a man with brown long hair walks up to her and takes her handbag. She wakes up and says "HEY! GIVE ME THAT BACK!" The man threw it onto the train tracks. Sam says "DONT DO IT!" But it was to late. She got on the tracks and grabbed her bag. but as she got up. The train hit her.

"NOOOOOOOOOOOOOOOOOOOOOOOOOOOOOOOOOOOOOOOOOOOOOOOOOOOOOOOOOOOOOOOOOOOOOOO!"
---
== == Season 9: Galaxy Terminator == == Episode 1: The Road.
Plot: A man recently created the most wonderful invention on earth.
Sam drives down to ROBOCON 3000, trying to forget about the incident two month ago.. Sam pulled into the parking lot. As he went inside the intercom announced:
"ONE OF OUR PRESIDENTS OF ROBOCON HAS RECENTLY PASSED, A MEMORIAL WILL BE HELD AT 2:00 PM TODAY."
Sam knew it was about Jackie Smith. The girl he liked. He walked down the rows until he saw the next generation of awesome.
THE GALAXY ROAD.
Sam went closer to read articles, He noticed that the road was made my Owen Smith, who was a very famous man until he died last year. Sam bought one for $1,000,000,000,000,000 dollars. And drove right home. Sam rushed into his backyard and pulled the mini thing out of his pocket. He pressed the button in the middle and a straight line shot straight up, then expanded, then tilted. It was the road to the galaxy. Sam stepped onto the platform and made his way up the staircase. He saw the other planets, the galaxy. THE UNIVERSE. After 5 hours of exploration, Sam made his way back home.
But things wouldn't be the same for THIS long...
---
Episode 2: Galaxy Terminator is Created.
Plot: A robot is made from Space materials and challenges all robots on earth.

As a man named Tedi Gehario walks into the galaxy he planned the most epic plan on Earth. He grabs the floating chunks around himself and runs back down the road to home. He throws the rock and material down on the ground, and starts building.
Sam Johnson is in his basement polishing Oneway as he turns to the TV to see a news broadcast talking about this new robot a guy created. Sam walks forward, dropping the dirty rag that was in his hand and listens very closely.
3 minutes later the broadcast ends. The bots name was Galaxy Terminator. Made from the galaxy's most hard material. Sam looks at his bot and thinks... "I can do that, too..."
---
Episode 3: The Match
PLOT: Tedi and Sam finally meet and plan a match.
Sam walks into the galaxy, grabbing pieces and parts of indestructible metals. big huge CHUNKS. He grabs the final piece he needs. and lugs it back down the Galaxy Road. 3 HOURS of construction later, Sam looks at his new Oneway. He shaped the metal into fist, and replaced Oneway's old fist with new ones, making with Powercut and punches harder. He upgraded Oneway's chassis, meaning when Oneway gets punched it the stomach, It will not cause as much damage as a regular power attack. Sam though that he was ready to fight Galaxy Terminator.
DING DING! The match started, but then the thought of Jackie Smith was running into his head. He looked up at the ring to see Galaxy Terminator ready to rip his head off, Oneway uppercut him and that made him to back off, but then he started CHARGING. Oneway dodged and smacked GT in the back. GT turned around and hit Oneway right in the center of the face. Causing him to fall.
1,2,3,4,5,6,7,8,9
Oneway gets up, and first thing he does is Powercut GT, GT's left arm flies off, landing in the stands. Oneway jabs at GT's head and again, Powercuts. GT's head flew off. Oneway won the match.
---
Episode 4: Rick.
PLOT: No way... No way..
Sam goes to the cemetery to visit the grave of Jackie, but as he does. Someone pushes him. He falls into the ground.
WAKE UP
Sam woke up, and saw he was in a white room. In front of him was Jackie and... and... RICK SIMMONS, are beating eachother up. Rick is winning the fight. Sam walks over and pushes Rick. Sam's hand go right through him. Rick looks up from his victim and put his finger across his throat and says "Your Next"
---
Episode 5: What?
PLOT: Sam imagines what he will do next.
Sam wakes up, still in the cemetery. He drives home, thinking Rick was gonna come back for him. He tried to forget that after he sees 25 posters of new robots that Sam hasn't found yet. He goes home and looks at there abilities and says "HAH, all weak..."
But Sam doesn't know whats coming next...
---
SEASON 10: Blast From The Past
Episode 1: Here they are!
PLOT: They are back, ALL of them..
Sam woke up, the ball had already dropped, and Sam looked at the TV to see the confetti everywhere, and couples kissing. The New Year had come in. "UGH." Sam said. "I wanted to see the ultimate fight, Zeus vs Zeus V.2! Sam kept watching "New Year's Rockin' Eve" Until everybody on the broadcast started screaming, the camera turned and the TV screen went black, then static, then back to the party. But, nobody was there.
Sam drove down to the area they did the party, and saw the still rolling camera. In the same position it was in when he left. He looked around unti he saw his worst nightmares.
Burnbot, Destructobot, Time, AND Rick Simmons. Standing there.
"How?" Sam mumbled.
---
Episode 2: The HUGE War.
Plot: The title says it all.
Sam stood there... he had absolutely nothing to say. Sam said "Wha...How?" Sam ran home and grabbed Oneway, on the way back, the villains followed and Rick was now controlling Time. Time ran up to Oneway and bashed his left arm to the ground. Destructobot kicked Oneway into a hotel door. Oneway stood up and used the Powercut on Time and then punched Burnbot in the chest, making him fall to the ground.
Sam created a 10-Second move called the "10-Seconder", when Oneway slammed the enemy's head to the ground, smashing his head, then kicked the robot, and used the Powercut, In 10 seconds.
He used this move on the three bots, wrecking them for good. Sam stood proudly next to Oneway. Admiring his work.
Than everything went black.
---
Episode 3: Sam vs Rick, the rematch.
Plot: Sam and Rick have their final battle.
Sam woke up to see Rick standing in front of him on a computer, talking to somebody through a video-chat thing, Sam had never tried that. Sam could only make out a few words such as "He's Mine" and "Kill Him" Sam was pretty sure that Rick was unaware that Sam had woken, so he looked behind him, a massive door was behind him, he quietly got up from the bed he lie on and made his way to the door,
Just as he got their, he heard a gunshot, he turned to see Rick, and he was talking to Tak Mashido. Both of them starring at him with Rick with a gun in his hand, pointing it towards Sam. "We have plans for rebuilding Zeus, and Destructobot as well, Knock him out!" Tak Said.
Rick fired the gun, it missed, Sam darted towards Rick, pushing him into the computer. The computer went blank. Sam grabbed the gun and aimed at Rick. "Stop what you are doing Rick...." Sam said as he put his finger on the trigger. Rick looked Sam right in the eye. "Do It!" Rick shouted. "Do It! What? Are you scared, if you want this to en...."
A Gunshot Was Heard.
--------------------------------------------------------------------------------------------------------------------------------------------Episode 4: Dead Again
Plot: He Will Just Walk Away
Sam had his eyes closed, until he heard something fall to the ground, Rick was dead. Sam kicked him as hard as he could. He made Oneway step on his head, just to make sure. "That's it out of you." Sam said as he slowly walked away from the bots and Rick. Sam turned around 1 more time. Yep. All of them had died. Sam looked forward and saw a big tower, lights were flashing out of it. Sam slowly walked up to it and read the sign on the front. "Smash Club..." He said.
Sam drove his way back home and decided it was time for a little training practice, Sam made Oneway use Powercut on the punching bag, then Sam's phone went off. Sam pressed a button on the remote. Then looked up to see that he pressed the Side-Step Punch button. Oneway stepped to the side and wacked Sam across the basement.
Sam woke up, his whole house was empty.. Oneway... GONE, His materials....GONE, He stood up and thought for a second... "What?"
---
Season 11: Is This The Real Life, Or Is This Fantasy?
Episode 1: This Ain't The Real Life, It Is Just Fantasy. Plot: Sam wakes up after a hard smack by Oneway.. But.. Where is Oneway?
Sam stood up in the basement floor. He ran up the stairs and looked around, he then heard the front door open. "I am SOOO excited mommy!" A little boy said as he entered the living room. Sam ran into his "Old Room." and went into the closet. "YES!" Sam said as the security cameras he built in the closet was still there.
Sam looked, the boy ran into the room Sam was in. He quickly shut the closet door before the boy could see him. He heard this: "Mommy, this is my room!" Sam checked the cameras and saw the boy's mother coming down the hall. The Father, and two younger looking sisters entered the house with bags of luggage. The mother opened the closet door. "Oh!" She shouted. "Honey, this should be daddy's room, you know he like cameras."
WHAT? How the heck could they not see Sam? He reached out his arm and touched the ladies' head, nothing. He was invisible to them... some kinda.... ghost?
---
Episode 2: The Family Who Can't See Sam
Plot: Sam tries to get the family's attention.
Sam slapped every single person inside the house, nothing. Sam kicked them in the legs, nothing. Sam gave up and went back into the basement, he saw Oneway standing there. Sam ran over to him, but right before he could reach him. He passed out. Then woke up, in his basement. Sam stood up, everything was back to normal, but he felt no pain from the previous KO Oneway had given to him. Sam must have triggered something to... activate his dream. He pressed the Side-Step punch button again. He reappeared in his dream.
Sam got out of his closet space as the father walked into the room. "Nice..." he said as he saw the cameras inside the closet. Sam stepped out of the house and walked around the neighbor-hood. Sam had always thought that somebody would move into the dirty house he had currently lived in. Sam went back inside the house and heard the mother in the kitchen putting pots and pans away, she opened a cabinet and pulled out a letter. Sam snuck up behind her and read it.

Dear Current Household Resident:
The previous owner had killed himself a few months ago, so HouseGiverCo can not assure any ghostly activity inside the....
She folded up the note and threw it in the trash. The little boy trotted in the basement...
Then Screamed.
---
Episode 3: Killed Myself?
Plot: The Family Discovers Oneway.
Sam dashed down the stairs, along with the family. He saw Oneway pounding the kid. He looked at Oneway, but something was not right about him. His eyes were red, and then. Sam woke up.
He was in the basement, everything was normal, He stood up and stared into Oneway's eyes, blue. He went upstairs and sat down on his couch. He then thought of a name for the dark creature in Sam's Nightmare.
Dark Oneway.
It did fit his appearance, but Sam had to get rid of this dream. There was only Oneway.
---
Episode 4: Oneway vs Dark Oneway
Plot: Sam fights his own bot, in a dark form.
The next day, Sam raced down the stairs and grabbed Oneway's arm. He then made Oneway knock each other out. Sam was back in his dream. He looked to his right, the family was holding the little boy's dead body, as Dark Oneway had crushed his face. Sam looked into the mother's eyes. She could see him. Everybody looked at him before Dark Oneway had thrown him into the furnace. San took out his phone and started controlling Oneway.
Oneway stood and automatically was thrown into the wall. Sam cursed. Oneway had Powercut his chest, Dark Oneway landed next to Sam. Dark Oneway was about to punch Sam before the mother shouted. She screamed, her mouth was wide open. Then, eight long, metal rods came out of her mouth. She then transformed into a... Robot Spider. She ran up to Sam and picked him up. She placed him next to Oneway. Leaving Her and Dark Oneway alone. She grabbed Dark Oneway's leg and ripped it off. She then turned to Sam and shouted.
"WAKE UP!"
Sam woke up. For the last time.
---
Season 12: The Day
Episode 1: Thinking Time PLOT: Sam thinks carefully on a certain subject.
Sam sat quietly on his bed. A tear rushing down his face. Sam said: "I can't do it. I just can't." He went onto Ebay and put up a cheap price... for Oneway.
Melissa Miller walked into her new home. A pretty one. Every thing was inside it. She closed her door and went to explore. She then heard a very loud scream... In her basement.
She ran down the stairs and saw a little boy, being beaten by a Dark-Colored robot. She screamed "STOP!". Then the robot turned to her. Took her by the hair and murdered her and the child.
Dark Oneway......
Had returned.
Sam slapped himself. What was he doing? He wasn't going to SELL ONEWAY? Sam immediately took the bid off Ebay, and smashed his computer, he had like, 12 more, anyways. Sam went downstairs and fixed up Oneway. He still had his Galaxy Rock fists, they were not damaged. He looked at his robot, and for a second. He thought he heard a woman scream. "Must be hearing things." He said to himself.
---
Episode 2: 6 Dead People
Plot: Sam discovers "The House Next Door"
Sam thought for a while why he would even think about selling Oneway. He had so many great memories. W.R.B.T.T.T, and other battles. Sam decided to go introduce himself to the new neighbor.
Sam stood and waited for Melissa Miller to open the door. Sam quietly snuck in. He looked all around. "Hello?" Sam shouted. He finally decided to go into the basement. He saw his nightmare. Dark Oneway, deactivated in the corner. With 6 dead bodies on the floor, he decided to explore some more. He walked over to Dark Oneway.
Sam looked to his right and saw a dark tunnel leading to his basement. Sam looked at Dark Oneway again. This time, Dark Oneway look at Sam and threw him through the tunnel. He landed with a hard fall in his basement. He looked up to see Dark Oneway heading towards him. Sam pulled out his controller and began to brawl with the god-awful creation.
---
Episode 3: Oneway vs Dark Oneway Part 1
Plot: Part 1 of the biggest fight.

Oneway smashed Dark Oneway to the ground. He used his Powercut on Dark. Dark stood up and began pulling at Oneway's head. Oneway backed away and kicked Dark in to the wall.. Dark stood again and pushed Oneway to the ground. Dark got on top of him and began rapidly punching Oneway's face. Dark then busted Oneway's face. He ripped off Oneway's head and began chasing Sam.
Sam almost died as he tried to run and then fell into the tunnel. Dark grabbed his legs and tossed him across the room. Sam looked at Dark with a stare. Dark went into the tunnel and stopped. He turned and said "That was fun, let's do it again tomorrow." Even though that was the first time he had ever heard a robot speak. He murmured:
"Deal"
---
Episode 4: Oneway vs Dark Oneway Part 2
Plot: Part 2 of the biggest fight.
Sam woke up and began to go into his basement. He entered and saw that Dark Oneway was waiting. "You are late..." Dark Oneway said. Sam turned on Oneway, and the fight began.
Oneway wacked the side of Dark's face as hard as he could. Dark kicked Oneway across the basement and laughed. "Weakling!" He shouted. Oneway stood and used his Powercut on Dark. Dark blocked the attack and grabbed Oneway's arm and smashed him against the wall. Dark raised Oneway's head and smashed it on the wall multiple times. Dark smashed his head into to the wall with so much force. Sam lost connection to Oneway. Dark turned to Sam as was about to finish his work.
Sam pulled out a red suitcase from underneath the stair case. The label read "Time" "Use With Caution, Remote on back". Sam grabbed the remote and pressed the button as Time, the tick-tocking menace, unfolded out of the suitcase. Sam turned on the remote and began fighting Dark. Time kicked with all his might at Dark's face. Dark was shocked and stumbled backwards. Dark stood up. Time got prepared. They started running for each other.
"Not This Time." Said Sam.
---
Episode 5: Oneway vs Dark Oneway Part 3
Plot: The 3rd and Final part of the OvDO.
Time smashed Dark's face and Dark fell back. Dark stood up and wacked the side of Times head. Sam lost connection to Time. "Shi....Shoot." Sam said. He gained connection with Oneway and Oneway stood again. Oneway used Powercut to knock out the evil creation. Dark dodged the attack and grabbed Oneway's arm. Dark ripped off the arm Oneway used for the Powercut. Dark smacked Oneway with his own arm.
Sam was about to give up this fight. Sam dashed up the stair and texted Mark Hedhon. He had no internet connection. "Darn." Sam ran across the street. He turned to see Dark Oneway breaking the walls to his home. "GIVE UP". Dark Oneway said. Sam pulled out his phone, opened a home app he created. He pressed the destruction button. Sam watched as his entire home, along with Dark Oneway. Blasting into pieces. A tear ran down his cheek as Oneway's head landed right next to him. Sam picked it up and pressed his head against it.
Sam didn't know if he had the materials to recreate Oneway, but if he did. He would make him better.
---
Season 13: Building a Better Bot.
Episode 1: Materials Plot: Sam decides to buy materials to recreate Oneway..
Channel 10 News Report: Is Sam Johnson Dead?
"Hello everybody this is Diana Wayne with Channel 10 News. We have evidence the Sam Johnson, the famous owner of Oneway, may in fact be dead. Sam Johnson has been missing for almost a year now, and Oneway has been nowhere to be seen, now, Josh Klyde with the weather.."

Sam laughed as he finished up the new Oneway. He new he shouldn't have polished it because in a matter of days, the paint and polish would chip off. Sam had been in The Warehouse, the abandoned building that Rick Simmons had controlled until the accident.
Sam turned on Oneway for the first time in months. It worked. Sam jumped with joy until he realized how immature he was being. Sam began testing out new moves with Oneway, and the best part, Oneway's Powercut arm was made of complete indestructible Galaxy Rock.
"Who am I fighting today?"
---
Episode 2: Time
Plot: Time is back. Tick.... Tock...
Sam was scrolling down the list of Robots that are available to battle. Until he saw:
Rick Simmons: Time! Prize: Robot Upgrade Parts!
Sam was worried for a second. He hit "Challenge Accepted" and walked away.
Time is coming.. "Tick Tock"
FYI: This is supposed to be a hype episode, get ready!
---
Episode 3: Time
Plot: Time is back. Tick Tock

Sam visited the place that "Rick" set up for a fight. As Sam pulled into the arena he saw a thug standing there. Danny Warfare, the leader of Rick's thugs, the maker of Thugbot.
Sam was not worried. 

Oneway stepped up to the arena. He was prepared for this.
Time stood up.
FIGHT!
Oneway moved towards Time and used his first Powercut, it missed, however, and Time grabbed Oneway's head then slammed it against Time's knee. Sam noticed that Time had Galaxy Rock knee pads, that must have done great damage to Oneway's head. Oneway was still in the game though, He pounded Time's stomach area. Time simply pushed Oneway away and Kicked him into the edge of the arena. Oneway fell to his knees. Time grabbed Oneway's head once more, but Sam knew what was coming. He used his final Powercut on Time. Time fellback. Time stood and acted as if no damage was done. Oneway ran towards Time. Time gave Oneway an uppercut, then rapidly punched Oneway's stomach until it started to smoke. Time charged up his fist, then punched off Oneway's head.
Oneway had lost the match.
---
Episode 4: Ran out of Time.
Plot: Sam discovers a way to finally destroy Time.
Bombs. Sam needed BOMBS. He would stuff them inside of Oneway's fist, put some galaxy rocks on their of course, then when Time would least expect it, KABOMB! Yes. That is what he was going to do.
He gathered his materials and set out for the fight. As he left the truck. He heard the crowd roaring. He saw his friends out there as well.
Time stepped on the ring, the crowd roaring and cheering like crazy. When Oneway stepped on, it was just WILDER!
Sam looked at the man controlling Time and gave him a nasty look.
---
Episode 5: FreddyKrueger87 needs to stop leaving cliffhangers!( <- Sorry about that)
Plot: The Fight Begins!
Sam threw a piece of bubble gum into his mouth. His eyes still stared into the man's face. He must have been related to Rick Simmons some how. Maybe he wasn't.
The match began. Oneway gave a hard jab to the side of Time's heas



Special thanks == Thanks for helping, and ideas, to these epic people:
ScauldytheScauldron - was the one who made me want to make this storyline.
Skysteam - was the one who motivated me.
Sean4333 - was the one who gave awesome pics.
Laserman -  was the one who always came in to help.
Thanks! - FreddyKrueger87
GALLERY
Community content is available under
CC-BY-SA
unless otherwise noted.