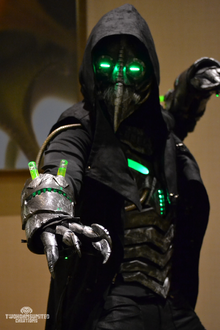 Omega24
PLEASE DO NOT EDIT THIS PAGE WITHOUT PREMISION FROM KENSHADOWMASTER
Info
Armour:70/100
Power:67/100
Speed:80/100
Intelligence:90/100
Special:100/100
Overall: 407/500
Country of origin: England
Announcers quote: "The plague doctor with a acidic hand: Omega24!"
Special feature: Mirror movement (it copies your moves but all movement is the opposite (eg: Right arm going up equals left arm going up) But can be switched to shadow movement (exact movements)
Signature Moves:
"Serum Injection": Omega24 will grab his opponents' arm, and inject acid into it. The acid will slowly damage the opponent and melt away his armour, leaving him more exposed and easier to destroy.
"Infection Overdrive": Omega24 will inject an unknown fluid into himself, boosting both his speed and power. For about two minutes he will be a lot more dangerous. He then usually dodges his opponents' moves with ease, and beats him up in an instant.
"Black Plague": Omega24 will kick away his opponents legs, sit down next to him and "operate" him, using his sharp fingers to cut through almost any material.
History
originally omega24 was a underworld robot but after many hard battles against many hard opponents like danger zone,blacktop,etc he went on to fight midas in the first round he kept on getting knocked down but he kept on getting back up.He just wouldn't give up eventually Henry found a way to knock off midas's head so omega24 knocked off midas's head by gripping his right arm and punching his head off.
In WRB omega24 had a much harder time since he couldn't use illegal moves but he still managed to win battles. The time he went up against twin cities most people were thinking twin cities would win and he was for the first round. When he got knocked down everyone thought it was done even twin cities was celebrating but he got up and next round he blocked both of twin cities arms and using his "beak" cut off twin cities head
Community content is available under
CC-BY-SA
unless otherwise noted.