Nukefist is one of the special moves used by the WRB Champion,
Zeus
. He uses the hydraulic punching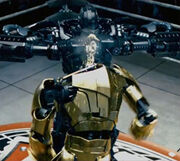 action in his arms to deliver a car crusher type bash to the opposing robot's head. In a promotional video for Zeus in the movie, he is shown delivering the move to
Gridlock
, destroying his head.
Real Steel game
In the video game, there are two versions of the Nuke Fist, "Nukefist (To Head)" and "Nukefist (To Body)". Both do what the name imply, except without the utter crushing of the part that receives the blow. These are available to the player.
Nukefist (To Head)
Usage Stats:
| | |
| --- | --- |
| Hit Area | High |
| Class | Unblockable |
| Power Used | 600 |
| Temporary Damage | 350 |
| Lasting Damage | 87 |
| Body Damage | 45 |
| Head Damage | 44 |
| Left Arm Damage | 37 |
| Right Arm Damage | 37 |
| Left Arm HP Loss | -- |
| Right Arm HP Loss | 5 |
Purchase Conditions:
| | |
| --- | --- |
| Unlocked After | WRB Lv2 |
| Offense | 47 |
| Speed | 38 |
| Guard | 35 |
| Performance | 40 |
| Destruction | 42 |
| Price | 84000 |
Nukefist (To Body)
Usage Stats:
| | |
| --- | --- |
| Hit Area | Low |
| Class | Unblockable |
| Power Used | 600 |
| Temporary Damage | 350 |
| Lasting Damage | 87 |
| Body Damage | 70 |
| Head Damage | 35 |
| Left Arm Damage | 45 |
| Right Arm Damage | 45 |
| Left Arm HP Loss | -- |
| Right Arm HP Loss | 5 |
Purchase Conditions:
| | |
| --- | --- |
| Unlocked After | WRB Lv2 |
| Offense | 55 |
| Speed | 37 |
| Guard | 40 |
| Performance | 42 |
| Destruction | 40 |
| Price | 78000 |