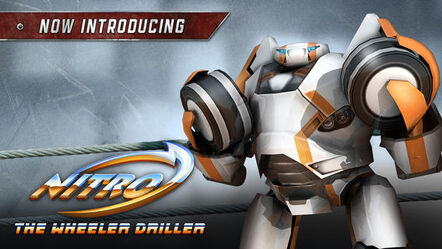 Nitro is a unique bot in both  
Real Steel (iOS game)
and World Robot Boxing.
Name: Nitro
Nickname: "The Wheeler Driller"
Bot type : Probably Bruiser Lv.3
Generation : 3
Signature Move: Piston Packed Drill, Burnout Punch
Super Burnout Punch (Blockbuster)
Ultra Burnout Punch (Camelot)
Origin: Japan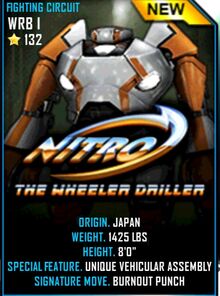 Appearence
Nitro stands at the height of 8'0" which is a little bit shorter than Zeus, with a weight of 1425 LBS. Heavier than Zeus, but lighter than Camelot of WRB I (See Real Steel WRB) who weighs a killing 2012 LBS,  the heaviest bot in Real Steel. 
He has colours of orange and white, with some shades of black. He has a flat head and a body that includes headlight-like features which makes him look like a car. His special features include wheels as his fists and some other car features.  
Stats
WARNING
The stats are based on Real Steel (iOS game)
Armor : 70/100
Power : 80/100
Speed : 60/100
THESE stats are based on Real Steel: WRB
Health: 4800
Power: 328
Special: 43
Star Rating: 132
Gameplay (IOS)
Nitro is an 8'0 bot with metal wheels for hands which can rotate at 360 degrees. Nitro has a nice combo. But like Gambit (IOS), his combos are easily escaped. Nitro also somehow looks like and has the same kinds of parts of a car such as the head lights on his chest armor. His armor almost reaches Zeus' level which is at 8. Nitro is the most expensive in the game and can win many fights if used correctly.
Trivia
Nitro may be his name, but he is not that swift.
Despite not being very speedy, he is very agile as his bulky body does not hinder him from doing punishing spin attacks.
Nitro looks like a Toyota car with a flat head.
Nitro was originally the strongest 'bot, but now it seems he's competing against Fiend, who has one more power point than Nitro.
In WRB, Nitro is clearly shown dismembering the opponent's left arm, yet it remains intact and instead the right arm is dismembered.
Community content is available under
CC-BY-SA
unless otherwise noted.