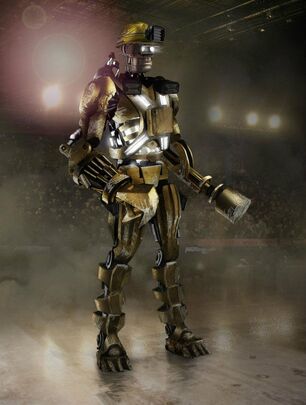 Name: Minerbot
Generation: Used G-2.5
Handler : Currently Raf Kent
/Leased on EBot/(Collected by LooksLikePoop)
Stats
ARMOR: 85/100
STRENGTH: 85/100
SPECIAL( PICKAXE ROUNDHOUSE): 90/100
SPEED: 80/100
TOTAL: 340/400
TYPE: JACK OF ALL STATS LEVEL 4
Background
This bot was, like Atom, Found whole in metal valley. Created in early 2015.
Story
"Wow", Raf thought as he searched for parts for Cyclone( his other bot) in death valley and found Minerbot, and took him home. he tested this rotten G 2.5 and pitted him against Earth, another bot he has. Minerbot did a huge dent at first because he was faster than Earth, although slightly weaker. Raf stooped immediatly and saw huge potential in Minerbot. He went to Crash Palace and bet Artie Bakker for a fight againts Midas, if Minerbot wins he gets a Power Amplifier. So he danced with Midas, and Minerbot Did a Pickaxe Roundhouse, Midas blocked, but it stunned him, and pushed Midas to the ropes! Downtown. Uptown, everything, Midas Is out! He's got the amplifier! CURRENTY DESTROYED AFTER A HIGH SEED CHASE, POSTED ON CYCLONE'S PAGE
Community content is available under
CC-BY-SA
unless otherwise noted.