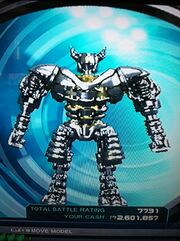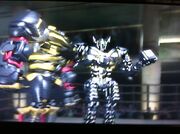 NAME:
Gun Powda (old name) MechPounder (new name)
GENERATION: 3
BOT TYPE: Annihilator
RANKING: UW 3 #1
Information
Created recently, this brutal bot can land quick punches to big and little bots.
Much like other less known robots, Gun Powda was created secretly. He was made in the neighboring building of the casino
Black Jac
was made in. They fought for 7 rounds and on the judges scorecards Black jac was the victor. This excelled Black Jac's career which brought him to the WRB.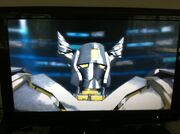 Special Moves:The Death Punch,Charge of Doom.
Special Feature:Titanium Endoskeleton,Chest and an Anti-OverHeat System
Title:The Brutal Robot Smasher
Announcers Quote: Introducing The Brutal Robot Smasher,MECHPOUNDER!!
Fights
Vs all UW robots WIN 355056$
Stats
Power:97/100
Speed:59/100
Intelligence:89/100
Made in: Las Vegas, CA
Creator: (old) Unknown (current) Alex Williams
| Type | Stat |
| --- | --- |
| TBR | 7731 |
| Head | Gimlet |
| Body | Ultratech |
| Arms | Jupiter |
| Fists | Omega |
| Legs | Shogun |
STORY
EPISODE 1:THE CREATION
After the the fight with Blac Jac and other fights, the old owner sold Gun Powda to a guy named Alex. After that, Alex went on the fights with BlueBot,FatBoy,BioWar,Gambit,Prisma and all the UnderWorld robots. But,with a different name. Alex knew that Gun Powda was supposed to be a robot kept in secret,so he renamed Gun Powda to MechPounder.
EPISODE 2:MIDAS
soon. (I'm such a lazy slug)
Trivia
Gun Powda has Zeus' arms.
Dacools 21:10, March 25, 2012 (UTC)Dacools
2015 (new owner) Simon Mizinkov
Community content is available under
CC-BY-SA
unless otherwise noted.