THE KOMA CLUB

So,the Koma club was just a boxing ring. Just for UW bots. But the day came. The Koma club is now a place with no rules. The bots here can switch from boxing to wrestling in the middle of the battle. Like this,even Zeus can be beaten up here. Very,and VERY dangerous bots are in here,and professionals recommend to finish UW and WRB and only then go in there. One reason for that: this place is an inferno.
BOTS:
MEGALORD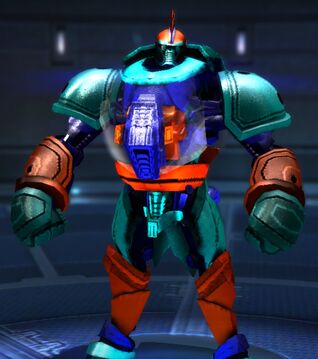 Armor:86/100
Power:95/100
Speed:99/100
Megalord really deserves his name. He is not only strong,but also incredibly fast for a bot that weights 1 ton. He is a skilled fighter,but he still started from a junkyard and was losing more than he was winning. This guys moves are lethal,too. He grabs the bot and throws him in the corner and knees him right in his face! This guy is fighting Ultrabot for the title of the champion of the Koma club. Get ready folks, this will be one crazy battle!
ULTRABOT
Armor:99/100
Power:100/100
Speed:80/100
An upgraded Redbot. When he is holding your bots head,your bot will be trashed. There is an "Ultra mode" set in this guy. Ultrabot never got to use it,actually. He will use it in the fight with Megalord, though. When this mode is activated,that's it. Your bot is doomed to loose. It doesn't matter how strong his opponent is. NOTHING will stop Ultrabot from destroying his opponent when the Ultra mode is activated.
UPPERCUT
Armor:90/100
Power:70/100 (right arm),95/100 (left arm)
Speed:75/100
Make sure his left arm won't uppercut your bot. His headbutt move is dangerous, too. He was a WRB bot before, actually. But he broke the rules a lot. Because of that,he moved to a place he really liked. A skilled opponent, don't underestimate his bad look!
RASH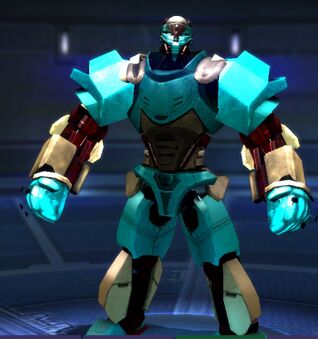 Armor:85/100
Power:95/100
Speed:90/100
Rash was an UW bot before. Like Megalord, this guy is really fast for a 1890 pound bot. He will come up to you,strike and back up. Only when this guy is annoyed he grabs his opponent and breaks his back with a knee. With Metros head in his trophy room,this guy is still one to avoid.
STOMPER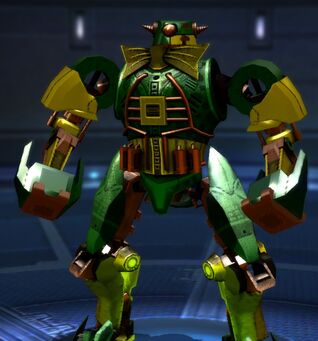 Armor:90/100
Power:85/100
Speed:85/100
Stomper is a 1.5 ton raging machine of destruction. One or two hits from this guy,and your bot is already stunned. And when that happens,Stomper just grabs the opponent and drags him over the ring and then, grabs the head and smacks it real hard. He is a dangerous opponent,and he always lands the first punch in every fight.
Keep in mind,there is no bot in the Koma club that is "the worst".
Community content is available under
CC-BY-SA
unless otherwise noted.