This page is owned by Simon Mizinkov,don't edit without permission.
IRON RHINO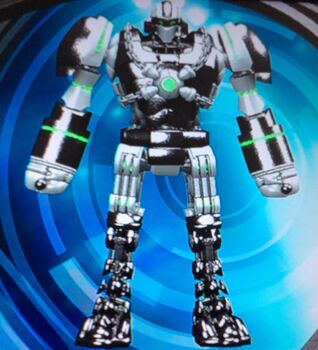 Title:The Tall-Standing Robot Pounder,The Japanese Brute,The Robot Demolisher
Generation:4
Status:Online
Bot Type:Annihilator
Announcers Quote:Introducing The Japanese Brute,The Tall-Standing Robot Pounder is gonna demolish all the bots,Here's IRON RHINO!!
Origin:Japan
Height:8,7
Weight:2000lbs
Special Feature:Heavily covered endoskeleton (has a ton of armor covering the endoskeleton)
Special Moves: Demolisher,Crushing Barrage of punches
Rip-Off:Crusher
STATS
Power:89/100
Speed:47/100
Intelligence:85/100
SPECIAL MOVES
Demolisher. Iron Rhino punches the opponent chassis,kicks the opponent and charges.
Crushing Barrage Of Punches. The thing starts like Excavators special,then grabs the opponent with the right arm and hooks the opponents chassis 3 times and does a really powerful right uppercut.
Crusher. Iron Rhino grabs the opponents left arm and leg,rips them off and stomps on the opponent with the leg.
DESCRIPTION
Iron Rhino is something between a Stone Wall and an Annihilator. His owner wanted to prove to the world that Nitro isn't the brutest Japanese bot. His prototype though,named Flamer was pretty fragile. He is mostly an underworld fighter.
FIGHTS
Vs ScrapBot WIN 1500$ (CRASHPALACE)
Vs Metro WIN 25000$ (The Zoo)
Vs OverLord (one of my upcoming bots) DRAW 50000$ each (CRASHPALACE)
Vs Midas WIN 68000$ (CRASHPALACE)
STORY
Soon.
Community content is available under
CC-BY-SA
unless otherwise noted.