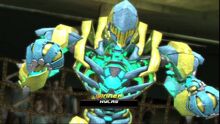 NAME: Hylas
GENERATION:3
BOT TYPE: Demon Wall
RANKING: D:3:2
Information
Hylas seems to have come from under the sea, with his colors. He has fists in which have plates on the knuckle area. He also has a head that resembles a knight helmet. He has a Tagma body. His TBR is the second highest in the game.
Real Steel Game
He is ranked just below Pallidus on the DLC Stage 3, or #2.
Appearance
A menacing sea skeleton, with armored fists.
Stats
Strength: 84/100
Speed: 58/100
Intelligence: 62/100
Special Moves: 5/100
Trivia
Hylas,who in ancient Greek mythology was a companion of the hero, Hercules.
He is named after
Community content is available under
CC-BY-SA
unless otherwise noted.