Name: Hollow Jack
Title: The Halloween Horror
Generation: 3
Bot Type: Lightning Bruiser
Status: Online
Information
Hollow Jack is a buyable, playable and fightable bot from the Real Steel HD and Real Steel WRB  games. He is a Halloween-themed bot. He has a pumpkin-looking head, and seems to have vials or power cores by his chest. He is the 4th Underworld ll Bot, after Blacktop and prior to Metro. He has big and spiky armor and is reminiscent to the Headless Horseman and to a scarecrow. He is almost fully painted in a matte brown color, with orange head and shoulders. He has a lot of scratches throughout his body, which may be from past fights or just by the use. He also seems to have patches on his chest, which makes him more reminiscent to a scarecrow rather than the Headless Horseman. He comes back in WRB 2, only looking much dirtier and much more rusty than in the original game, along with two new variants: The Raven and Pumpkin Head.
Announcer's Quote: "Carving his way to victory, it's the Halloween Horror with a pumpkin head! Hollow Jack!"
Stats
RS iOS
Armor: 60/100
Power: 80/100
Speed: 80/100
RS WRB
Health: 4900
Attack: 376
Special: 776
UW-II: 145
Boost: Full Health
Description
Origin: USA
Ability: Show Stopper - Damage Markdown
Weight: 1200 LBS
Height: 8'4"
Feature: Rotating Head and Fists
Special Moves:
1.- Laughter Riot (Original)
2.- Super Laughter Riot (Touch Down)
3.- Ultra Laughter Riot (Blac Jac)
Appearance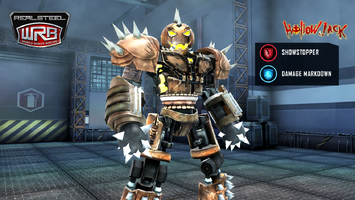 His head is made to resemble a pumpkin.  
STAGE 1: He has 2 shoulder pads that are spiky and has curves that are sharpened. His chest looks like an iron/copper/bronze vest. It's possible that he is based on the Headless Horseman.  
STAGE 3: In this Stage, Hollow Jack will have six blades on each fist and will have 3 red LED lights on his shoulders and his chest. His color will be lighter than his original appearance.
STAGE 7: When fully upgraded, Hollow Jack will have bigger spikes on his head, shoulder, fists and legs. His eyes and smile will be wider and more yellowish.
Trivia
Hollow Jack was added in the Real Steel HD game. He looks like the fully upgraded version from the Real Steel WRB game, but his head resembles his stage 1 version.
Hollow Jack has been an addition of the Real Steel Community for a little over six years.
He used to be the second best bot in the game, but new updates containing stronger bots put him down the list.
Hollow Jack's fists are rotatable, and he 'kindly' uses them to tenderise the opponent's body.
Because of the high amount of vibrations rattling Hollow Jack's body as he performs his Laughter Riot special move, it looks like he was actually laughing, which is why it was given that name.
He comes back in WRB 2, only looking much dirtier and much more rusty than in the original game.
He's back to his base form in WRB 2.
Community content is available under
CC-BY-SA
unless otherwise noted.