NAME: Greatshark
GENERATION: 3.5
BOT TYPE: Fragile Speedster Level 6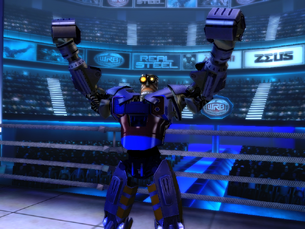 Information
Aquabot was one of the worst bots ever. But after an upgrade he started a winning spree. Then other bots got upgraded then Aquabot was once again one of the worst bots ever. But the owner of Aquabot had so much money from the win streak, He then bought a lot of robot parts and upgraded Aquabot. He was changed so much that he even changed his name to Greatshark so he can stick with the deep sea theme. Greatshark then finished Zeus and now.. Greatshark is one of the greatest bots out there
Fights
vs Zeus Win
vs Astro Lose
Rematch with Astro Win
Stats
Strength: 97%
Speed: 86%
Intelligence: 49%
Special Moves: 72%
Made in: Finland
Specialties: Depth Charge Special Move, Deep Dent Piston Fists.
Handler: Gibson Thompson
How to:
Bots needed: Aquabot, Axelrod, Zeus, Tackle.
Buy BYOR
Buy the bots you need
Aquabot head
Zeus left arm
Zeus right arm
Axelrod torso
Tackle left leg
Tackle right leg
Completely blue coloration
Use whatever special moves you want
Name it Greatshark
Save it!
Trivia
Greatshark has beaten Zeus.
Greatshark is no longer a junk-bot as he was professionally made by factories since Gibson Thompson got a lot of money from Aquabot's win spree.
Greatshark challenged astro and lost its first battle then there was a rematch and greatshark crushed astro
Community content is available under
CC-BY-SA
unless otherwise noted.