Purpose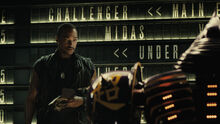 FFA-VS (Formerly EVote) is designed to decide the winner in Custom Bot fights, by asking the users of the wiki who will win.
How-To
1.Winning/Losing: More/Less then other opponent & draw
2.Drawing: Same-Same for both bots or Draw is most
3.Polls stay for one week!
NEW YEAR CHANGES!
For a New Year, changes will be made, for more information, please read Ambus's new notice blog.
New Format!
Existing votes before 2018 will be listed as old system votes and will be removed at once when it ends.
Current Votes
Old System Votes
Annihilator vs Total Speed
KnuckleDuster VS Flathead
Knightfall vs Amalgamera - Avoiding draws.
Ravagor vs Thanatos - I know DaRKSagE, we never planned this but I kinda want to know the results!
(P.S IDKJek was here)
Ravagor vs Shredder (EARLY RESULTS PLEASE)
Community content is available under
CC-BY-SA
unless otherwise noted.