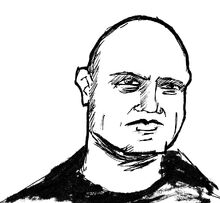 Flynn McHuldier is a Canadian Robot Boxer and owns Sparky,Union Jack and King Tut
Hobbies:Going to The Gym,Repairing Stuff,Building Stuff,Watching Movies
Likes:Meat(Steak),Fruits,Sushi,Posting How to Videos,Comics,Film and Eggs with Onions
Dislike:soft crunch Apples(it is real),Durian,Annoying Movies
Born In:Calgary,Canada
Date of Birth:July 14th 1991(takes place in the Future advice for Ambus N.O1 Fan and LooksLikePoop)
Age:29
Bots:King Tut,Union Jack,Sparky
Friends and Family
Samuel McBlerou(Father)
Grace McHuldier(Mother)
Quincy Jameson McHuldier(Cousin/Owner of Quincy's Part Shop)
Tanisha McHuldier(Sister)
Lance Reynold,Hiroto Hashimaki,Raf Kent,Shawn Shucks,Blake Herman,Dan Yale,Felicia Yale etc.(Rivals/Friends)
Jason McHuldier(Brother)
Jamie Johnson McHuldier(Little Cousin)
Sasha McHuldier(Youngest Sister age 18)
Robin Jayne(Girlfriend)
Story
Flynn was Born in Calgary Canada on July 14th 1991,he joined Calgary Elementary School and got an A+ in all these Subjects until 4th Grade Where their Parents were moving to Toronto and Flynn Started 5th Grade in Toronto Elementary School were he still got an A+ in every grade,in 7th Grade a New Kid Called Dan Yale Entered this school,since Dan Was Shy Flynn came up and talked to him and without a doubt they have the same thing in common so they had a Sleepover at Flynn's House and Visiting him Every Weekend,they played Video games, eat Pizza and play outside until 9th Grade,Dan is Moving back to England in his Hometown Steamshire(Fictional Place) Flynn said Goodbye to Dan and never seen him again until 15 Years Later.
Flynn Graduated from 9th Grade and Took an Engineer Course and still got good marks,Flynn always go to the Gym and Workout and in Senior Year He Dated a Girl called Robin and Asked he Out to Prom and She said Yes.so in 2009 Flynn Graduated and Move to Japan to a Robot Building Factory and for 5 Years Flynn Retired with 400.00 Yen(3.33 Dollars or 3.87 Canadian Dollars)so Flynn Applied him self to a Job in ElectroStock as a Technician and one day he Moved up in January 2020 to an Electrician and with that his salary is 21.90$ and after a Hard day he decided to go back home and watch TV,he was browsing trough other Channels until he saw Atom vs Zeus and with that he came up with an Idea.
He Would Build a Robot Boxer,an Electric Robot Boxer and with that he went to a Local Junkyard and scavenge for parts here to build his Robot Boxer(Flynn's Story can be seen on Sparky's Page)
Skipping Ahead,Flynn Went to Egypt and With that he visited the Pyramids and the Sphinx and Bought a Fez but he did find a robot shop and Bought King Tut,Pharaoh of all Bots but there are no Illegal robot boxing in Egypt but you must challenge someone to a fight,by the permission on the president,since Flynn saw the poster and said Never mind and With That he went back to Canada and tested King Tut.
Community content is available under
CC-BY-SA
unless otherwise noted.