Firebot (fanmade)
THIS IS FANMADE SO DON'T EDIT IT!!!!!!!!!

Firebot is an underworld robot. His fists are spikey and his whole body is painted in flames. He has some (not real) flames on top of the head. He has beaten about 300 'bots. His first match was Ravagor and Firebot lost. Then Firebot got a rematch and he won. His 2nd match was Bio War and Firebot destroyed him easily.
Generation: 2.8
Height: 8"6
Weight: 1560 lbs.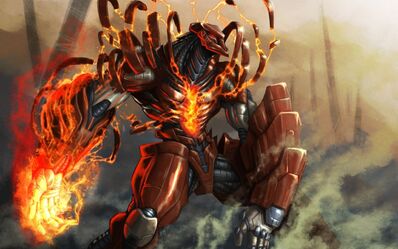 Bot type: Jack Of All Stats
Nickname: "The king of hell", "The mexican hope","The First Mexican Boxer"
Origin: Mexico
Signature Move: "The Burning Punch"
Intro: "The King of hell, The first Mexican Boxer, heeeere's FIREBOT!
Stats:
Health: 78/100
Power:82/100
Speed: 76/100
Intelligence: 93/100
Special: 89/100
Underworld
Firebot and his owner were welcomed in Crash Palace. Firebot's first macth in there was Midas. Firebot was winning, but he just needed one more second to finish Midas. So the fight was declared a draw. Firebot went to the zoo some days later after his last fight. Kingping bet 10K, and Firebot destroyed Metro with a very big uppercut. After some matches Firebot challenged Atom and bet 5K. Atom discovered Firebot's weakness, his weakness was his chest. While Firebot was doing a uppercut, Atom punched him in the chest and did a double uppercut, and beated Firebot. A month later, Kingping wanted a rematch and bet 100k for the winner, and Metro losed again. After the fight, Firebot challenged Fiend and some guy named Dan bet 43k for the winner. Firebot did his special move a few time then he did a uppercut and ripped off Fiend.
Midas: Draw
Metro: Won
Blacktop: Won
Ambush: Won
Bluebot: Won
Aquabot: Won 
Atom: Lost
Nitro: Draw
Metro (rematch): Won
Fiend: Won
WRB
After the last fight, some guy bet 35K if Firebot beated Noisy boy. The fight wasn't easy but fortunately Firebot won by KO. And won the other challenges.
Axelrod: Won
Gridlock: Won
Cardinal Chaos: Won
Camelot: Won
Cosmobot: Won
Twin Cities: Won
Championship
"Finally, we're here!" Firebot's owner said. Everyone was challenging Firebot, but the lucky one was Albino. Firebot almost loosed but a lucky punch saved him on the last round. Albino ran out of energy, Firebot punched and he was saved by Albino's KO. Then Excavator challenged Firebot Firebot won... again. the challengers went CRAZY.
Albino: Hardly Won
Excavator: Won
Abandon: Hardly Won
Touchdown: Loose
Touchdown (rematch): Hardly Won
The Great FIGHT
Firebot was ready for the greatest fight vs. Zeus to make him the ultimate champion. Round 1 begins, Zeus lands the first punch and Firebot was already DOWN. But he didn´t gave up yet, Firebot stands up, dodges Zeus' punches, punched and dodged again. Zeus punched and punched until Firebot was down again, luckily the bell saved him. Zeus beat down Firebot each round, but when round 5 began, things started to be tough. Firebot was punching, dodging and blocking, then the great moment starts. zeus was running out of energy, Firebot did an uppercut and Zeus was DOWN."1... 2... 3.. 4... 5... 6... 7... 8... 9... 10! Zeus has been beaten!" Firebot won the championship, but it wasn't over...
After the fight
It's 2018, 4 years after "The Great Fight". The creator of firebot, sadly killed himself or at least that's what the media says. The body was never found, but the bot did eventually appear, inalmost impeccable conditions. A mysterious company called "Louis and Co." restored the bot, making it stronger than ever. Will this be a new  adventure for the great Firebot? Maybe...
Guess who...? You missed me...? Probably not...
"Franco... Wake up! You need to get the bot BACK! Before it's too late! Those Louis and Co. people really don't know what they're doing! Just get it before the 15th of December, dude, please..." "Christ, Edgar, like you're the one who created it, let me stay missing like this. I couldn't handle that kind of attention anymore, dude." "But Franco... look what they're doing to the bot!" "....Huh. Guess we'll get it back."
Community content is available under
CC-BY-SA
unless otherwise noted.