Introduction
Finn is the owner of the Crash Palace, an underground boxing club.
He also controls which robots fight at his Robot Boxing club and what the lineup is. Example: Noisy Boy vs Midas and Blue Bot vs Throttle.
Trivia
As Charlie Kenton's friend, he has had to loan Charlie money over the years. In the movie Finn first appears at Crash Palace, when welcoming Charlie and Max to his Robot Boxing club. He also got Atom in a fight in the zoo with Metro. Finn has few connections to Charlie such as knowing Ricky and a few other people known to Charlie.
Appearance
Finn is almost as tall as Charlie, black, with a buzz cut and a loose fitting vest.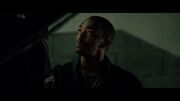 Community content is available under
CC-BY-SA
unless otherwise noted.