(This page is owned by Simon Mizinkov, don't edit without permission)
DRILLER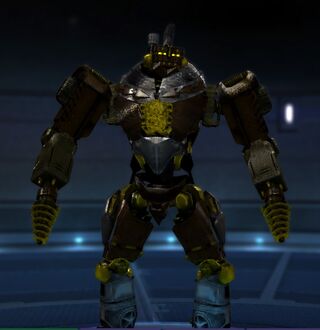 Title: The Sharp-Fisted Terror
Owner: Jack Thompson
Generation:4
Bot type: Jack Of All Stats
Intro: Driller drills the ground, raises both arms, starts to "drill the air", puts his arms together and once again, drills.
Win: Driller raises both arms and drills the ground.
Special moves
1. Jacked up. Driller drills the opponent with the left arm, then with the right, and kicks the opponent.
2. One Drill Death. Driller drills the opponents chest. This move might sound really, REALLY lame, but if Driller uses this move, usually his opponent doesn't get up.
Rip-off:
Driller drills the opponents stomach, raises him in the air and continues to drill, then he throws the opponent, steps on him and drills the head with his left arm, ripping the head off.
STATS
Armor:90/100
Power:91/100
Speed:89/100
Intelligence:67/100
STORY
Episode 1: Humble Beginnings
Soon.
Community content is available under
CC-BY-SA
unless otherwise noted.