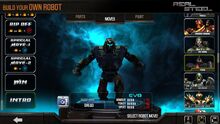 Name:Dread
Type:Game Breaker
Origin:Russia
Constructor:Yamato Nagamoto
Owner:Roman Ramazanov
Title:The horror of all robots
Quote:"From Russia, the titanium beast,unleash the horror of all robots-here's Dread"
Metals:Irridium,Titanium,Tungsten,Plumbum,Molybdenum.
Special Features:Adaptive Fight Code ,Diamond Dust Shell,INFERNO 21 Motherboard.
Power:100/100
Armor:99/100
Speed:99/100
Special:100/100
Intelligence:100/100
Special Moves:
Mental Breakdown,Fist of the TITAN,Airborne.
RIP-OFFS:
The hand of the death,The DOOM MACHINE
Generation:4
Status:Working Properly
Theme":Crystal Method-Make some noise"
Fights:
Best Fight:FatBoy(Win by 4 seconds from the start)
Worst Fight:Atom(Draw by the Gudges's decision)
All Fights:
fatboy(win)1000$
bio war(win)5000$
albino (loss)
ambush(win)500$
bluebot(win)2000$
gambit(loss)
aquabot(win)7000$
metro(win)50000$
blacktop(win)20000$
six-shooter(win)5000$
excavator (loss)
twin-cities(win)500000$
fiend (loss)
abandon(win)100000$
Zeus(for the title-WIN)10000000$
atom(draw)500000$
midas(win)25000$
gambit(win)78000$
asura (loss)
ragnorak (AKO)
atom (loss)
rost (win)
DREAD VS ROST Crash Palace
Round 1.
Announcer's quote:in the left corner:"from Russia the titanium beast unleash the horror of all robots heres dread! and in the right corner:he's the one bot of the wild the weapons master introducing rost.
So the fight begins with rost performing simple hits into dreads head then shoots with his crossbow hand dread blocks the hit and beats the rost scanner.The scanner was a bit damaged.But Rost used sound-wave and then tried to do the jack-hammer but when he was running at dread,dread punched rost to the chest causing him to bump away.ROST STOOD UP BUT IT WAS TIME FOR THE Mental Breakdown:dread headbutted rost 10 times.Rost was about to fall dread stood him up and performed the fist of the TITAN.He mightly punched two times in the torso two hooks and the right uppercut.Rost fell.It was the countdown but on 7 he somehow got up.Since dread had an adaptive fight code,Roman turned the turbo mode on and performed 15 fast shots into Rost's head.But then the bell had rung.
Janise Keri fixed rost.
Round 2 started.
Dread did the airborne.He jumped on rost,Rost tried to block the hits.But blocked 10 of them the other 10 went to rosts head.
Dread threw rost away but rost got up.
then rosts scanner worked.Dread took some damage.Dread was stunned and it was time to attack.
Rost was punching to Dreads torso.Dread stepped back and Rost was taunting him.Dread attacked from behind(what a busta)with the right hook.Rost fell on his back on 5 he stood up on his knees and tried to get up more but when it was 10 he fell down.K.O.
But Rost wasnt really damaged.The problem was in the software.Soon Rost had been repaired.
Community content is available under
CC-BY-SA
unless otherwise noted.