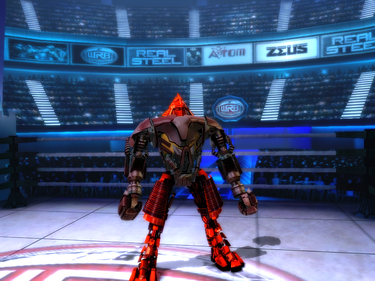 Here It Is!
Info
Demon is a G2 remade as a G4. Demon is originated from hell( NOT REALLY). Owned by Raf Kent.
Stats
ARMOR: 90/100
STRENGTH: 80/100
$PEED : 80/100
INTELLIGENCE: 80/100
SPECIAL( BLOODY FACE, 200 FEET UNDER)): 60/100
TOTAL: 390/100
Story
Raf got Demon cranked up and ready! He has a big fight for Demon today. He has a deal with Barry"Tiger" Down, and his bot S.R.I.P.E (Super Robot Integrated Power Amplifier) in the WRB. Demon is in the ring. he ran to STRIPE to do a Backspin Blow, but STRIPE blocked with ease. Punch after punch, Demon is slowly killing STRIPE. Tiger thought he has it. He didn't see the power draining. Demon pretended he was out of power, so STRIPE punched very slowly. Demon then "woke up" and did 20 feet under, jumping and punched downwards. STRIPE fell and his body collapsed. He got up, though and did bloody face, holding his own arms back and lunging them forward, killing STRIPE's motherboard.
Community content is available under
CC-BY-SA
unless otherwise noted.