THIS IS FAN-MADE! DO NOT EDIT WITHOUT PERMISSION!*
This page is owned by Simon Mizinkov.
DEADLOCK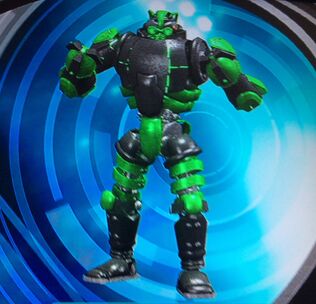 Handler:Mars
Title: Black Panther
Generation:4
Bot Type:Demon Wall Lv.8
Status: Working
Origin:Amazonas (Brazil)
Height:7,8
Owner:Mars
Weight:1451lbs
Special Feature:Unbreakable Endoskeleton
Special Moves:Terrorirzer,Locker.
Rip-off:Panther Bite.
Common Moves:HeadButt,kick.
Announcers Quote: Introducing The Jungle Terror with an UnBreakable endoskeleton,DEADLOCK!!
Description:
DeadLock is a Brazilian bot like BlueBot. But he is a black/green robot.
He also has an unbreakable endoskeleton. But due to his toughness,he is fast. If you have got into one ring with him,be ready for a challenge.
Special Moves
Locker. Mostly used when both robots are in a corner of the ring. DeadLock "stabs" the opponent with the left arm and carries the opponent to the corner,where he drills the opponents "jaw". Sometimes used mirrorly (carries with right arm,drills with left)
Terrorizer. DeadLock hooks the opponent 3 times,following with a kick to the body,then a right knocking out cross.
Panther Bite. DeadLock keeps crossing the opponents chest and does a headbutt which knocks the opponents head off.
Overall stats (Upgraded)
Armor:89/100
Strength:83/100
Speed:95/100
Intelligence:53/100
Fights
Fight Conditions:
G.C:Good Condition
H.B.U:Hardly Beaten Up
E.B.U:Extremely Beaten Up
C.D:Completely Demolished
Vs Kong Tron WIN 1000$+Kongs head G.C (The Zoo)
Vs SixShooter LOSS 0$-right leg H.B.U (Lone Star)
UPGRADE
Vs SixShooter WIN 2500$ G.C (Lone Star)
Vs BlackTop WIN 4599$ G.C (Parking Lot)
Vs CosmoBot WIN 6000$ H.B.U (San Leandro)
Vs Metro WIN 25000$+Title of the zoo H.B.U (The Zoo)
Vs Abandon WIN 8050$ H.B.U (CRASHPALACE)
Vs Gambit WIN 10000$ H.B.U (Las-Vegas)
Vs Bio War WIN 11000$ E.B.U (CRASHPALACE)
Vs Albino WIN 12000$ G.C (CRASHPALACE)
Vs Midas WIN 68000$+Title of The UnderWorld H.B.U (CRASHPALACE)
WRB
Vs TouchDown WIN 45000$ H.B.U (WRB Original)
Vs Gridlock 2.0 WIN 50000$ E.B.U (WRB Original)
Vs AxelRod 2.0 WIN 50000$ H.B.U (WRB Original)
Vs Excavator WIN 55000$ H.B.U (StarBlaze)
Vs SeaHawk WIN 60000$ E.B.U (StarBlaze)
Vs Tremor DRAW 50000$ each E.B.U (StarBlaze)
Vs Zeus (third rematch) WIN 1Mil.$ E.B.U (WRB Original)
STORY
EPISODE 1:New robots Arrival
Mars was living in Florida. He went on vacation in Brazil. In the city in Amazonas,which was big,at the Shop Mars found LockJaw. He bought him for a cheap price. 25000$ Was spent on LockJaw. Mars flew to Alaska,Where his friend Simon lived. Alaska was Mars's actual home. There A Black Panther fought Kong Tron. The fight began and LockJaw started doing multiple crosses to Kong Trons Chest,then do da headbutt which ripped of Kongs head. Because of the headbutt part,the rip-off was named "Panther Bite". Then he fought SixShooter. The fight started and Simon walked in,that distracted Mars. He knew that Simon was Noisy 2.0's owner. He turned around and looked at the ring,Six was punching LockJaw. LockJaw dodged and did a punch to the stomach. Six grabbed LockJaws leg and ripped it off. Mars shouted that Simon was Noisy2.0's owner.Then Noisy Boy 2.0 entered the ring and beated SixShooter up. Then Simon and Mars met each other. They drove to Simons home and LockJaw got fixed and upgraded. "I'm gonna go get revenge on SixShooter." Simon replied with "OK,bye then.". Mars went to the Lone Star Bar and he Fought Six again. LockJaw jabbed Six,Six did the same thing. LockJaw used Locker and Six was down. That's why LockJaw was renamed to DeadLock. Then Mars went to the parking lot and fought BlackTop. DeadLock was punching BlackTops stomach and then BlackTop counter-attacked with a hook,but since DeadLock was upgraded he didn't feel a thing. He Uppercutted BlackTop and Black was finished.

EPISODE 2:UnderWorld is finished.
Mars went to CrashPalace and saw an UW LeaderBoard. "Ladies and Gentelmen,we need two more robots to start the championship!" Said Finn. Mars joined in and of course,DeadLock will be fighting. Then,a robot named Tremor joined.
The LeaderBoard robots were:
12 COSMOBOT
11 ABANDON
10 ALBINO
9 BIO WAR
8 DANGER ZONE
7 GAMBIT
6 BLOCKBUSTER
5 CAMELOT (his owner wants to train so Camelot is in UW right now)
4 TREMOR
3 DEADLOCK
2 STEAMPUNK (he IS an UW robot,the PS3 game says it)
1 MIDAS (well duh)
Next part-soon.
Community content is available under
CC-BY-SA
unless otherwise noted.