Name: DJ Electrix
Title: The Beatdown Dancer
Generation: 3
Bot Type: Lightning Bruiser
Status: Online
Information
Originally from URF and named "Decibella", DJ Electrix is a robot in Real Steel iOS, who was later introduced in the Real Steel WRB game as a superbot that could be gained by buying her in the superbot store for 165,000 Event Currency. She is officially the third female robot to be added to the Real Steel games franchise, the other two being Scarlette and Violette. She is a DJ/electronic music themed robot with "headphones" on her head and designs that resemble speakers throughout her body.
Announer's Quote: "Here's DJ Electrix! The Beatdown Dancer!"
Stats
RS iOS
Armor: 70/100
Power: 90/100
Speed: 90/100
RS WRB
Health: 9800
Attack: 792
Special: 1634
WRB-II: 329
Description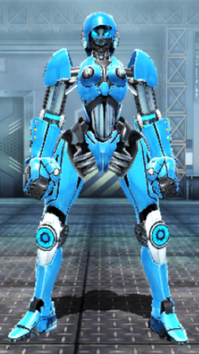 Origin: USA
Ability: Power Drain - Thermal Fortress
Weight: 1218 LBS (1812 in WRB)
Height: 8'1" (7'2" in WRB)
Feature: Sonic Beats
Special Moves:
1.- Beatdown (Original)
2.- Super Beatdown (Original)
3.- Ultra Beatdown (Original)
Appearance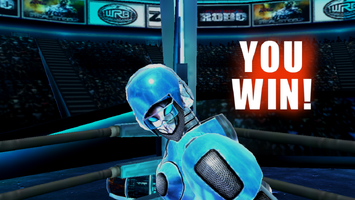 She's originally from URF, only her name was Decibella. Unlike her URF original counterpart, DJ Electrix is blue and silver, while Decibella is magenta and light gray. DJ Electrix is painted almost totally of a metallic blue paint, with some silver and black bits with cyan lights. She seems to be wearing a helmet with a transparent visor covering her eyes and headphones over her head. Her legs look like thigh-high boots and her fists resemble Psytron's. Her She has designs that also resemble speakers throughout her body, completing her music theming. She's considerably shorter and more robust in comparison to Scarlette and Violette, who are quite tall and thin. She's extremely powerful and is very useful in both Versus and Events, being capable to deal a lot of damage with just a few hits and also quickly filling her special bar, the only downside being her shorter reach due to her small size. She's able to put up with extremely powerful fully upgraded bots and superbots like Tri-Gore and even Terror.
Trivia
She is the third offical female robot, the first and second being Scarlette and Violette.
When coloring her parts black in BYOR, she instead turns a silverly light-gray.
She and Scarlette share almost the same intro animation.
Despite being the third female robot, she was the first one of her class to be added to the Real Steel WRB game, unlike Scarlette and Violette, who seem to be iOS exclusives.
Albino's Silver Grade arms and legs are based off of hers.
She comes back in WRB 2, only renamed as Moroder XX and with spray paint all over her body.
Her finisher from iOS becomes her Ultra special in WRB, while her finisher is changed to a completely different one.
Despite being the most known one, she's not the original version of herself, it being Decibella as previously stated.
Community content is available under
CC-BY-SA
unless otherwise noted.