}}Don't edit without permission,this page is owned by Simon Mizinkov.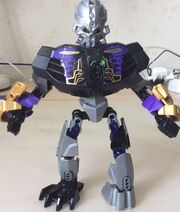 CyberThreat
Title: The Machine Of Destruction
Generation:3
Status: Online

Announcers quote: Here stands The Machine Of Destruction and The First UW champion,CyberThreat!
Bot Type: Bruiser Lv.3 (now Blitz Cannon Lv.7)
Origin: Unknown,Probably US.
Height:8,0
Weight:1276 lbs
Owner:Frank Simons
Special Moves: Desruction-Slam,Breaker.
Rip-off: CyberDeath
Special Feature: Uranium Core
DESCRIPTION
CyberThreat was the First Underworld Champion,before Metro came and made a junkyard grave for him. Although in the time when most robots are G4 (which is right now), a G3 robot found on the junkyard could be challenging.
STATS
Armor:28/100 (now 66/100
Strength:45/100 (now 93/100)
Speed:30/100 (now 67/100)
Intelligence:60/100
FIGHTS
UW
Vs BlackTop WIN 1500$ (Parking Lot)
Vs SixShooter WIN 2500$ (Lone Star Bar)
Vs Metro WIN+ripped off head 25000$ (The Zoo)
Vs Abandon WIN 10000$ (CrashPalace)
Vs Midas WIN+ripped off head 60000$ (CrashPalace)
WRB
Vs Jasper WIN 6700$ (StarBlaze)
Vs Seahawk WIN 10000$ (StarBlaze)
Vs Gridlock WIN 15000$ (WRB)
Vs Zeus LOSSx4 rematch WIN 1mil.$ (WRB)
STORY
Episode 1: A New Threat On The Ring (Bad Pun, I know.)
Soon.
Community content is available under
CC-BY-SA
unless otherwise noted.