Name: CrushBot The Fan made bot  
☀
THIS IS FAN-MADE! DO NOT EDIT WITHOUT PERMISSION!*
Stats 
A:13  Generation 3
P : 12 1/3  
S:14
Moves
Super Punch, Drill Head Powercut, Speed Punch, Ultra Lock, Powercut, 
Nickname:  Bot Crusher  
Behind the bot
It started when I downloaded the real steel app on October 7 2014. I built a robot that can move and Quick Punch very fast. I told my friends about it and he said it was awesome. 
Episode 1
Leo Bought CrushBot for $23000 and he loved it. Leo realized it was time to train him.
He gave CrushBot a range of new moves on its computer and charged it up. CrushBot gained new moves in the download, like ultra head lock as well as quicker punches and dodging. Leo got a phone call from Mars that he can fight Lock Jaw.
Episode 2 -(The big fight)
"CrushBot has new moves, Leo said to himself, let's do this, CrushBot!"  He entered the ring and introduced "The bot crusher, the crazy whacker, CrushBot!" Nobody cheered as the fight began, LockJaw used HeadButt, but Crushbot dodged. Then, CrushBot drilled Lock Jaw's head and pounded LockJaw, who tried to kill him again. He dodged the move and Crushbot fell. Leo realized his weak spot as he tried to get up but fell again. Leo yelled for Crushbot to get up and said that his own Ultra Lock broke his arm and leg. Ultra Lock didn't work: He fell again. Leo then got mad and had a rage quit. He fixed Crushbot for round two and the second round began. Crushbot used Speed Punch and LockJaw went down. 
Episode 3-(Snow)
"Leo had a phone call from Simon that he can fight Snow  so He said he was ready, when he gets through with upgrading CrushBot, and he had new moves and the fight began snow throw punch at CrushBot he doged,Crushbot Super Punch  and powercut him  Snow  moved quick and Crushbot fell Leo" Yelled Get up CrushBot!!, He got up and Snow, powend him  and there was a break  he fixed him modfied him He was ready drilled in to  Snow's head Snow fell. CrushBot,  had super punched him on the floor,and drilled More Snow, Kicked CrushBots head to Leo  Went To his Basment he fixed,his head.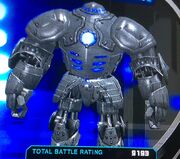 Episode  4-(smasher or crusher) "Leo had fixed CrushBot  head and body upgraded,  Leo Had a phone call from Kevin that he can fight Smasher,Leo went  to the Crashplace CrushBot  was ready  CrushBot tried to throw a punch and  Smasher doged  CrushBot, doged his, punches.  CrushBot uppercut him and Smasher got up and and  almost ripped CrushBot's head off if he didn't  dodge  and  CrushBot supper  punch ripped Smashers arm off.

Episode 5 - (the nightmare)

Leo was sick and tired of Crushbots look so he was watching tv and a ad came up about  a new paint job  Leo Bought 300$ for his new paint job and  He had Just relised he had a rematch With Snow But it was his birthday Leo had brought him a new repair kit Just In case  He got a Phone call from a uknown user he didnt know but it was  Leo's long lost  Brother Josh Leo said  Hello and relized it was his mom telling him happy birthday

Come down the house to get a  suprize Leo  driven to his parents house and it was his long lost brother josh said Hey 

i heared that u do bot fighting u wanna fight my robot R3venge Leo said Yeah and  mean while Josh worked for WRB and he had a  went to WRB  his parents where watching it on tv mean while the fight started  CrushBot had a phew glitches in the fight  R3venge almost knocked out CrushBot but when Leo whas holding his controller he started seeing things out of no where  crush bots arm got removed and he was paying attetion then he got back in the game CrushBot had  used a Powercut it was disabled  marionatte appeared and leo woke up and relized it was a dream but was his long lost brother true.

 Episode 6 (The Hallowen special) Leo  was still think about what  happend but  he wanted to fight snow agian he called him  and said that he can fight CrushBot agian  the time Leo was talking he slowley look  at Crush bot. Venom got inside CrushBot  Leo had called Simon  and told him hes gonna meet him at 8:59 mean while he looked and saw that the venom changed his eyes where red and Leo had noticed that he  was controlled by a ghost the sensors went off in his Room  and he was looking at his controller    he had a random phone call from  a Unkown person  He said Leo   meet him at the woods at 6:30  so Leo had got his gun just incase  But Leo looked at Crush bot he coulden't leave him like that so he had brought him  But CrushBot was talking  and Said Leo Why are u carring me in a box  and Leo said that he might   die from jeff so  Leo drove to the woods and parked his truck meanwhile CrushBot was following the trail down the woods turns out Jeff almost threw a knife at Leo but he doged  Jeff said haha prepare to die Leo meet my new machine freakingbot Leo looked and said where is he  then but he  Jeff said where was he mean while Leo programed Crush bot to punch him he knoucked out Jeff and Leo went Back to his truck  but he rembered that the fight was starting so he drove to The CrashPlace Leo said u ready to do the fight Simon    then the fight began  CrushBot had   use his powercut but it didn't  work  so Snow had almost did war freeze  But Freakingbot had came and Killed CrushBot And Snow and  the guards tried to cut him off but it was a ghost using Freakingbot had  Ripped almost  Snow and CrushBot's Arm togther Acept Cold war freeze and  Powercut took out Freakinbot.

Episode 7-(CrushBot vs BlueBot)

(Leo Is Checking his Phone While he gets a text to fight Blue Bot)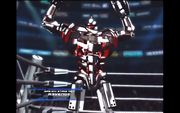 Community content is available under
CC-BY-SA
unless otherwise noted.