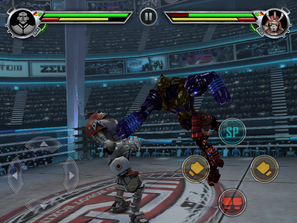 Please note, that this is a fanfictional robot and is NOT canon. Don't edit other pages with the info here.
Theme Song:
☀https://www.youtube.com/watch?v=i5jPy-GmyUc
Chinzaemon is TheLastOfficial's fanfic rebuild of the beloved Noisy Boy. Manned by Charlie and Max Kenton, this robot faced against many tough opponents, from Gambit to Sarge and even to Twister. Here are its stats.
SPEED: 100/100 (150/100 in Stryder Mode)
POWER: 77/100
ARMOR: 80/100
INTELLIGENCE: 86/100 (99/100 in Stryder Mode)
STAMINA: 99/100 (69/100 in Stryder Mode)
OVERALL: 442/500 (473/500 in Stryder Mode)
HEIGHT: 7'9 FT
WEIGHT: 1450 LBS
CHASSIS: Original Noisy Boy Chassis (Reinforced)
CORE: F8ST F1ST Adrenalized Nitro Core (Modified)
SPECIAL FEATURES:
Fast Adrenaline Core, allows Chinzaemon to perform complex combos faster and easier and improves punch reaction times significantly, countering things like Whirlwind Mode.
Stryder Mode: Based on the robot with the same name, Stryder Mode enhances Chinzaemon's processing capabilities and neglects overall computer chip durability. Frequent overuse of this mode may tire out Chinzaemon. Introduced in Kakashi's chapter.
SPECIAL MOVESET: One Man Sutoraikuchīmu, Wakizashi Straight, Shogun Trinity and Wing Chun.
FIGHTING RECORD
38 wins - 5 losses - 0 draws
WARNING: Spoilers are in here. Do not read if undesired.
Best Match: Chinzaemon VS Olympus (A.K.O 3 of 5)
Worst Match: Chinzaemon VS Abandon (K.O 2 of 5)
Upcoming Match: Chinzaemon VS Terrorhawk (WRB Champions League Preliminary)
All Matches, from first to last:
Chinzaemon VS Gridlock (WIN: K.O 4 of 5) Earnings: $43k
Chinzaemon VS Shinobi (WIN: SPLIT DECISION) Earnings: $50k
Chinzaemon VS Albino (WIN: K.O FIRST ROUND) Earnings: $75k (life in the fast lane, :D)
Chinzaemon VS Cardinal Chaos (WIN: UNANIMOUS DECISION) Earnings: $32k
Chinzaemon VS Rook [Rook is one of my custom bots] (WIN: K.O 5 of 5) Earnings: $235k (ka-CHING!)
Chinzaemon VS Excavator (WIN A.K.O 5 of 5) Earnings: $99k, along with Excavator's head.
Chinzaemon VS Cardinal Chaos REMATCH (LOSS: SPLIT DECISION) Decrease: -$31k
Chinzaemon VS Danger Zone (WIN: SPLIT DECISION) Earnings: $25k
Chinzaemon VS Shogun (WIN: FORFEIT) Earnings: $150k (that's what you get when they forfeit...)
Chinzaemon VS Slingshot (WIN: K.O 1st of 5) Earnings: None (it was an exhibition match).
Chinzaemon VS Camelot (LOSS: UNANIMOUS DECISION) Decrease: -$80k
Chinzaemon VS Gambit (WIN: K.O 3 of 5) Earnings: $100k
Chinzaemon VS Camelot REMATCH (WIN: K.O 5 of 5) Earnings: $75k
Chinzaemon VS Cosmobot (WIN: A.K.O 3 of 5) Earnings: $100k and Cosmobot's arms
Chinzaemon VS SyncShock (WIN: K.O 1 of 5) Earnings: $65k
Chinzaemon VS Copybot (WIN: K.O 1 of 5) Earnings: $35k
Chinzaemon VS Exo [My friend's bot] (WIN: UNANIMOUS DECISION) Earnings: $69k
Chinzaemon VS Blac Jac (WIN: SPLIT DECISION) Earnings: $125k
Chinzaemon VS Abandon (LOSS: K.O 2 of 5) Decrease $150k (r.i.p)
Chinzaemon VS Zeus [For the Blue title in the WRB] (WIN: UNANIMOUS DECISION) Earnings: $256k
Chinzaemon VS Olympus [For the Red title in the WRB] (WIN: A.K.O 3 of 5) Earnings: $560k, with Olympus' head.
Chinzaemon VS The Breaker [Defending the Red & Blue titles] (WIN: K.O 1 of 5) Earnings: $290k
Chinzaemon VS Abandon [For the Gold (Highest Belt) title] (WIN: K.O 5 of 5) Earnings: $1.1 million (WOOHOO)!
Chinzaemon VS Twister [Defending all titles] (WIN: K.O 5 of 5) Earnings: $503k
Chinzaemon VS The Sarge [Defending all titles] (WIN: SPLIT DECISION) Earnings: $356k
Chinzaemon VS Fiend [Defending all titles] (WIN: A.K.O 1 of 5) Earnings: $800k, with Fiend's arms & head.
Chinzaemon VS Diablo [Defending all titles] (WIN: K.O 3 of 5) Earnings: $734k
Chinzaemon VS Voodoo [Exhibition Match] (WIN: K.O 1 of 3) Earnings: None
Chinzaemon VS Zeus REMATCH [Defending all titles] (WIN: K.O 1 of 5)
Chinzaemon VS Twister REMATCH [Defending all titles] (LOSS: A.K.O) Decrease: $1M AND the all the championship belts.
Chinzaemon VS TripleG (Another of my custom bots) (WIN: UNANIMOUS DECISION) Earnings: $499k
Chinzaemon VS Ragnorak (WIN: K.O 5 of 5) Earnings: $100k
Chinzaemon VS Thanatos (LOSS: UNANIMOUS DECISION) Earnings: None
Chinzaemon VS Aggressor (WIN: NO CONTEST) Earnings: $199k
Chinzaemon VS Filipino Flash (WIN: K.O 4 OF 5) Earnings: $274k
Chinzaemon VS Shoulder 2.0 (WIN: K.O 2 OF 5) Earnings: $300k
Chinzaemon VS KnuckleDuster (WIN: UNANANIMOUS DECISION) Earnings: $231k
Chinzaemon VS Kaiser (WIN: SPLIT DECISION) Earnings: $361k
Chinzaemon VS FireBreaker (WIN: NO CONTEST) Earnings: $256k
Chinzaemon VS Twin Cities (WIN: K.O 1 OF 5) Earnings: $1,000,000 AND Super League Championship
Chinzaemon VS Shoulder 2.0 REMATCH (WIN: A.K.O 1 OF 5) $341k
Championship Titles Won:
WRB Red Championship Belt
WRB Blue Championship Belt
WRB Gold Crown Belt
WRB Super League Tournament
Domestic / Minor Tournaments Won
The Los Angeles Domestic Tourney
Japanese Robot Boxing U-2 Tourney
America Minor Tournament
Spoilers end here.
HISTORY AND FACTS + STORY
Origin: Japan-USA
Chinzaemon is a rebuilt, buffed up Noisy Boy made by Charlie and Max Kenton. Some parts of the wiring are from Axelrod, simply modified to cooperate with the fast programming of the original Noisy Boy. With help from professionals such as Mark Hedhon and Nitro's manufacturers, the Kenton's were able to modify Noisy Boy's programming into a sophisticated, complex system which allowed Chinzaemon to throw punches significantly faster. The move 'Shogun Trinity' was replaced with a variant called 'One-Man Sutoraikuchīmu', a move where Chinzaemon throws 6 hooks to the body, then charges up for an uppercut to the face. Another new move put into Chin's programming is Wing Chun, a move based on the martial art with the same name. For this move to work, the enemy has to start a combo. When Chinzaemon recognizes the attacks, he successfully blocks the attack, while at the exact same time performs a punch (or kick) appropriate for the situation.
Chinzaemon never fought in the Underworld. Instead, his first bout was a WRB undercard fight against Gridlock. Impressing early in his career, Chinzaemon won against old legends Danger Zone, Gambit, Camelot and Blac Jac. When preparing for his first Championship bout, his record was already 19-2, a good achievement considering he achieved such status in under five months.
Winning a Triple Crown four matches after his shock defeat against Abandon, he defended his title four times until giving it up to long time rival Twister in a rematch, ending in another shock defeat. Since then, he has won seven fights and a WRB Super League, beating those such as Twin Cities and Martian. Chinzaemon's next bout is the WRB CL Preliminary knockout stage between Terrorhawk, a tough opponent.
Beginnings
After winning many bouts with the rebuilt Noisy Boy (link here: http://realsteel.wikia.com/wiki/Noisy_Boy_Rebuilt_(Fan_Story) ), Max Kenton had the brilliant idea to use parts and programming from Charlie's other robots Ambush 2.0 and Atom to create a new face and identity of Noisy Boy. Buying a F8ST F1ST core that had adrenaline fuel running through it, Charlie replaced the old, junked core with something more suitable to his name, a silent but deadly smart CPU. Soon, the classic samurai warrior turned into a completely refurnished (and well polished) potential WRB champion. When deciding on a new name, Charlie was baffled. Until Max read this story called Chinzaemon The Silent...
"Hey Charlie!"
"What, Max?"
"I think I've found a perfect name for him!"
"So what's the name?"
"CHINZAEMON!"
Charlie kind of liked the name Max gave his new robot. Having also read the story, Charlie agreed and officially named Chinzaemon.
When Charlie and Max showed Finn their new robot, Finn exclaimed. "WOW! He looks radically smooth. What's his name?"
"His name's Chinzaemon." Max replied. "Named after a Japanese swordsman with the same name, Chinzaemon the Silent".
"Sooooo, if Chinzaemon is silent and the heir of Noisy Boy," Finn suggested, "then the nickname should be 'The Loud Whisperer'. Like it?"
All of them agreed. There's got to be some Noisy Boy in Chinzaemon.
After the final programming edits on Chinzaemon, Charlie and Max took to the WRB Challenge Center to set their first bout. They ended up fighting Gridlock, who was on a triple-win streak, at Staples Arena. Both Max and Charlie were so excited and energized for the match, they ran joyfully out the door and started prepping up. After a few sparring bouts with Atom, Chinzaemon was ready.
THE FIRST MATCH
As Charlie and Max entered Staples Arena, the intense heat started to fall on them. After winning several fights with the Rebuilt Noisy Boy, and being top contenders for the Gold title with Atom, the pressure was on for the duo. Many people came to see the new bot in town. Even Tak Mashido got himself tickets to see the bout. Almost everyone in the crowd was expectant of Chinzaemon's new capabilities.
ROUND 1!
The two robots started nearing each other. Then, out of the blue, Chinzaemon threw 6 hooks to the body. Gridlock was able to block them all, but what was coming next was wasn't nice to the arms. After that, Chinzaemon charged up quickly for his new move - One Man Sutoraikuchīmu. Despite having average speed, Gridlock's intelligence couldn't stand a chance against the move, and down Gridlock went. After he got up, Gridlock kept getting pummeled by Chin, Round after round Chinzaemon kept going full speed ahead, never taking breaks, always punching something.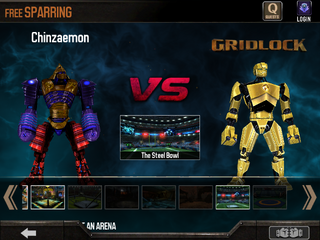 Then, Round 4 came. Though it was clear that Chinzaemon wasn't stopping his performance anytime soon, people began to worry if Chinzaemon actually had the ability to knock a bot cold. Those worries were soon gone, because when Gridlock finally managed to start a combo, Chinzaemon used Wing Chun, and left Grid in the dust.
The referee started counting. "1! 2! 3! 4! 5! 6! 7, 8, 9, 10!!!"
It was OVER! Chinzaemon won his first match in style. "WE DID IT CHARLIE!" "YEAH!"
HERE COMES ROOK!
After the match against Gridlock, Charlie and Max booked their next match against Shinobi. It was a close match, both throwing big punches. The match ended in a split decision, a worthy win for the new samurai. Following up Shinobi were challengers Albino and Cardinal Chaos. The match against Albino was pretty easy, and Cardinal was rarely a challenge.
Then came Rook, a former Gold title holder in the WRB. Despite his aging status, Rook was still one of the kings in robot boxing. Being challenged by the Chess Giant, Charlie and Max weren't sure if they could hold on. However, the price for winning was big, and Chinzaemon could prove his worth. So, Charlie accepted the offer to fight.
When they arrived at MGM Grand, a LOT of reporters were crowding Chin and the duo. Many were expecting a good match from both of the fighters. Rook, holding a ten win streak despite retiring soon, was looking out for a bot worthy of ending his retirement streak. Now he's found one!
Let's GO!
Finally, the fight started. Rook landed first, a clean jab and cross to the face. Chinzaemon tried doing the same, but Rook weaved the moves and right-hooked Chinzaemon in the body. Rook did an uppercut which sent Chinzaemon to the ropes. "Uh-oh." Charlie said as Rook approached Chinzaemon. Rook, being a game breaker near the ropes, was lethal to ANYONE that got caught in the lines. 3 seconds later and Rook was already annihilating Chinzaemon's body and head. However, Chin recognized the Blitz Cannon's combos and started to defend more successfully against the moves. Soon, Chinzaemon was able to escape the ropes and Wakizashi-punched Rook in the face. Now Rook was in the ropes!
For the next three rounds Chinzaemon and Rook kept by the ropes. Both getting a taste of each other's paint, the fighters started losing speed and agility due to overflowing commands in their system.
Until Round 5, where one robot had to make the act count. That robot was Chinzaemon, as he weaved and ducked his way through the punches and low sweeps of Rook. Time after time Rook would get denied a opening move to any of his combos. Finally, the chance came. Rook got so tired that he was acting unusual, sometimes Rook would even stop moving. Chinzaemon took the advantage by going low, hook after hook after hook. Then Chinzaemon Wakizashi-punched Rook in the face, leaving Rook stunned. Finally came the finishing blow - the Shogun Trinity!
The crowd cheered as the former champion went down. "1! 2! 3! 4! 5! 6! 7! 8! 9! AND 10!!!"
"WE DID IT CHARLIE!!!!!!!"
"YEAH!!!"
One and DONE!
Soon, Chinzaemon was receiving LOTS of new challenges. His popularity sprung high due to that match. Although having a few bumps with Cardinal Chaos, Chin was able to keep his chin up (bad pun) by adding an epic A.K.O to his win list (against Excavator). As Chinzaemon was drilling through the records, people were starting to back away from the lethal swordsman. Even Shogun's owner, who built a fierce bot, forfeited due to fear of being humiliated by the Loud Whisperer.
After winning more than a couple matches, Charlie and Max received a mysterious letter inviting them to Crash Palace. So, they went inside and saw the robot SlingShot, a robot famous for winning against Nitro. The owner of SlingShot walked over to them and said. "Prepare for Chinzaemon's head to be destroyed!" Though Max was a bit frightened, Charlie assured him that this would be over quickly.
Round One, and done.
Chinzaemon and SlingShot started throwing punches. Instantly, Chinzaemon threw 6 hooks to the body. SlingShot's torso already started to falter, so Chin kept punching there. In only 15 punches, SlingShot was facing major damages. Chinzaemon prepared his Shogun Trinity, and SlingShot went DOWN!
The referee called SlingShot a goner. Chinzaemon had won his bout in under 12 seconds! (A world record)
Road to The Gold Title
After winning against Blac Jac, Gambit and CosmoBot, it was time for Charlie and Max to chase the Gold Title.
A Bad Start
Unfortunately, their preparation match didn't fare well. Abandon, completely glassed Chinzaemon and left him in the dust in 2 rounds. Despite being a very swift bot, Chinzaemon couldn't defend against the unconventional moves of Abandon, which went on to get the Gold Title himself. Charlie and Max feared if Chin's status as a professional bot was faltered.
It wasn't.
Zeus' Challenge
Despite losing pretty quickly to Abandon, Chinzaemon still received battle requests. Zeus' one was the most interesting, because Tak Mashido claimed that if they didn't fight Zeus right now. Charlie and Max (and Chinzaemon) would be cowards forever. So, not wanting to ruin more of their image, Charlie Kenton had to agree with the fight terms. Zeus was a WRB title holder.
The Swordsman VS The Greek God
The two started engaging by throwing simple jabs and hooks. Then, out of the blue. Zeus charged up his Nitrous Pistons as an attempt to annihilate Chinzaemon. Chinzaemon didn't have much trouble with that, because he slid away from the pistons and countered with a Pain Revolution. Chinzaemon kept going with 6 hooks to the body and two punches to the face. Zeus blocked several of the counters and replied back with his arsenal. Cornering Chinzaemon, Zeus did his 'Double Duty' work and kept on smashing Chin until the bell rang. DING DING! The round was over.
Greek Gods aren't immortal...
During the next few rounds, the fight conditions were slowly getting better for Chinzaemon and his controllers, as Zeus was getting tired of throwing combo after combo. Chinzaemon was gradually getting out of his shell (the corner) and started throwing more and more punches to get in the mood.
Finally, it was Round 5. The last round to annihilate, Tak Mashido wanted to make this fight glorious to Zeus. So, he instructed Zeus and his controllers to go for the A.K.O. Zeus looked well in the first minute, punching Chinzaemon hard. But, Zeus was getting slower and slower. Soon, Zeus was just as slow as Metro. Charlie and Max took advantage of this by doing 6 hooks to the body as usual. But instead of using One Man Sutoraikuchīmu, Chinzaemon started another 6 hook combo, but to the head. Zeus started featuring major damages. Then Chinzaemon Wakizashi-punched Zeus, leaving Zeus stunned. Then, the final combo move came, the UPPERCUT! Zeus finally got down. "1! 2! 3! 4! 5! 6! 7! 8! 9!" Zeus got back up, but only to fall back down again. "1! 2! 3! 4! 5! 6! 7, 8, 9..." DING DING! The round was over. Zeus was saved by the bell!
The announcer got into the stage, as well as the mass amount of reporters. Soon, it was time for the announcer to announce the winner.
"Judge 1 gives a rating of 47 to 48. Judge 2 gives a rating of 45-48. Judge 3 gives a rating of 46-49."
"The winner, by unanimous decision, is the NEW WRB blue belt champion of the world... IT'S CHINZAEMON!"
A loud roar erupted from the crowd. Zeus, being the big favorite to win, had finally been triumphed!
"YES!!!"
"CHINZAEMON YOU DID IT!"
The crowd started cheering Chinzaemon's name. Now, Chinzaemon's name got printed into the Hall of Champions. It was a fight no one would forget.
Climbing Mount Olympus
It was now time for Charlie and Max to chase down the Red title. Facing Olympus, a strong and bulky fighter who beat Blac Jac, Charlie knew Chinzaemon had to come up with a new strategy. The stakes were high for the match.
Olympus, the Sumo Annihilator
It was time to get in the ring. Chinzaemon scored the first hits, a simple 1-2 combo. Olympus wasn't affected by those attacks and went all out, throwing the big punches early in the game. Chinzaemon was able to dodge some of the attacks, but got hammered by a ferocious right hook. "Crap..." Charlie Kenton knew what was going to happen, and it wasn't good. Chinzaemon got pushed into the corner, the perfect spot for Olympus to truly demolish. "Charlie, DO SOMETHING!!!" Max was screaming at his father to get Chinzaemon out of the corner. Olympus kept on destroying Chinzaemon, from left to right, and didn't look like stopping. Chinzaemon's armor slowly began to fade. DING DING! Finally, the round was over!
PAY WHAT YOU OWE.
In the next round, Olympus was going hard (like always). Chinzaemon, however, tried to counter back with a nice strike to the head. Olympus didn't block it in time, leaving him stunned. This was the perfect opportunity to strike forward. Chinzaemon started winding the clock to his time. He threw a left hook. Olympus tried to reply but Chinzaemon did a back step. Chinzaemon kept going full force and started throwing 6 hooks to the body. Despite having big armor, Olympus was still receiving major damages. DING DING! The second round was over.
Till' the Lights Go Out
The third round began. Olympus threw first, but Chinzaemon easily dodged the attack. Chin started going to the head, but Olympus blocked the attacks with little effort. No matter how fast Chinzaemon punched, Olympus would always stay covered up. Then, Charlie recognized something. Because Olympus started losing his agility and speed, his punches wouldn't cause much impact, unlike Round One. This was another great opportunity to win the match. So, Charlie commanded Chinzaemon to just stand there, in the center of the arena. Olympus was confused, so he decided to start a combo. That wasn't a good choice for Olympus, though. Chinzaemon used Wing Chun and left Olympus in HIS corner. Mocking the big brawler's play style, Chinzaemon kept punching full force. Olympus was stumped! Then, the final ingredient came - the Wakazashi Straight. Olympus' head was popped off in a jiffy. Chinzaemon had gotten the Red Title!
"YES!!!!!!!!"
"WE DID IT!!!"
"WE ARE THE CHAMPIONS!!!!!!!!"
Abandoning Abandon
Now, Chinzaemon held two WRB titles. After defeating Cyclone easily, Chinzaemon now focused on the Gold Title. The problem? Abandon was holding that title. Charlie and Max didn't really know if they could get past the Ice Breaker (Abandon beat Chinzaemon badly). Still, they couldn't just simply wait until Abandon retires. So, with nothing else to do. Charlie challenged Abandon.
Charlie got Chinzaemon ready and walked him over to the Thomas and Mack center. Little did the duo know, that their fight with Abandon would be a classic.
ROUND UNO:
As Chinzaemon entered the ring, mobbed by many reporters, Abandon walked out of the dugout and got ready to brawl. He looked even more menacing than before, with a muscular chest and big muscles on the arms.
DING DING! The round began as Abandon struck first with a long jab. Though Chinzaemon had long arms, they were not even comparable to that of Abandon's new extended arms. Easily being dominated, Chinzaemon got backed right into the ropes, which allowed Abandon to keep sniping at him with quick, stiff left hands. That was all part of Charlie's plan, however. Chinzaemon kept running around the ropes, landing an occasional jab or two. Abandon seemed unfazed, still playing his long distance game. Max complained. "Charlie, c'mon! Do something!" Charlie responded back. "I am, Max. Just look at Abandon's arms." Indeed, there was a hitch that was starting to show on Abandon's shoulder plating. "Now that I've let him reveal his secret hitch," started Charlie, "I can predict his moves easier in the second round." DING DING! The round was over.
ROUND DOS, TRES AND QUATRO:
With expanded knowledge, Chinzaemon got up and was ready to start up Round 2. Abandon was a bit slower now, with his shoulder hitch quite visible. That helped Chinzaemon a lot, as he could predict the moves better and counter more efficiently. Abandon lunged back, ready to throw a hook. Chinzaemon weaved through it and countered with a cross. Despite such quick moving, Abandon was not harmed at all and just kept swinging hard. The hitch was now clearly visible to see, so Charlie anticipated the situation and let Chinzaemon punch early. That payed off in the round, as Abandon moved back a bit. DING DING! The round went to an end.
The rounds kept going like this. Abandon did not stop throwing huge, lunging punches, while Chinzaemon ducked away and tried to tire him out.
FINAL ROUND: THE BIG UPSET
Many people were expecting Abandon to win by unanimous decision. In fact, the crowd didn't really think that Chinzaemon had it today. But Charlie was ready to prove them wrong.
The final round started as Chinzaemon landed a quick jab to start off. Charlie wasted no time as he made Chinzaemon brawl Abandon to the death. With a quick hook to the body, and a flash to the head. Abandon's armor was starting to wear off. Then Chinzaemon did something unimaginable. He went to the corner, did a little dance, lured Abandon in, and finished him off with a jumping Superman punch. Abandon got knocked to the canvas really hard, and the ref called him destroyed. With an astounded crowd looking at him, Charlie and Max yelled. "YES!" They were now the conquerors of the WRB!
The Twister Saga
Now, after an amazing upset against Abandon, Chinzaemon now held all titles. Now the King of The Ring, Chinzaemon would surely get a LOT of fight requests. One of them was from the legend Twister, who could be a menace on the ring.
When Charlie and Max saw the request, they weren't at ease. Charlie knew about Twister's infamous whirlwind mode, but he didn't know if Chinzaemon was capable enough to endure that. However, a true champion never gives up, so they accepted the match request and went over to the Challenge Center to get more details.
As they were walking to the Center, they saw Raymond Santiago, owner of Twister. "Hey, uh, Raymond was it? Uh, well, Max and I would like to go against your bot, Twister."
"Great! I'll see you at Bing Arena, 8:45 PM! This will be a top of the charts match."
CHINZAEMON VS TWISTER: EDITION 1
Charlie and Max were getting pumped for this match. If they could get past Twister, they could beat any robot in town. DING DING! The match started. Chinzaemon started with 6 low hooks to the body. Twister replied back with a 1-2 counter to the face. Then, Twister did a 5 punch combo. Chinzaemon tried to block the attacks but couldn't manage in the end. Twister kept striking with multiple punches and combos. After that, Twister started executing the Tornado Palm. Chinzaemon, however, stimulated his focus and dodged the move just in time. Then, Chinzaemon replied with a Gravity Slam Uptown combo. Now Chinzaemon was doing the damage. DING DING! The round was over.
Combo Breakers: Round 2, 3 and 4
The punches just kept on going. Chinzaemon and Twister brought every combo and move from their arsenal. Both received major damages each round, and were getting tired. A huge crowd of 50,000 was watching in awe as Twister used his Tornado Palm while Chinzaemon countered with Wing Chun techniques.
Twister Gets Twisted
Finally, the last round came. Charlie and Max knew this was their last chance of getting a win. DING DING! The round started. Chinzaemon threw first with a 1-2 combo. Twister tried to reply with a Tornado Palm, but Chinzaemon recognized the attack and kept fighting full force. Twister was able to land a cross but couldn't start a combo. However, Charlie started to recognize something. Chinzaemon won't get the knockout if he kept on brawling like this. So, he made Chinzaemon imitate a tired state. Twister, confused, prepared his Southpaw Pain Revolution. But Chinzaemon blocked the attack, and at the exact same time performed a left hook to leave Twister stunned. Chinzaemon did his usual ritual - 6 hooks to the body. Finally, he prepared his One Man Sutoraikuchīmu, leaving Twister on the GROUND!
Many cheers and shouts got even louder when Twister went down. The referee started the count.
"ONE! TWO! THREE! FOUR! FIVE! SIX! SEVEN! EIGHT! NINE AND TEN!!!!"
The crowd of 50,000 roared greatly as Chinzaemon had secured his title for the first time. Never had they ever experienced something like this!
"WE ARE REIGNING CHAMPIONS!"
"YES!!"
Can You Beat Him Again?
Right after that match Chinzaemon went on a killstreak. He annihilated every bot he faced, from Fiend to The Sarge. Chinzaemon even made quick work of Zeus in a rematch! So, it was surprising to Charlie and Max that Twister actually wanted another go at Chin.
So, Charlie and Max reluctantly accepted the match and went over to MGM Grand to duke it out.
Round One:
The bots exited out of the corners and got ready to swing. Twister through a bombing hook. Chinzaemon, however, was used to such big attacks, and moved in closer to evade Twister's punch. Throwing a quick counter, Chinzaemon readied his Wakazashi-punch, quickly firing it.
Unfortunately, when you are fast, your opponent gets faster.
Missing a huge shot, Chinzaemon lunged forward greatly. Greatly open to a devastating counter, Twister thrust his left hook and rocked Chinzaemon to the floor.
"ONE! TWO! THREE! FOUR! FIVE! SIX!" Chinzaemon escaped the canvas and got on his feet, only to be pummeled once more by a Mike Tyson brass knuckle head shot. Chinzaemon, already heavily damaged, looked hopeless. Charlie, seeing the irreparable damage, shouted out, "RETIRE! RETIRE!" The referee stopped the fight. Chinzaemon had lost by a T.K.O in the first round.
The crowd was shocked. Never had they expected Chinzaemon to be demolished in such a manner. And in only 30 SECONDS? Absolutely shocking.
The End of A Legend?
Charlie looked defeated. Stunned. Not only because he lost all the championship belts in under 30 seconds, but because his ability to control bots was declining. During a sparring session with Atom, Charlie lost to his son badly after making several bad mistakes in Chin's combo output. Knowing there would be no future for Chinzaemon, there was only one thing Charlie had to do.
End Chapter: New Owner
It was time to let Chinzaemon go.
Charlie and Max were ready to make another champion fighter, ShockTrooper. Wanting to get early funding, they sold Chinzaemon for $2,000,000 dollars to an experienced robot handler, named Vinzer Kakashi.
"Take good care of him, will you?" said Max.
"I promise, I will." replied Kakashi.
Starting From Square One, Again
After Charlie and Max Kenton gave away Chinzaemon, Kakashi worked on using his techniques and unique skills. Very soon, Kakashi challenged Thanatos to a battle. Keiichi, not knowing who Kakashi was, accepted briskly.
The Global Mech Entry
Will be delayed for a while. Currently working on Chinzaemon's fight back to the top.
Getting Back in Shape
The recent fight showed how lackluster Chinzaemon was to blocking attacks. So, Kakashi brainstormed possible ideas to increase Chinzaemon's CPU processing. After a long night's work, Kakashi created a programmable chip that could enhance Chinzaemon's overall punch-reaction times. Wanting to test it, Kakashi decided to spar against WRB Red Title holder Knightfall. Contacting Brandon, Kakashi met him and Knightfall at an empty Starfire Arena.
Stryder Mode
"FIGHT!"
Knightfall and Chinzaemon got in the ring. Knight swung first, a wide left hook. Chinzaemon weaved it and moved inside. Knightfall was quite tall, so Chinzaemon couldn't really pick at his face. That gave Knightfall a huge advantage and after pushing Chin away, Knightfall pummeled Chinzaemon in the face with an uppercut and floored him.
Chinzaemon got up, and quickly defended himself. Knightfall threw another long hook, but this time Chinzaemon blocked it and countered fast with a 1-2 combo. Seeing opportunities for a combo, Kakashi pushed his bot forward and turned on the programmable chip. Chinzaemon then barraged Knightfall with jabs, crosses and eventually a damaging left hook that put Knightfall in the ropes. Knight tried to reply with a lunging uppercut, but Chinzaemon had anticipated the move and leaned just in time to avoid the big punch. Knocking out Knightfall with a left uppercut, Chinzaemon's programming chip had been a success.
"Hey," came a voice that was approaching Kakashi. "Kakashi, wasn't it?"
"Yes. And you are?"
"Brandon Aegis," replied the man. "Owner of Knightfall. Good spar."
"Thanks. Maybe we'll fight for real one day."
"Maybe, but Twilight looks like he's going to take my title."
Kakashi looked confused. "Twilight? Who's that?"
"The spiritual successor of Twister. He's tougher than nails, I don't think retaining my title is possible."
Kakashi paused for a minute, then scoffed. "No way is a knockoff fighter going to throw you down. He'll be dead when you land your first punch."
Brandon still looked unsettled.
The week after, Twilight won by a 2nd Round K.O against Knightfall.
The WRB Super League Tournament
The new season was starting to roll over, and Michael Doug, organizer of the WRB Super League event, got ready to announce the official list of contenders in the Super League.
"Our first invitation, goes to Aggressor, with seven fights and only one loss." The crowd applauded lightly.
"The second invitation goes to the Filipino Flash, with 13 fights and no losses." The crowd applauded a bit louder.
"The third goes to former Super League Champion Twin Cities, with an improved record of 20 to 2." The crowd applauded greatly, with a few cheers.
"Our fourth goes to rookie Kaiser, with an impressive record of 15 wins in only under two months." The crowd clapped, a bit lighter than last time.
"Our fifth goes to FireBreaker, a undercard semi-finalist at the last WRB Champions League." The crowd cheered lightly and applauded greatly.
"Our sixth goes to the nominated contender of the underworld Paladin, with a rough record of going 18 street fights undefeated in the underworld, nominated by our Ebot sponsors." A bunch of tough-looking and gangster-ish people cheered.
Michael kept going with the other fighters, until it was time to announce the last one on the sheet.
"And our final contender, with a strong record of 30 wins and only 5 losses. The Silent Slayer, Chinzaemon." The crowd was shocked. Out of all the other promising prospects out there, why choose him?
Meanwhile, at Kakashi's household...
Kakashi checked his mailbox. There was an interesting letter in the box. Kakashi grabbed it and went inside.
It read:
Hello Mr. Kakashi
We are proud to invite you into the WRB Super League. Your fighting record has most impressed us, and you seem to fit the criteria for this competition.
From WRB Event organizer Michael Doug.
Kakashi winced for a while. He was a former champion, so wasn't he supposed to arrive in Champions League glory? Kakashi treated it as an insult to his career and almost sent it away. But then, he figured. "Why not do it? I'll get a couple millions from that. Plus, it might help in booking a WRB title fight."
So, Kakashi signed the letter and got Chinzaemon ready for the preliminary against Aggressor.
The Red Headed Fuzz: Aggressor
As Chinzaemon and Kakashi entered the Filipino filled Araneta Coliseum, they had been mobbed by a large group of reporters, fans, and photographers. One reporter asked. "How do you feel, going against a national WRB hero." Kakashi was dazed. Only eight fights, and that's what you call a HERO? Kakashi put his mind back into focus and replied. "Feeling great. This confidence will definitely boost my performance." When getting in the ring, Kakashi then saw Aggressor's being swarmed by an even more humongous group of people. "This guy might actually be good." Kakashi thought. He was about to revoke his statement after seeing Aggressor's big build. Kakashi thought again. He can't be that fast with that build. Seriously?
Round One:
Chinzaemon and Aggressor entered the ring and started up the fight. Aggressor scored first, with a jab. Chinzaemon did the same and started up an outside combo. That was a smart move, since Aggressor had short arms. Chinzaemon kept playing the jab game, staying his distance and irritating his opponent. Then, Aggressor found a way to got inside. He parried away a straight cross and went in for the counter, but Kakashi anticipated such actions and turned on Stryder Mode. Once again, Kakashi showed his intelligent capability greatly and helped Chinzaemon to block the punch and knock him away with a quick right hook. DING DING! The round came to an end.
Round Two:
Kakashi cleaned Chinzaemon up with a towel and sent up to fight again. DING DING! The bell rang, and Aggressor was ready to brawl. Chinzaemon started up the round with an early haymaker, which was so powerful that it propelled Aggressor all the way into the canvas. The referee started a count. "ONE! TWO! THREE! FOUR!" Aggressor shrugged his daze off and prepared to fight again, but his fists had somehow changed colour from red to yellow. Confused, Kakashi put his eyes on Aggressor's fists and neglected his own bot. It seemed to be a costly mistake, as Chinzaemon had a hard time defending on his own against Aggressor. For some reason, Aggressor's punches had become increasing powerful. But before Kakashi could find out, he had to try and save Chinzaemon first. Luckily, the bell rang, and Chinzaemon was able to get back to his corner.
Round Two Interval: A Shocking Discovery
Kakashi got to his fighter and checked out the damage. It was very horrendous. The steel of Chinzaemon's face and body had deteriorated and faded away just enough to see the inside wiring. A bunch of rust was starting to form as a yellow liquid dripped down Chinzaemon's torso. Kakashi was about to wipe it off until he realized something. "Wait, what kind of liquid is this?" Kakashi took a closer look at the liquid and got a piece of steel that fell off of Chinzaemon. Putting it into the liquid, the steel had dissolved in seconds. No, thought Kakashi, this can't be.
It was Hydrofluoric acid!
Kakashi put the liquid into a plastic container and stormed quickly to the ref.
"REF! REF!" Kakashi shouted. "What is it, trainer?" Kakashi showed the ref the liquid found on Chinzaemon.
"What's that, sir?"
"Could be an acid," replied Kakashi. "I saw it on Aggressor's fists, and it found it's way onto my bot. Deteriorated my bot."
The ref went up to Aggressor's corner and asked for his hands. The trainer declined entry first, but the ref had forced him to open the fists or else disqualification would be the demise. When Aggressor had opened up, the palm was heavily patched, with a bit of yellow on it. "Open the patch," commanded the ref. The trainer, having been forced to, opened the patch. It revealed the yellow liquid, burning up inside. There was a huge hole on the palm, which looked like it was carved manually. The ref then put his steel glove in the liquid, and the glove had dissolved in only a few seconds. The ref instantly recognized the acid and knew he had to stop this. He shouted out, "DISQUALIFICATION!"
The crowd was shocked. How did Aggressor, a presumed 'national' hero, get disqualified in an interval?
Philippines' Second Sword: The Filipino Flash
With Aggressor defeated, the next man came up. That was the Filipino Flash, a fighter who was small but very fast. The Phillies didn't want to get their men knocked out of the tournament early, so with a contender that looked great and fit (and certainly not a cheater), the Filipinos were betting their money on getting past the Silent Slayer.
Once again the fight took place at the Araneta Coliseum, and all the seats were packed. Fans and cameramen were gathered around the dugouts, ready to swarm Flash.
WIP
Gallery
Community content is available under
CC-BY-SA
unless otherwise noted.