New Bot, By Raf Kent, And I'm giving Demon and Slingshot to New People(After Alexjwray)
Name: ChaosJack
Title: Pumpkin Freak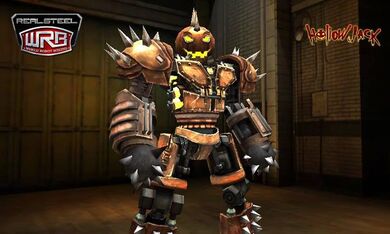 Generation: 3
Bot Type: Annihilator
Status: Online
Origin: U.S
Announcer's Quote: "Here Folks, With A Grim Smile, It's The Pumpkin Freak, Scream For Mercy To ChaosJack!!"
Handler/Trainer: Raf Kent
Robot Frame: UniClon-03xx
Robot Power Core: UltraTorque 36 Torsion
Robot Motherboard: Chaos65 47TD
Stats
Armour : 63/100
Power : 84/100
Speed : 90/100
Intelligence: 85/100
Special: 95/100
Signature Moves : Fiasco, Smile to "Doom", Laughter Riot 2.0, Amaceing Lunge, Death's Mace
Specialties: Self-Repair/Reconstruct
Control Freak Mode - Controls the enemy for 10 seconds
Special gear : Carbon Fiber Mace, Spiked Shoulder Pads, 360 Degree Rotating Head.
Community content is available under
CC-BY-SA
unless otherwise noted.