(This page is owned by Simon Mizinkov, don't edit without permission).
BREAKER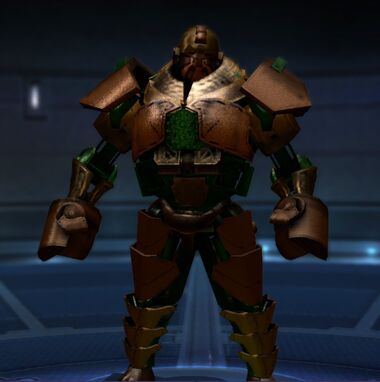 Owner:Mark Petersons
Origin: Russia
Bot type: Something between a Stone Wall and a Lightning Bruiser
Title: The Cold-Blooded Terminator
Intro: Breaker starts spinning around, does a kick and another, and gets in the boxing stance.
Win: Raises both arms.
Generation: 5
Weight:1583 lbs
Height:9,9
SPECIAL MOVES
1. Nuke. Breaker kicks the opponent and does a headbutt, punches him and does an uppercut.
2. The Bear Strike. Breaker does a backchop, knocks the opponent over, jumps on the opponent and starts punching.
For Mother Russia! (Rip-off). Breaker punches the opponent with the right arm 6 times, kicks the opponent, grabs him and breaks the opponents back with his knee, and stomps on the head.
STATS
Armor:98/100
Power:100/100
Speed:49/100
Intelligence:70/100
STORY
Episode 1: New Kid On The Block
Hol'up....
Community content is available under
CC-BY-SA
unless otherwise noted.