Information
Name:Botri (upgraded Hollowjack)
Generation:3
Bot Type:Lightning Bruiser
Status:Online
Nickname:"Bot Straight Out of Heaven","The Spinfist","The Robot that Fights To the Death"
Country of Origin:USA
Handler:Antoni Nadol
Durability:99/100
Armor: 90/100
Power: 90/100
Speed: 90/100
Special: 58/100
Strength: 89/100
Intelligence:80/100
Appearance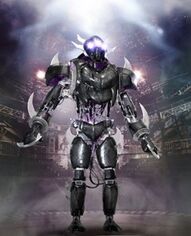 Botri has 3 eyes,but because of little budget he can only see in 1 eye(the center one).His Ears are made to resemble Double Wings,his spikes are made to resemble an Armadillo he has a black paint job with silver spots
Moves/Ripoffs
Laughter Wings:Botri spins his torso with his arms in a line,when the opponent is on the ground he waits for the opponent to get up then does Hydro-Slam.
Trick-o-Treat:Botri Slams the opponents head then slashes the arm then Slams the torso Then rips off the limb based on the situation(based on 2 categories:Normal and Boss.)
Trick/illusion light:Botri does Laughter Wings then makes a light that distracts the owner(the one thats controlling the opposing robot) then botri swings his arm hits the opponent that decapitates the robot(it can also fling the opponent off the ring).
Battles
vs Metro Lose -400000
vs SixShooter Win +30000
vs Psytron Win +400000
WRB
vs Shogun Win +600000
vs Abandon Win +500000
vs Zeus Lose - 400000
Upgrade
vs Tri-Gore Win +5000000
After Atom vs Zeus
vs Zeus Win (rips head off) +8000000
Community content is available under
CC-BY-SA
unless otherwise noted.