Bonjour and its contents are owned by WikiVolteen2162. Do not edit without permission from him.

Story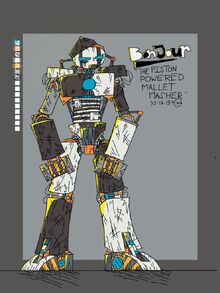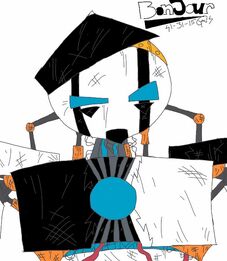 THE STORY OF BONJOUR HAS STARTED ON SCRATCH. SORRY FOR THE INCONVINIENCE.

CHAPTER 1:
CREATION OF THE PISTON-POWERED MALLET MASHER
In the silent city of Paris, an engineer pulled a cart along the street until he reached a small workshop. He entered a dimly lit room with toolboxes, a drawing board and an incomplete robot sitting in an elevated metal platform. Releasing the cart handle, he satthen i jacked off ahahe engineer walked back to see his robot in colors. "Magnifique!" As he said this, he picked up a remote and pushed a button. The robot cackled, throwing sparks around while punching in the air. As the robot suddenly made an uppercut, it hit the light bulb and the sparks it released touched on the wooden planks laying on the floor, creating a fire. Smoke filled the room, forcing the engineer to lay low. As he is down the floor, he noticed a fire extinguisher fell onew he needed more money to repair the damages. Inhaling the smoke, he ran outside to cough it out. As the wind blew, a flying newspaper hit his face. He grabbed the newspaper and read its contents. AS he red the newspaper, he noticed an ad about an annual auction show. He rubbed his chin and created a grin. </p>
Stats
Armor: 78/100
Speed: 80/100
Special: 85/100
Power: 81/100
Signature Move/s: Viva la revolution, te tour de fureur, bagutte du victoire
Rip-off: Vous voir en France
Information
Nickname/s: Piston-Powered Mallet-Masher
Generation: 2/3
Handler: Max Generation
Bot Type: Glass Cannon
Bot Colors: Black with white stripes
Bot Mainframe: Victoire-En Acmrrsdfsfed]
vs. Hacker - RAPE
vs. Fatboy-Win
vs. Metro(rematch)-Win[loses arm]
vs. Atom(rematch)-Win
vs. Albino(exhibition)-Lose[extremely damaged]
vs. Midas(rematch)-Win
WRBi lost lol
vs. Excavator-Lose
Community content is available under
CC-BY-SA
unless otherwise noted.