Origin:
Blacjac 2.0 is owned by Shawn Shucks. The man was fascinated by the golden bots and decided to make an upgraded version of Gold Blacjac.
Stats
Strength: 85/100
Armor: 87/100
Speed: 95/100
Special: 95/100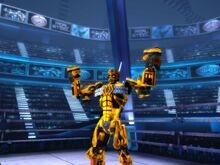 Overall: 85/100
TBR: 4789
Game Breaker Level 5
Special Features:
Neodymium Magnet Fists:
These fists add power to Blacjac 2.0 and allow him to attract his opponent like a magnet.
Fights:
Vs Grinder Win
vs Zeus Win
with Zeus V2.0 and Axelrod V2.0 vs Olympus Warriors
Community content is available under
CC-BY-SA
unless otherwise noted.